A private funeral for "Charlie's Angels" star Farrah Fawcett began Tuesday afternoon at the Cathedral of Our Lady of the Angels in downtown Los Angeles.
Fawcett's longtime companion, Ryan O'Neal (left), walked among pallbearers with the casket covered in yellow and orange flowers. Her friend Alana Stewart and "Angels" co-star Kate Jackson arrived early before the hearse, which was accompanied by 10 motorcycle officers.
Fawcett and O'Neal's son, 24-year-old Redmond, who has been doing time in drug rehab at the Pitchess Detention Center since April 5, also was in attendance. Redmond was allowed to be released for three hours and wear street clothes.
Redmond gave the first reading of the service from the Book of Lamentations.
"The favors of the Lord are not exhausted, His mercies are not spent," he read. "They are renewed each morning, so great is His faithfulness."
Both father and son wept as they listened to a final letter Fawcett had written them, the Daily Mail reported. Her letter to her son said: "The greatest gift of my life was to be your mother. By leaving you behind I hope you will be able to work out all your trouble and grow as a person."
Her letter to Ryan O'Neal addressed the couple's rocky 30-year relationship: "When I figure out what it is all about, I can tell you," she wrote.
Also in attendance were Fawcett's father, James; "Ghostbusters star Ernie Hudson; model Cheryl Tiegs; Fawcett's ex-husband Lee Majors; sisters Jackie and Joan Collins; and hairstylist Jose Eber.
Fans and media watched from a distance across the street from the Roman Catholic cathedral.
The program featured an image of a smiling Fawcett (below) and said O'Neal would read the 23rd Psalm and that eulogies would be delivered by Stewart and Dr. Lawrence Piro, one of Fawcett's doctors.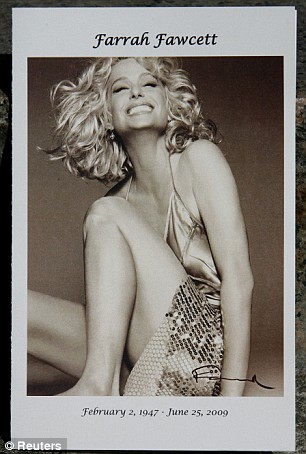 Fawcett, 62, died just a few hours before Michael Jackson Thursday after a long battle with anal cancer. The actress was best known for her role in the television series "Charlie's Angels" and for a red-bathing-suit pin-up.

She was given her last rites on Thursday morning, as O'Neal and several friends were with her during her last hours at a Los Angeles hospital.

Earlier this week O'Neal said he planned to marry Fawcett. "I've asked her to marry me, again, and she's agreed," O'Neal told Barbara Walters in excerpts of an interview broadcast on ABC's "Good Morning America" Friday.

"She's gone. She now belongs to the ages. She's now with her mother and sister and her God," O'Neal said in a statement released Thursday. "I loved her with all my heart. I will miss her so very, very much. She was in and out of consciousness. I talked to her all through the night. I told her how very much I loved her. She's in a better place now."

The actress had been very public with her battle with cancer. She had been deemed cancer-free in February 2007, but three months later, doctors found a small malignant polyp in the same area. The cancer later spread to other parts of her body, including her liver.