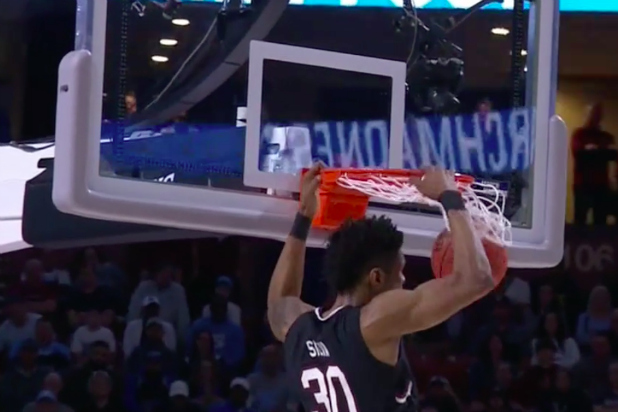 Ten people in connection with several high-profile college basketball programs have been arrested on corruption charges on Tuesday, according to a filing by the U.S. Department of Justice.
As a result of an undercover FBI investigation, assistant coaches from Arizona, Oklahoma State, Auburn and USC, along with an executive from sportswear giant Adidas, were indicted. A "cooperating witness" that handles money for professional athletes gave the FBI a close-up of the high-stakes world of basketball recruiting, getting an agent inside the hotel rooms where deals are finalized.
Glaringly, one of the filed complaints said Adidas exec Jim Gallo worked to funnel $100,000 to the family of an All-American recruit to persuade him to play at a "public research university" in Kentucky. (The University of Louisville is an Adidas-sponsored basketball powerhouse in Kentucky.) The payoff was "on the books" with Adidas, but "not on the books for what it's actually for," according to an undercover agent.
Also Read: Spurs Coach Gregg Popovich Breaks Down White Privilege, Calls Trump 'Delusional'
Another case said Gallo — who is listed as director of global sports marketing at Adidas on his Linkedin page — directed $150,000 to a different player to steer him to a top basketball program.
"Today, we became aware that federal investigators arrested an Adidas employee," said Adidas in a statement obtained by TheWrap. "We are learning more about the situation. We're unaware of any misconduct and will fully cooperate with authorities to understand more."
The complaint said college coaches have an "enormous influence" on where student-athletes attend school, as well as their agents coming out of college.
Also Read: Pat Tillman's Widow Blasts Trump for Dragging Her Husband Into NFL Anthem Fight
"The investigation has revealed several instances in which coaches have exercised that influence by steering players and their families to retain particular advisers, not because of the merits of those advisers, but because the coaches were being bribed by the advisers to do so," said the court documents.
The indictment is backed by recordings, written documents, corroborating testimony and payment paper trails. The four coaches indicted were former NBA sharpshooter Chuck Person of Auburn, Emmanual Richardson of Arizona, Tony Bland of USC, and Lamont Evans of Oklahoma State.
The U.S. Attorney has a 12:00 pm ET press conference in New York to expand on the matter.