"Fear the Walking Dead" Season 4 has some surprises in store, and it all has to do with figuring out who the new baddie will be.
"I like the way we're re-examining what a villain is," star Colman Domingo told TheWrap in an interview ahead of the Season 4 premiere on Sunday. He said that even the Clark family and company could be seen as the bad guys if viewed from a different perspective.
"I think that… if you're following the villain's point of view to the story, and their way into our community, we could be seen as the villains," Domingo said.
Also Read: 'Fear the Walking Dead': Get Your First Glimpse of Morgan in Season 4 Trailer (Video)
"Yeah, you might be surprised who the villains are this season," cast newcomer Garret Dillahunt added.
"In our world, there's no such thing as being a villain," Danay Garcia (below) said. "It's the apocalypse."
Of course, the buzziest news around Season 4 is the addition of  "The Walking Dead" star Lennie James to the cast. Garcia said it was "really exciting" to see the fan-favorite Morgan join the "Fear" universe. But Morgan isn't the only new addition: Dillahunt's John will also play a recurring role, as will Maggie Grace's Al and Jenna Elfman's Naomi.
Also Read: 'Fear the Walking Dead' Season 4 Is 'Absolutely Something That New Fans Can Jump Right Into'
"When you're adding new characters — no matter what — there's going to be some friction. There's going to be some drama. There's going to be many things they bring to the show," Domingo said. The new characters will mark the biggest change from previous seasons, Domingo, Garcia and Dillahunt agreed.
"Our universe has had to expand, because our show has always been a family drama with some walkers to get in the way," Domingo said. In the upcoming season, he explained, "we're catching up in many ways. We're catching up as characters, we're catching up in our universe and we have to expand, and we have to meet new people whether those are comrades or foes."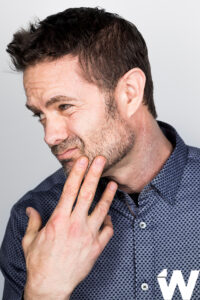 Watch the full interview above.
"Fear the Walking Dead" Season 4 premieres on AMC Sunday, April 15 after the Season 8 finale of "The Walking Dead."