"Fifty Shades of Grey" may not have scored with movie critics, but the book franchise has fans addicted, and author E.L. James further stokes their habit with her latest release "Grey."
"OMG, you've outdone yourself!" Australian reader Courtney Costa tweeted to the author. "I am completely and utterly in love! Thank you so much!"
The latest installment was put on sale around the globe at midnight on Thursday — June 18, Christian Grey's "birthday" — and retreads the original book's tale, but flips the point of view so that readers get a peek inside of Grey's BDSM-obsessed brain.
Also Read: First 'Fifty Shades Darker' Image Shows Christian Grey in Masquerade Mask (Photo)
On his first spanking session with his previously virginal paramour Anastasia Steele: "I spank her over and over … when I reach eighteen I stop. I'm breathless, my palm is stinging, and my c— is rigid." Mirror.co.uk compares several such "Grey" scenes with the original novel.
James announced the surprise release on June 1, and the book quickly set records: "So far this year, 'Grey' by E.L. James is the No. 1 Kindle pre-order of 2015," Amazon announced in a statement. (Harper Lee's "Go Set a Watchman" is the top print pre-order — which perhaps identifies a gulf between print and digital readers.)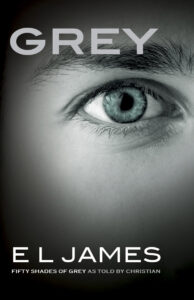 "In Christian's own words, and through his thoughts, reflections, and dreams, E L James offers a fresh perspective on the love story that has enthralled millions of readers around the world," the book's description reads on Amazon.com.
"Christian Grey exercises control in all things; his world is neat, disciplined, and utterly empty — until the day that Anastasia Steele falls into his office, in a tangle of shapely limbs and tumbling brown hair. He tries to forget her, but instead is swept up in a storm of emotion he cannot comprehend and cannot resist. Unlike any woman he has known before, shy, unworldly Ana seems to see right through him — past the business prodigy and the penthouse lifestyle to Christian's cold, wounded heart."
@E_L_James Almost halfway through reading #GREY. OMG, you've outdone yourself! I am completely and utterly in love! Thank you so much!!

— Courtney (@Courtney__Costa) June 17, 2015
Time to read #Grey pic.twitter.com/By6LC4nA0P — FiftyShadesFan.Org (@FiftyShadesEN) June 17, 2015
Also Read: 'Fifty Shades of Grey' Gets Skewered in Honest Trailers' 100th Episode (Video)
Dakota Johnson played Anastasia and Jamie Dornan appeared as Christian in Focus Features's February 13 release this year. The film was directed by Sam Taylor-Johnson, who will not return for future films.