Welcome to awards season, Jennifer Lawrence.
The 20-year-old actress came to Los Angeles on Saturday night, straight from the London set where she's been filming "X-Men: First Class." She arrived jet lagged and fighting a cold, and spent about 48 hours doing interview after interview; appearing at a post-screening Q&A for "Winter's Bone," the movie for which she's a strong Best Actress contender; gamely working the room at a Sunday night reception in her honor; and accepting the New Hollywood Award from Jodie Foster at Monday night's Hollywood Awards Gala.
Then she went directly from the Hollywood Awards stage to the airport ("so Hollywood," she says) and flew back to London to resume work on "X-Men," in which she plays Mystique. (You know, the mutant in blue bodypaint.)
It's a far cry from a childhood in suburban Kentucky, or from the hardscrabble Ozark Mountain world depicted in "Winter's Bone," Debra Granik's tough, indelible low-budget drama about a teenage girl fighting to raise her younger siblings and hang onto the family home after their meth-dealing father disappears.
Since the movie won the Grand Jury Prize at Sundance, it has become a significant Oscar contender in the Best Actress, Best Supporting Actor (John Hawkes), Best Adapted Screenplay (Granik and Anne Rosellini) and Best Picture categories. The film was the most-nominated film for the Gotham Awards, while Lawrence was just named recipient of the Rising Star Award at next January's Palm Springs International Film Festival.
TheWrap sat down with the plainspoken, no-nonsense young actress on her last afternoon in town, where she did her awards-season duties with a smile … and more than a few coughs.
How are you holding up?
Well, I got a good night's sleep last night, so I feel a lot better. Yesterday I was running on no sleep and the sickness. Today I'm running on sickness and jet lag, but at least I got sleep. But I've been doing so many interviews that if anybody asks me a question on the plane, I'm gonna explode.
When you read the script for "Winter's Bone," did you connect with it right away?
Yes. My mom had read the book years ago, and told me that if they ever made it into a movie I'd be perfect. But I don't listen to her – she's just my mom. But after I read the script, I would have done anything and everything for it. The character's strength, her grit, her not taking no for an answer – I would have been honored to play that.
So how'd you land the role?
I auditioned twice, but they said I didn't have the right look. So then I had to fly to New York on a redeye to chase them down and try to convince them to hire me. And they changed their minds.
But how do you persuade them to change their minds when it's your look they don't think is right?
I don't know. You either go home and pat yourself on the back for trying hard, or you fly there and make them think you have the right look. And because they hired me, I'm guessing that the look they were looking for was bloodshot eyes, icicles hanging off the eyebrows, and a crazy look in the eye of someone who's just followed you across the country.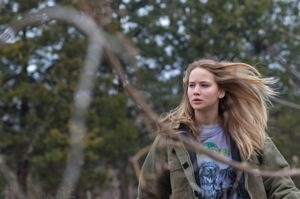 At the reception for the film the other night, your costar John Hawkes said that he thought Debra Granik was almost completely ego-less as a director. Did you find that with her as well?
Definitely. She's a director who asks questions, and unfortunately that's incredibly rare. She works so hard, and was so determined to make sure that every second that went into that movie was authentic and real. She was just shedding light on the life. Not putting it into a negative light, not putting it into a positive light, just shedding light. It wasn't an easy movie to make, but she's brilliant.
Why was it hard?
We had very little time, and we were working with harsh weather conditions. And there wasn't a single set on the whole film – it was all done on those locations. I remember getting tired and sick and calling my mom one night crying, telling her to come.
But you knew fairly early in life that you wanted to be an actress, didn't you?
At 14. It became a possibility then. I didn't grow up in L.A., where if someone wants to be an actor they can go to Santa Monica and audition for something. In Kentucky it was never a possibility, so I didn't know about it. Then at 14, when I got my picture taken and sort of discovered it, it was this passion that hit me over the head.
But at 14, in Kentucky, an acting career wasn't really within your grasp.
No, but I would have done anything to make it within my grasp. And I did. I wanted it desperately, and fortunately I have a wonderful family that saw that I probably wasn't going to let this one go.
So that summer, we moved to Manhattan just for the summer. And by the end of the summer I was head over heels in love with it, and I was being flown out to L.A. for a screen test. And we all decided that it was what I was meant to do, and we were all going to do it as a family.
Did ever feel at that age as if you were in over your head?
No, I felt like this is what I have to do. I felt like I was made for it. It came naturally, and hopefully it will continue to. I never studied or went to any classes or anything like that, but it's been a learning and growing process.
Do you have long-term plans for your career?
No. That's too exhausting. If five years from now I'm still doing this and still happy, that's all I want.
Apart from your stint on "The Bill Engvall Show," people know you as a serious indie actress. But coming off "Winter's Bone," you did a very glamorous photo shoot in Esquire that got a lot of attention, and then you signed on to make "X-Men," which was kind of a seismic shift in your career approach. Are you deliberately working to change perceptions?
Yes and no. It was a seismic move, and it did change people's perceptions. But the truth is, I can't do as many indies as I want and do as many studios as I want, but I can do a studio and do as many indies as I want. Do you know what I mean?
Wellll ….
[pause] Let me try again. I have a cold so I'm not thinking clearly. Basically, I'm always going to be able to do the little movies that I love. And it was time to move to a studio and do a bigger movie. I do love "X-Men," I loved the script, I think Matthew Vaughan is a fantastic director, James McAvoy is one of my favorite actors, and Michael Fassbender as well. I was the right move.
I saw an older interview where you railed against the major studios and said you'd lost patience with them.
Well, yeah. I had read a lot of crappy studio scripts when I said that. But that'll teach me to never say never. Again, this is a total learning process, and I didn't know what I was talking about.
It became big news on the Internet the other day when you mentioned that you're only blue in 10 percent of the movie.
Yeah. My publicist said, "Don't say that today." But it's true, I'm not really blue for that much of the movie. I just don't know why that one quote took over the world.
That blue bodypaint can be pretty eye-catching …
Well, it's still there. Just not as much.
The movie is an X-Men origin story?
Yeah. It's a prequel about the founding of the school. And it's set in the '60s, so it's fun to wear those clothes.