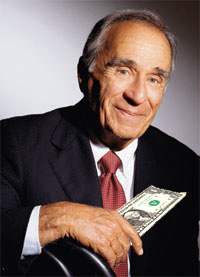 A buck. Cash.
That is indeed what Sidney Harman, the 91-year-old audio equipment magnate, paid to buy Newsweek from the Washington Post Company, according to a 47-page regulatory filing made Wednesday by the newspaper publisher — as TheWrap (and plenty of others) reported in August at the time of the sale.
Harman also agreed to pay $10 million of the magazine's existing debt and some employee pensions. The magazine has lost more than $41 million since 2007, including $28.1 million last year and $2.3 million during the first quarter of 2010. According to Advertising Age, Newsweek's losses this year could approach $70 million.
The one-dollar price tag may be shocking — considering it's $4.95 less than Newsweek's current newsstand price — but it's not unprecedented. In 2008, TV Guide was sold to OpenGate Capital for $1.00 — less than the cover price of a single issue — plus the assumption of its heavy debt.
Meanwhile, "interesting" talks between Harman, Barry Diller and Tina Brown about a potential partnership continue, though nothing appears to be imminent.
And Newsweek still doesn't have a permanent editor.
Read also: Daily Beast-Newsweek Deal Chances 'at Best 50-50'
How Much Would You Pay to Buy Newsweek?
[Photo illustration by TheWrap]