First off, we love film festivals. For us, there is no better way to spend a week than immersing ourselves in cinema and hanging with those who create and enjoy it.
But the role of festivals is changing. In the mid-2000s, we made a couple "No Budget" features and stormed the festival circuit hoping to land that elusive distribution deal that would launch our careers into the stratosphere.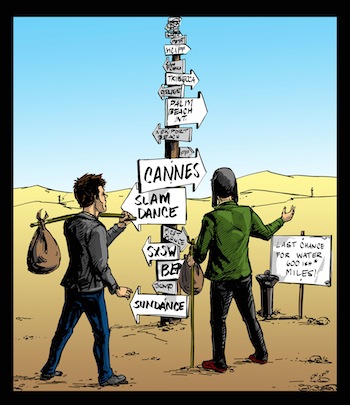 In those days, you didn't have to get into a Big 10 festival to grab a well-known distributor's attention. Those trendsetters were all actively scouting, trying to find that next diamond in the rough. It was boom times for independent film. Audiences wanted to see them and distributors were busy gathering content.
Cut to: 2013. In most distributors' minds, if you're not at a Top 10 film festival, then you might as well be in your parent's living room. The sheer number of festivals and awards being given has diluted their significance. Nowadays, it isn't uncommon to see films playing in two separate festivals in the same area, on the same weekend. We recently talked to a filmmaker who had his film playing eight festivals in a single month.
But is this perceived windfall truly a good thing? Could playing countless festivals actually hurt your film in the long run? Let's step back and try to examine the festival circuit.
We should start by dividing festivals into two distinct categories. First, you have the upper echelon festivals (the Big 10). Examples would be Sundance, Cannes, Tribecca, etc… Not only are these festivals potential career makers, but they're also markets, and a good opportunity to score a major distribution deal.
Unfortunately, with the current financial track records of independents, these types of opportunities are not what they once were. Even those who find themselves being amongst the chosen few are opting to DIY distribute for a myriad of reasons (we touched on a few in our first blog entry).
The second group of festivals is massive because it includes every other festival on the planet. We understand there's a difference between a Top 20 festival and No. 750. Attendance, parties, quality of films, location, liquor sponsorships, could all vary across this wide range of festivals, but there is one common thread between all of them and it's the most important: They are not markets, which means there are no buyers. So if you're not attending these festivals in hopes of selling your film, then what's the point?
It's important to think about what you want out of these festivals? If you're using them as a vacation, that's great. Bring your flip-flops and work on your tan between screenings. If you find yourself selected for a Big 10, then congratulations! Hustle up a rep and make that sale!
However, what if you don't get that golden ticket festival or you're unhappy with the deals distributors are offering. Now you're looking at a year of festivals, small and large, across country and globe. How can you make the most of this process and aid your film's DIY distribution? The following are some insights we've gleaned along our journey. Hopefully, they will help you in yours.
>> Attend the festival. If you want people to see your film, the best thing to do is show up.
>> Gather an Audience. A common misconception is that all festivals have an audience standing by, waiting to see your film. For a majority of festivals, this is not the case. You will need to hustle. This can be done in countless ways: Social media, local television and radio interviews, college and high school talks, hard selling in front of the theatre with a laptop and headphones. We have done all of these and then some. You are only limited by your imagination.
>> Turn your audience into a fan base. The follow-up Q&A is your best opportunity to do some serious fan building. Authenticity and humor go a long way. If the audience loves you, they're more likely to pimp your film.
Be gregarious and friendly. No one wants to be around the brooding artist. People attend festivals to have a good time. You should too.
Close every party. The purpose here is not to go home stumbling drunk, although, we'll admit it's happened on occasion. These late night outings are your best opportunity to get one on one time with the festival brass and/or special guests. These connections can help you get your film into other festivals and pave the way for the reception of your next film.
>> Laurels don't mean what they used to. In fact, we'd say they might actually hurt your film. First, it brands your film as "independent," which translates to lot of today's viewers as boring. Second, it makes your film appear played out. A poster listing twenty festivals says this film has been around the block, and in today's lightning-paced world, the last thing you want to be is old news.
>> Quotes are golden. Use festivals as an opportunity to gather reviews. Hopefully they will be favorable and you can use them on your marketing materials. Be assured, no one has time to waste. People watch what others recommend.
HURDLES TO OVERCOME
Problem: Attending festivals is expensive and cost prohibitive.
Solution #1: Festivals should split a percentage of the box office with the films they screen. Take a breath, festival owners, and hear us out. This will have several positive effects. Filmmakers will work that much harder to raise attendance for their films. Filmmakers and actors will attend more screenings because they can actually afford to do it and potentially begin recouping on their film.
Solution #2: Create merchandise for your film, and set up a table in the thater lobby.
Turn these trips into fundraising opportunities. People love to support films and it makes the screening that much more awesome if they can buy a sweet poster or T-shirt afterward. Film festivals should be like mini Comic-Cons with every film having its own booth and merchandise.
Problem: A film's peak exposure could be during its festival run.
Solution: Festivals should let filmmakers sell their film alongside the theatrical screening. For a lot of films, this tandem distribution makes sense and has negligible side effects on theatrical audiences.
Problem: Filmmakers can't continue to make films if they can't get a return for their investors.
Solution: Film festivals can and should take on the role of being a filmmaker friendly alternative mode of distribution. Filmmakers could show and promote their films across the globe, while slowly recouping and spreading awareness, one community at a time.
If you have any questions, advice, or just want to chat and open up a discussion, then look for us on the "Lost On Purpose" website, Facebook and Twitter. Until next time, we'll see you in the trenches!