The man credited with inventing the foam finger — like the one Miley Cyrus brought to the forefront of national attention at Sunday's MTV Video Music Awards — is not her No. 1 fan.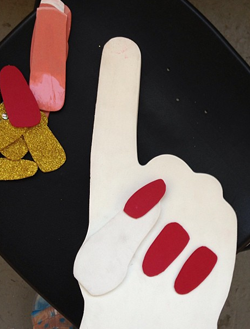 Iowa native Steve Chmelar, who created the foam finger prototype in 1971 (which Geral Fauss would later go on to mass produce in 1978), said he didn't like his invention's newfound infamy.
"She took an honorable icon that is seen in sporting venues everywhere and degraded it," Chmelar told FoxSports. "Fortunately, the foam finger has been around long enough that it will survive this incident."
"For people who like that kind of entertainment, I'm sure that it met their needs," Chmelar said. 
Also read: 'Twerking' Added to Oxford Dictionary (Thanks, Miley Cyrus?)
But it's not his entertainment cup of tea: "If I had a choice between Julie Andrews singing 'The Sound of Music' and Miley Cyrus doing 'Can't Stop,' I'd go the Julie Andrews route."
Lisa Katnic, who designed Cyrus' particular spongy digit, was much happier with how everything turned out. She told Yahoo! Music that the prop was designed for an editorial shoot about a year ago, but it never saw the light of day until a brief appearance in Robin Thicke's "Blurred Lines" video, which Katnic styled.
Also read: Miley Cyrus' Twerk-tastic VMA Performance: By the Numbers
Katnic said she created the exaggerated appendage with several options — French manicured or gold glitter nails, for example — but Cyrus chose the red ones. And, according to Katnic's comments on her Instagram account (a photo from which is above), Cyrus was such a fan of the finger that she took it home with her.
And Katnic defends Cyrus' controversial antics, saying: "Honestly, of any person I've worked with, she's the nicest, most genuine celebrity I've met … She's 20 years old, hot and having fun. What college-age person wouldn't?"
Chmelar was less effusive: "As for Miley Cyrus, let's hope she can outlive this event and also survive."