Looking back on "Freaks and Geeks," Linda Cardellini — who led the (now) star-studded cast as Lindsay Weir — sums up the short-lived NBC series in one simple sentence: "Everybody was so talented and nobody knew it yet."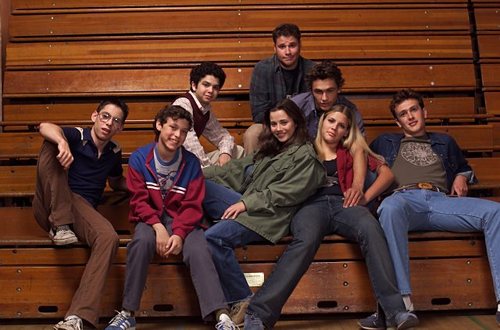 Thanks to Judd Apatow, the director of "Knocked Up" and sort-of-sequel "This Is 40," everybody knows it now.
Also read: Jason Segel Trains Leslie Mann in 'This Is 40' Featurette (Video)
And Vanity Fair's in-depth oral history of the coming-of-age comedy by the likes of Seth Rogen, James Franco and Jason Segel details just how hard they worked (even on the weekends) to develop that talent.
"We would get the script on a Friday, and Seth and James and I would get together at my house every Sunday, without fail, and do the scenes over and over and improve them and really think about them," says Segel, who played Nick Andopolis. "We loved the show. And we took the opportunity really, really seriously."
Franco — who admits he may have taken himself a bit "too seriously" as a young actor — went to such great lengths to capture the character of bad boy Daniel Desario, that he tracked down and visited the high school that creator Paul Feig ("Bridesmaids") attended.
"I knew that Paul had grown up just outside of Detroit, and I found his high school," Franco explains. "I saw all the kids at summer school, and there was this guy the teacher pointed out to me, this kind of rough-around-the-edges-looking kid. He had a kind face, but he looked like he'd been in a little bit of trouble. And I remember thinking, 'Ah, there's Daniel.'"
Also read: 'Freaks and Geeks' Creator Paul Feig Developing (Another) Coming of Age TV Dramedy
When the trio wasn't studying "SCTV" alum Joe Flaherty (Mr. Weir) to perfect their improv techniques — a hallmark of the many Apatow comedies — they were working on their writing skills.
"I was interested in the writing," Franco fondly remembers. "So after hounding Judd and Paul they said, 'You want to see how it's written?' They took me into Judd's office, and they wrote a scene right in front of me, just improvising as the characters out loud. That was really important for me."
Apatow and Feig's influence was, perhaps, more important for Rogen and Segel since writing proved to be a hobby that would eventually elevate their career to the next level. Segal broke through as a screenwriter with 2008's "Forgetting Sarah Marshall," but Rogen did it first with his own brand of raunchy, yet heartfelt humor in 2007's "Superbad" — a movie he began writing when he wasn't filming "Freaks" scenes as Ken Miller.
"I dropped out of high school when I started doing the show," Rogen reminisces. "I told them I was doing correspondence school from Canada and just wrote 'Superbad' all day."
They aren't the only writers to graduate from McKinley High either. John Francis Daley, who portrayed 13-year-old Sam Weir, has written a number of movies currently in production since the success of 2011's "Horrible Bosses."