Picture going through your Netflix and finding out "Seinfeld" went on without Jerry, "Cheers" without Sam Malone or even that the ongoing "Riverdale" marched on without Archie Andrews. Could you believe it? Would you still watch?
So far in 2018, three award-winning TV shows have continued on without a main character. One was planned (Andrew Lincoln on "The Walking Dead"). The other two, not so much (Kevin Spacey's exit on "House of Cards," Roseanne Barr's firing leading to the spinoff "The Conners.") The trend continues in 2019. "Transparent" Season 5 will be sans Jeffrey Tambor, who exited after he was accused of sexual harassment (Tambor has denied the accusations).
A show's lifeline after a major character exits is never certain. But by looking at how that quandary has been met by shows in the past, maybe a little insight can be gained about how it can be handled in the future.
Also Read: Let's Discuss 'The Conners' and the Roseanne Universe Sans Roseanne (Podcast)
Recently with "The Walking Dead," Lincoln's departure as Rick Grimes offers no indication that the successful franchise will be ending. In fact, his story will continue in a series of original films on AMC. "TWD" is still currently the top-rated series on cable, but whether Lincoln's absence will prove costly to the franchise remains to be seen.
TheWrap looks back at 10 notable main character exits, how they were written off, and how long the show lasted afterward.
"House of Cards"
Kevin Spacey was fired from his role as president Frank Underwood on the Netflix drama last November, after actor Anthony Rapp accused Spacey of predatory behavior years earlier. Afterward, more than a dozen men came forward to accuse Spacey of similar behavior. Soon after it was announced that season 6 would be the show's last, with Robin Wright taking over as the lead for one last ride.
Also Read: Here's How 'House of Cards' Wrote Out Kevin Spacey's Frank Underwood
Reception of the final season, which released Nov. 2, has been generally favorable. Season 6 currently has a 76% on Rotten Tomatoes.
Barring a spinoff, "House of Cards" is now heading into the sunset.
"The Office"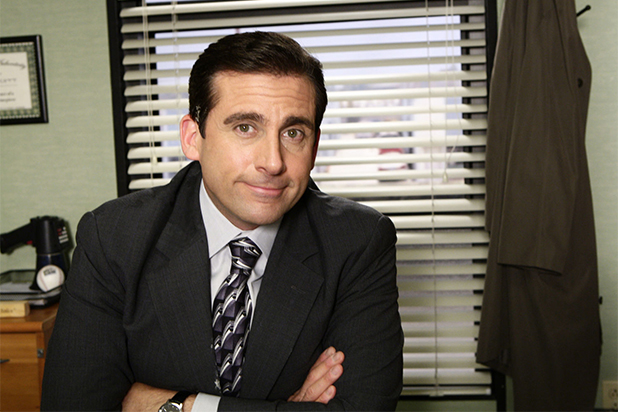 Steve Carrell left the role of Dunder Mifflin regional manager Michael Scott behind in 2011 after the show's seventh season, telling E! Online after his June 2010 announcement that "I want to fulfill my contract. When I first signed on, I had a contract for seven seasons, and this coming year is my seventh. I just thought it was time for my character to go."
"The Office" ran for two more seasons after Carrell's exit, with "The Blacklist"'s James Spader and even Idris Elba taking a crack at the role of regional manager.
Also Read: Steve Carell Says 'The Office' Wouldn't 'Fly' Today: 'The Climate's Different'
"Two and a Half Men"
Charlie Sheen played the antagonistic brother Charlie Harper in the CBS comedy's first eight seasons, but was fired in early 2011 after he made comments disparaging the show and producer Chuck Lorre.
Also Read: Charlie Sheen 'Can Relate' to Roseanne Barr's 'Tone of Absolute Despair'
"Two and a Half Men" would proceed without Sheen for four more seasons, replacing him with Ashton Kutcher as an internet billionaire who buys Charlie's house. The show continued to modest ratings, according to Business Insider, but never the highs seen prior to Sheen's departure.
"8 Simple Rules"
After John Ritter suffered a heart attack and died early on in the second season of this ABC comedy, actor/comedian David Spade and actor James Garner joined the show.
"We don't pretend to know exactly where this will take us; we will take episodes one at a time," ABC Entertainment President Susan Lyne told the Washington Post in September 2003.
"8 Simple Rules" would be canceled after its third season.
"Scrubs"
After the hospital-set comedy switched networks from NBC to ABC after its eight season in 2009, the show was rebooted to focus on a new crop of medical school students. Only stars Zach Braff, Donald Faison and Ted McGinley remained series regulars in supporting roles, with the rest of the show's originals switching to either recurring or guest appearances only.
Also Read: 'Veronica Mars' Revival: Here's Everything We Know About Kristen Bell's Hulu Run - So Far
The ninth season, which featured actors Dave Franco and Kerry Bishe, would turn out to be its last.
"That 70's Show"
Actors Topher Grace and Ashton Kutcher surprised fans when they decided not to return for the show's eighth and final season.
"I cried. It was really hard, actually. One of those times you really see this incredible team. But the two of them are making choices, and I am super proud of them and knowing they're doing amazing stuff," Wilmer Valderrama, who played Fez on the show, told Fox News in May 2005. Kutcher and Grace were both pursuing movie careers at the time.
"Nashville"
When the show began on ABC in 2010, the musical drama focused on Rayna James (Connie Britton) and Juliette Barnes (Hayden Panettiere) vying to be the top country artist in the nation. During the show's transition to CMT in 2016, creative differences arose between the show and star Britton, according "Nashville" showrunner Marshall Herskovitz in a Variety story in Feb. 2017.
"She loved the people on the show and it was like a family, but after four years, she felt she needed a different challenge, which is something I really understand as an artist," Herskovitz said.
Also Read: 'Nashville' Creator Tells Us All About That Surprise Finale Cameo: 'So Perfect'
Britton would be killed off in season 5 episode 9, with the show having its final curtain call a year later with season 6.
"Three's Company"
Asking for equal pay as your male counterpart has become the norm in 2018, but for Suzanne Somers in 1980, asking for the same kind of money as John Ritter was asking for too much.
In a conversation with The Hollywood Reporter in 2015, Somers detailed how she spoke out during contract negotiations for the fifth season of "Three's Company" in 1980. Things came to a head when Somers asked for a pay hike from $30,000 an episode to $150,000, equal to what Ritter was making at the time. The producer resisted, and soon would fire Somers "to make a point," Somer's husband and manager Alan Hamel said in the same story.
While the show would go last four more seasons and launch a short-lived spinoff called "Three's a Crowd," ratings never quite reached the highs of its earlier run.
"Spin City"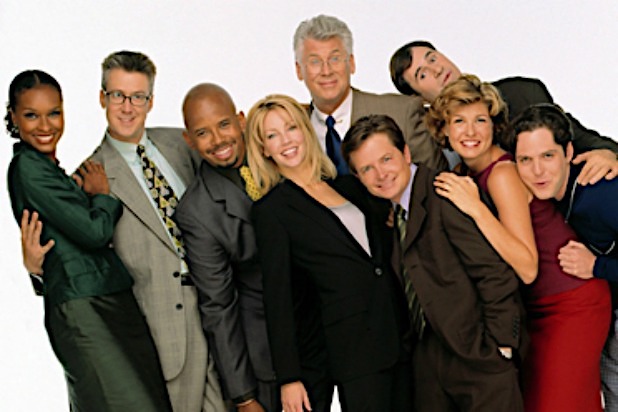 Michael J. Fox's portrayal of deputy New York city mayor Mike Flaherty nabbed him two consecutive Golden Globes for outstanding actor in a comedy and an Emmy for best actor in a comedy series.
Also Read: Hollywood Stars and Execs Detail the 'Apocalyptic' Scene as California Fires Hit Malibu
But Fox left after season 4 due to his battle with Parkinson's disease. The show would run for two more seasons with Charlie Sheen taking over in the lead role.
"This big idea that the show must go on — after a while it just didn't seem as compelling an idea," Fox told the New York Times at the time. "It just seemed like the right time."
Side note: Spin City featured both Sheen ("Two and a Half Men") and Britton ("Nashville") as characters. And if that wasn't enough, the co-creator of "Spin City" was "Scrubs" creator Bill Lawrence.