(Warning: This post contains spoilers for the "Game of Thrones" Season 8 premiere, "Winterfell")
And another one bites the dust.
The eighth and final season of "Game of Thrones" has finally premiered, revealing the first major-ish death of the HBO series' final chapter to be young Northern lord Ned Umber. While the preteen was the inaugural death of a significant character in the show's Season 8 run, his demise will surely not be the last throughout the remaining five episodes.
While the death toll continues to climb through the coming weeks, TheWrap will keep track of everyone who bites the dust for you. Do not worry, we shall not miss a name until our watch is ended when the series finale airs May 19.
See below for our list of every "Game of Thrones" character who has died on Season 8 and check back Sundays after each episode airs for new names. (Obviously, we're hoping some of these are transferred over from Arya's list.)
To see the biggest questions answered on Sunday's premiere — and the many we still have left — head over here.
Also Read: 'Game of Thrones' Season 8 Premiere: 7 Biggest Questions Answered and 15 We Have Left
Ned Umber
How they died: Poor little Ned Umber. This guy was the first notable death of the final season and technically died twice because he was a) turned into a wight by the Night King and left at the center of a ritualistic arrangement of body parts inside the Umbers' ancestral home, The Last Hearth, and b) killed by Beric and his trusty fire sword once the Eastwatch-Castle Black team found the boy's reanimated corpse. The son of the late Smalljon Umber and grandson of the late Greatjon Umber, Ned is the tyke who Jon Snow entrusted with the Umbers' property, after the Northern clan betrayed the Starks and Jon fought for Ramsay Bolton at the Battle of the Bastards. Jon was willing to forgive the family and not hold Ned accountable for their actions, letting him retain control of his home when he agreed to bend the knee.
See below for how Ned died (the second time):
Also Read: 'Game of Thrones' Opening Credits Team Tells Us What You Missed in Season 8's New Sequence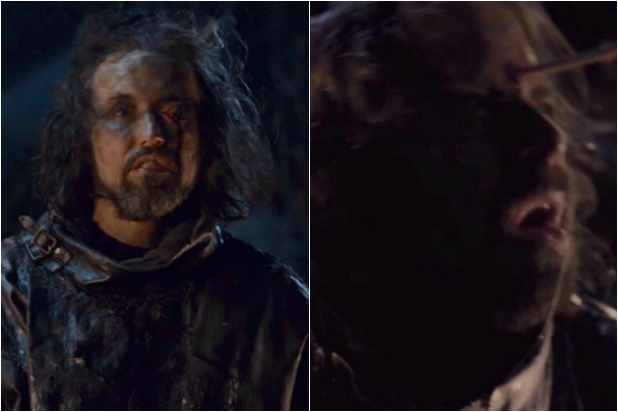 Random men who were guarding Yara on Euron Greyjoy's ship (played by Rob McElhenney and Martin Starr)
How they died: Arrows to the head, courtesy of Theon and his crew, who came to rescue Yara. Honestly, they were very, very minor deaths we only care about 'cause these were just awesome cameos.
"Game of Thrones" airs Sundays at 9/8c on HBO.