New York's Marriage Equality Act went into effect Sunday, making it legal for same-sex couples to tie the knot for the first time in the state's history.
It's about friggin' time — and we don't just mean that from a political standpoint, either. See, weddings have been used as a television plot device for so long now — Jim and Pam on "The Office," Marshal and Lily on "How I Met Your Mother," Chandler and Monica on "Friends," Niles and Daphne on "Frasier," etc., etc. We've simply gotten bored with the annual sweeps-month ritual of two heterosexual characters being joined in holy matrimony.
Also read: Neil Patrick Harris Plans to Marry Partner Thanks to N.Y. Approving Gay Marriage
And so in the name of TV diversity, we say bring on the gay weddings. Luckily, with so many series set in New York and an increasing number of same-sex couples found around the dial, they should soon become a television staple. Here are some notable small-screen New Yorkers who can totally get married now..
Will Truman (Eric McCormack)
"Will & Grace"
The 2006 series finale of the groundbreaking NBC sitcom flashed forward to show that Will Truman (Eric McCormack) and his boyfriend, Vince D'Angelo (Bobby Cannavale), were raising a son, Ben. A "My Two Dads" scenario that, thanks to the change in New York law, can now be a "My Two Legally Married Dads" scenario.
Stanford Blatch (Willie Garson)
"Sex and the City"
Yes, Stanford "the Fifth Lady" Blatch married Charlotte's event-planner pal Anthony Marentino in the second "Sex and the City" movie. But the ceremony took place in Connecticut, something that a fashion-forward New Yorker like Stanford had to have considered a necessary indignity. But thanks to the new law, Stanford and Anthony can do it up like civilized people.
Diana Berrigan (Marsha Thomason)
"White Collar"
Diana, a special agent with the FBI, relocated from Washington, D.C., where same-sex marriage has been legal since 2009. The move strained her relationship with her girlfriend, Christie — but here's hoping that the new possibility of legitimate nuptials up north will have one of them shopping for a diamond ring.
Harold Waldorf (John Shea)
"Gossip Girl"
Blair's dad (at left in photo) broke up her family's not-entirely-happy home by declaring himself gay and moving to Paris to be with his model boyfriend, Roman. But maybe the possibility of legit marriage in his hometown will lure Harold back from gay Paree with his muscle-bound arm candy in tow?
Dr. George Huang (B.D. Wong)
"Law & Order: Special Victims Unit"
It took 187 episodes, but criminal profiler and forensic psychiatrist Dr. Huang revealed his sexual orientation two seasons ago. We never learned much else about his personal life, including his relationship status, but we do know that Dr. Huang has prescribed therapeutic drugs. Thanks to New York, Dr. Huang can now prescribe the therapeutic healing potion known as legal gay marriage.
Serena Sotherlyn (Elisabeth Röhm)
"Law & Order"
Serena didn't reveal her sexual orientation until the final minutes of her very last episode as a character on the long-running NBC crime procedural. The suddenness of the disclosure gave her a surprising "Law & Order" exit — but a big, happy, gay wedding at which crusty old Jack McCoy does the macarena could have been an even more out-of-the-blue way to send her off. Alas.
Javier Quintata (Ian Gomez)
"Felicity"
Javier memorably got married to his long-time boyfriend, Samuel, at the end of the J.J. Abrams' drama's second season. But it was just a commitment ceremony. Can it be argued that the goofy Spaniard might have been a better boss for Felicity at Dean & Deluca had he been able to legally marry for real? Probably not. But maybe we'll find out if Abrams ever gets off his ass and revives "Felicity" — it's not like he's busy or anything.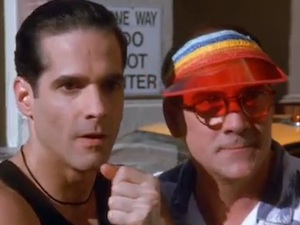 Bob and Cedric (Yul Vazquez and John Paragon)
"Seinfeld"
These homosexual hotheads continually got up in Kramer's grill at the slightest provocation. Maybe these so-called "street toughs" were so angry because they weren't able to legally marry? Not that there's anything wrong with that.
Tracy Jordan (Tracy Morgan)
"30 Rock"
No, Tracy Morgan's "30 Rock" clown isn't gay, although he's not exactly looking like a studly macho man in the yellow jacket he's wearing here. But to shame him further for the homophobic comments Morgan made back in June, Tina Fey and her fellow writers should give his "30 Rock" character a coming-out storyline. Next May's season finale set at a lavish and ludicrous wedding reception celebrating his marriage to Will Arnett's Devon Banks would be quality television.