The new chairman of the Federal Communications Commission said Monday he is concerned about sex and violence in the entertainment media, but is inclined to rely on technology rather than regulation to help parents monitor what their children watch.
In an exclusive interview with TheWrap just four weeks after taking his post, Julius Genachowski called himself "an optimist on the role that technology can play in helping parents to choose, and to tackle the confusion people feel."
Genachowski, 46, who has clerked for two Supreme Court justices but also worked as a right hand to media mogul Barry Diller at InterActive Corp., is known as a strong proponent of the First Amendment — even as he faces pressure from citizens' groups to crack down on Hollywood excess.
"Parents are concerned and confused," he said, noting that he has three children.
But, he added, "The First Amendment is incredibly important. We need a landscape that respects and honors the First Amendment. These are issues people have been fighting over for a while. It would be ideal to harness technology for goals that are widely shared."
That point of view is likely to find a welcome reception in Hollywood, where media companies and members of the creative community alike have long been wary of any government action that smacked of censorship.
Genachowski's predecessor, Kevin Martin, had been a strong advocate for those who protested against sexualized content like the infamous Janet Jackson breast-flash at a Super Bowl halftime show. (That remains mired in a lower court, which must decide on the constitutionality of the challenge to CBS.)
Genachowski also said the rise of a digital media alternative would create new business models to support more diverse, educational programming for children.
"The barriers to entry are lower; there is dramatically more shelf space" on the Internet, he said.
This might prove better in theory than in practice, however.
Thus far the government's attempt to create at an empowering, technology-enabled response — the V-chip — has been widely regarded as a failure.
Genachowski acknowledged that market research shows many parents still don't know the V-chip exists, much less how to turn it on to filter out undesirable programming.
And he observed that "the business models haven't yet gelled" on the Internet.
Independent producers, including the Independent Film and Television Alliance, and leaders of the directors and producers guilds, are likely to press the FCC to shore up the amount of independently produced programs on television.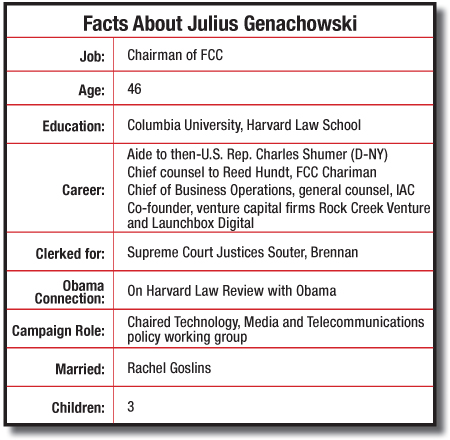 But Genachowski said the FCC was studying the changes in content and delivery systems as he looks to revamp and upgrade the agency for the 21st century.
He testified before Congress last week that he was undertaking an inquiry that would specifically focus on protecting children from objectionable content.
He said Monday his inquiry would include looking at whether the FCC should seek to regulate the cable industry or the Internet as is currently the case with broadcasters, who must seek federal licenses every five years.
"I wouldn't want to prejudge" what policy we might pursue," he said. "We have broad authority to promote the public interest in the area of communications. The FCC should and will get its arms around what effect this is having on kids."
As a confidante of Obama — the two went to Harvard Law School together — Genachowski's mandate represents one of the more dramatic opportunities to shift focus by a federal agency at a time of profound transformation in the media industries.

He takes over a federal agency where the dictionary in his office — left by his predecessor — does not contain the words "broadband" or "Internet."
He said the agency was now pursuing a broadband strategy "that we should have had 10 years ago," with the goal of extending broadband across the country, a strategy he called critical to a national plan for growth in this century.
Previous obsessions of Hollywood and the FCC may decline in relevance, such as the question of media ownership rules. Some question whether they are relevant in a landscape where newspapers are dying.
Another issue up for debate is whether it makes sense to maintain federal children's programming regulations for broadcast networks — but not have them for cable, mobile or the web.
Asked about the state of popular culture, Genachowski confessed that he didn't have much time to watch television — that he mainly watched the films of his wife, Rachel Goslins, a documentary filmmaker.
"There is ongoing evidence that we have incredibly creative, talented people working in this country. There's also evidence for the feeling that there are thousands of channels and nothing to watch," he said.
Asked which view he held, he demurred: "There's enough to watch for the time I have to watch."
Genachowski also said he was worried about the state of local news programming.
"I'm concerned about what's going on in local reporting — the cutback on local news, the struggle in newspapers," he said. "The shutting down of newspapers is not healthy to a democracy … I don't think anyone is happy about a world where that goes away."