The Toronto International Film Festival announced its guest list Tuesday, and from the looks of it, seemingly half of Hollywood is heading to Canada for the September event.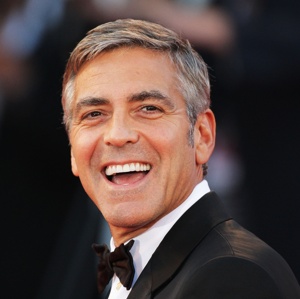 George Clooney will be there. So will his "Ocean's Eleven" pal Brad Pitt. The bands U2 and Pearl Jam will mingle with Catherine Deneuve and Salma Hayek.
But the list goes on — and on. Adam Brody? Check. Werner Herzog? Yes, sir. Nicolas Cage? Indubitably! Jon Hamm, Adam Scott, Catherine Keener, Christopher Plummer, Ryan Gosling, Clive Owen, Salman Rushdie — all of these celebrities will be in Toronto at some point during the event, which runs from September 8 to 18.
The full list of bold-faced names expected to be at the festival is as dizzying as it is impressive, and it all begins with an "Arrested Development" alum:
Alia Shawkat, Abbie Cornish, Adam Brody, Adam Scott, Adepero Oduye, Agnieszka Grochowska, Albert Brooks, Alessandra Negrini, Alexander Skarsgard, Aline Morais, Alison Pill, Allison Janney, Alexis Bledel, Analeigh Tipton, André Wilms, Andrea Riseborough, Andrey Fomin, Angie Cepeda, Angrzej Chyra, Anton Yelchin, Antonio Banderas, Arielle Kebbel, Ashley Bell, Akshay Kumar, Ben Foster, Bennett Miller, Benno Fürmann, Bill Nighy, Blake Lively, Brad Pitt, Brian Ladoon, Bryce Dallas Howard, Caleb Ross, Carey Mulligan, Catherine Deneuve, Catherine Keener, Chace Crawford, Charlotte Rampling, Chloe Moretz, Chris Pratt, Chris Nilan, Christopher Lovick, Christopher Plummer, Clive Owen, David Thewlis, Deepa Mehta, Dominic Monaghan, Do-Yeon Jeon, Durukan Ordu, Eddie Redmayne, Elena Anaya, Elias Koteas, Elizabeth Olsen, Emile Hirsch, Emily Blunt, Erin Brockovich, Ethan Hawke, Evan Rachel Wood, Evelyn Vargas, Ewan McGregor, Ezra Miller, Fabian Lojede, Fadi Abi Samra, Felicity Jones, Frances O'Connor, Freida Pinto, Gael Garcia Bernal, Gaye Gürsel, Geoffrey Rush, George Clooney, Gerard Butler, Glenn Close, Greta Gerwig, Harry Knowles, Hugh Dancy, Hugh Laurie, Husham Hlail, Iko Uwais, Isabelle Huppert, Jamel Debbouze, James Gandolfini, Jane Fonda, Jason Reitman, Jason Statham, Jay Baruchel, Jean Dujardin, Jeffrey Dean Morgan, Jeffrey Wright, Jennifer Garner, Jennifer Hudson, Jennifer Lawrence, Jeremy Schuetze, Jessica Chastain, Joe Taslim, Joely Richardson, John Lydon, Jon Hamm, Jonah Hill, Jonathan Schteinman, Jordon Gelber, Joseph Gordon-Levitt, Julia Maxwell, Juliette Binoche, Juliette Lewis, Jung Jae-Young, Juno Temple, Katlyn Maclang, Keira Knightley, Kelly Reilly, Kevin Durand, Kirsten Dunst, Kyle MacLachlan, Lana Hay Yehya, Lauren Ambrose, Leighton Meester, Liana Liberato, Lily Cole, Louise Bourgoin, Lucia Siposova, Luke Kirby, Luong Manh Hai, Maggie Gyllenhaal, Marc-André Grondin, Maria Isabel Laban, Maria Schrader, Maria Yokohama, Mariana Padial, Marisa Tomei, Matt Ellis, Matthew Goode, Max Minghella, Maya Rudolph, Megan Fox, Michael Fassbender, Michael Shannon, Michael Weston, Michelle Williams, Michelle Yeoh, Mira Sorvino, President Mohamed Nasheed, Nat Wolff, Neil Young, Nicolas Cage, Noe Hernandez, Oliver Platt, Pascale Bussières, Patrick Huard, Paul Williams, Pearl Jam, Philip Seymour Hoffman, Piet Suess, Rachel Weisz, Rebecca Frayn, Rebecca Hall, Robert Wieckiewicz, Robin Wright, Rodrigo Santoro, Rosemary DeWitt, Ryan Gosling, Said Husham, Salma Hayek, Salman Rushdie, Sam Neill, Sami Bouajila, Saoirse Ronan, Sarah Bolgar, Sarah Gadon, Sarah Silverman, Scott Speedman, Seann William Scott, Selma Blair, Seth Rogen, Shahid Kapoor, Simon Ibarra, Simone-Elise Girard, Solmaz Panahi, Sonam Kapoor, Stephanie Sigman, Tahereh Saeidi Balsini, Tammy Blanchard, Terrence Howard, Tilda Swinton, Tom Hiddleston, Tran Dang Khoa, Tyler Johnston, U2, Viggo Mortensen, Vladimir Vdovichenkov, Willem Dafoe, Woody Harrelson, Yara Shahidi.