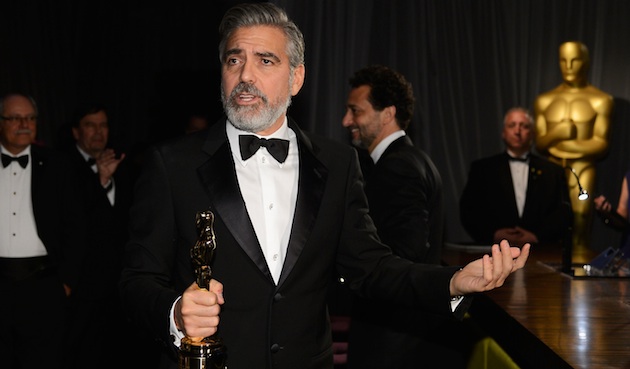 If we needed any more proof that George Clooney is the king of Hollywood, here's some:
He could become the first producer since David O. Selznick to win back-to-back Best Picture Oscars – and if you want to get technical, the first in the history of Hollywood to officially be the recipient two years in a row.
Yes, we're jumping the gun and getting way ahead of ourselves here, but bear with us.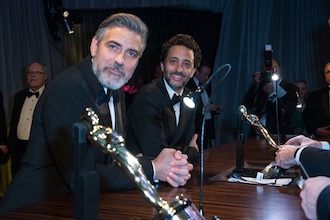 Clooney was one of three producers to win the Academy Award for Best Picture in February for "Argo." (The other two were Ben Affleck, who also directed the film, and Grant Heslov, with Clooney at left.)
And this year, Clooney has produced two more Oscar contenders: "The Monuments Men," which he directed, and "August: Osage County," from "E.R." creator John Wells.
(Heslov is a credited producer on both, so maybe he's the other king of Hollywood.)
"Monuments Men," a December release from Sony, has a cast that includes Clooney, Cate Blanchett, Matt Damon and Bill Murray in a true-life story involving a group of operatives trying to save works of art from being destroyed by the Nazis during World War II.
"August" has a Pulitzer Prize-winning theatrical pedigree, a cast that includes Oscar winners Meryl Streep, Julia Roberts and Chris Cooper and the formidable Weinstein Company in its corner.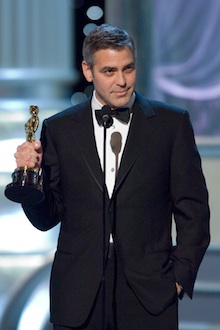 Both fairly reek of awards-worthiness, and both figure to bring more badly-needed attention to Clooney, who has won two Oscars (one for acting in "Syriana," one for producing "Argo") and been nominated for six others, with a total of four acting, two writing, one directing and one producing nod.
Earlier on Tuesday, Clooney was named recipient of BAFTA Los Angeles' Stanley Kubrick Britannia Award for Excellence in Film, ending a five-month drought since the last time he won anything from BAFTA. (That came for producing "Argo" in February.)
The last man to produce consecutive Best Picture winners was David O. Selznick, who turned the trick with "Gone With the Wind" in 1939 and "Rebecca" in 1940. But here's the fine print: Back then, the statuette went not to the film's producer, but to the company that released it. So officially, those two Oscars were awarded to Selznick International Pictures, not to David himself.
Meaning that Clooney (and yes, Heslov) could boldly go where no producer has ever gone before.
Yes, Clooney's about 60 films shy of Selnick's track record. And it's a long way from the doldrums of summer to the Dolby Theatre next March 2, and far too early to be making predictions — particularly since his films are months away from screening.
So consider this not a prediction, but a warning: The man may be unstoppable.