Until the Top 12 girls performed, I was certain that this season would belong to the male contestants. Now I'm not so sure. As a group, the ladies gave the guys a run for their money, both as singers and showmen.
In seasons past, there has always been a dud or two in the group — those who were not quite superstars. And let's face it, "Idol" has had its fair share of women who were more "good looking" than "good singing." But this year, the amount of talent is nothing less than completely staggering.
Gone are the cruise ship performances of yesteryear. These ladies are ready for "VH1's Divas!"
Amazing runs aside, the girls excelled at more than sheer warbling. Unlike the men, virtually every woman painted a clear picture of where she fits into the industry, both with wardrobe and presentation. This episode marked the biggest display of confidence in the show's history. Even the girls whose vocals weren't VH1-ready commanded the stage with poise.
For the first time in a long time, this may actually be a real competition, rather than a competition between three or four standout people. Randy's advice for America to "look for who can go the distance" is easier said than done, especially when many of the contestants could've easily won in seasons past.
TA-TYNISA WILSON "Only Girl (in the World)" by Rihanna
Though she made it to the finals for a reason, Ta-tynisa was one of the few ladies who didn't hit the right notes tonight, both literally and figuratively. Not only did she miss the entrance to her number, but her performance was painfully pitchy to those of us listening at home, sassy strutting aside. As someone who has already been given a free pass by the judges after massacring her lyrics during Hollywood Week, Wilson really needed to hit it out of the park. Thankfully for her, the judges really didn't seem to notice. Tyler thought it was a "beautiful way to open the show" and Lopez also gave her kudos. While Randy noted the pitch problems, he didn't make as big a deal of it as it warranted. It was clear that the studio audience was hearing a different performance than we were and my guess is that the judges will realize that if they review the tape.
NAIMA ADEDAPO "Summertime" from "Porgy and Bess"
Naima (pictured) is a true original, dancing to the beat of her own drum. While her canary yellow mullet dress would be hideous on anyone else, the short-in-front-long-in-back ensemble just seemed to fit her. The girl has guts and not just for her fashion risks. Year after year, we've heard Randy rave about Fantasia Barrino's Season 3 performance of "Summertime." Adedapo must have known that he would draw comparisons, yet she executed flawless vocals and even had the courage to walk all the way down stage to sing right in front of the judges' table. Randy thought she was a little "lounge-acty" but Steven like the "new old-timey thing" she's got going on, a quality she seems to share with male contestant Casey Abrams.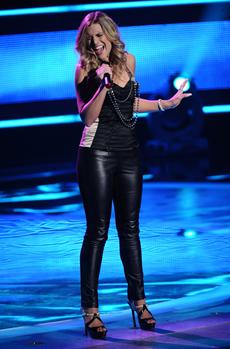 KENDRA CHANTELLE "Impossible" by Christina Aguilera
It takes chutzpah to attempt Christina Aguilera, but Chantelle (pictured) pulled it off with finesse. God only knows how she maintained her breath support in those tight leather pants. The problem? Aside from her breakout performance of "Blackbird" with Paul McDonald in Las Vegas, her appearances on the show have been few and far between. Her voice is impeccable but in such a competitive season, it may not be enough for her to crack the Top 10. Even Lopez seemed concerned: "I feel like we're just scratching the surface with you." I feel the same way.
RACHEL ZEVITA "Criminal" by Fiona Apple
Where to even begin? In a season where the majority of the girls have a clear understanding of what their genre is, Zevita is trying to invent her own. She has an original style, I'll give her that, but she can't pull it off the way Naima can. She started her piece draped in a cloak more suitable for a "Harry Potter" Death Eater than an "American Idol" contestant. She then threw off the cape with the flair of a magician and launched into a Roxie Hart meets Fiona Apple rendition of "Criminal." At least I think it was "Criminal." The jury's still out. The judges definitely weren't feeling it. Steven Tyler seemed to pick up on the Roxie Hart thing, too, because while he said that it was "a little too Broadway" for him, he softened the blow by saying that Broadway could be her niche. Zevita should've held her tongue but instead she corrected Tyler, saying that Broadway was the only genre she's never sung.
KAREN RODRIGUEZ "Hero" by Mariah Carey
When the opening notes of "Hero" started to play, I held my breath. Mariah is one of those incomparable divas whose song catalog should never be attempted on "American Idol." But then … pleasant surprise! Rodriguez's first notes sounded amazing. Then in a genius move, she switched into Spanish, earning her votes just by being the only woman trying to target the Latin vote. Endearing her to me but probably annoying others, she said "I love you, Mom" as the music wound down. I can totally see her doing a Spanglish duet with Lopez one day, not to mention BFF Jacob Lusk, as Tyler suggested.
LAUREN TURNER "Seven Day Fool" by Etta James
The girl who reminds J. Lo of Bette Midler came and delivered. Like Naima and Casey, she chose an old-school song and made it fresh. While I wasn't familiar with this tune initially, it had me thinking that it was from the likes of Amy Winehouse or Duffy (read: something you could hear on current radio). Tyler called Turner (pictured) "spectacular" and while I agree, I'm worried that she won't be among the five ladies to progress. Much like Chantelle, we don't really know that much about Turner other than the fact that she was originally in Jordan Dorsey's group during Hollywood Week. Though her vocals were pretty faultless and her dress was pretty sparkly, she just doesn't seem to have the polish of the others when it comes to her image. The Wild Card is still a possibility, but I don't expect Turner to make it into the Top 10 based on votes alone.
ASHTHON JONES "Love All Over Me" by Monica
Ashthon swept across the stage like she owned it. Tyler said that she had the confidence of a queen and Lopez deemed her confidence "crazy." Fortunately, Jones has the vocal aptitude to back up such boldness. While this song may not have been the best vehicle to showcase her talent, she did hold some crazy long notes and stay in tune, unlike Wilson. Randy thinks that she can take on more challenges and while I agree, it remains to be seen whether or not she will get that chance. Can't we at least give her some points for putting up with Ashley Sullivan during the Group Round?
JULIE ZORRILLA "Breakaway" by Kelly Clarkson
The judges have said that Zorrilla has the total package — looks, style and talent. But while she is definitely more talented than some of the girls of seasons past, she is the closest thing we have this season to a "pretty girl" token. Her supermodel looks have tricked the judges into thinking she's a better singer than she actually is. After her Vegas performance of "Something" with Tim Halperin, I thought there was hope. But this insincere beauty pageant cover of "Breakaway" left me scratching my head. If doing a Whitney song is a no-no, then attempting a Kelly Clarkson song should be outlawed. Pitch problems abounded and what's worse, she had no connection whatsoever to the lyrics. Mind you, these are words that should connect with any person competing on "American Idol," even if they are playing the part of a Disney princess.
HALEY REINHART "Fallin'" by Alicia Keys
It takes a great vocal to distract from the fact that a contestant seems to only be wearing ladies' shapewear. Luckily for Haley, she sang so well that we hardly noticed her lack of clothing. Like many contestants, she's got the runs downpat. What makes Reinhart unique, though, is the gravelly rasp in her voice. Not surprisingly, the gritty-voiced Steven finds her voice sexy. Lopez cautioned that she needed to get out of her head a little more and stop planning her blocking. Randy didn't think the song did anything for her but I have to disagree. Very few people can do justice to this Alicia Keys tune and Reinhart successfully put her own scratchy spin on it.
THIA MEGIA "Out Here On My Own" by Irene Cara
Astounding. How is it possible that the ever-professional Thia is only 15? This performance was exceptional in its simplicity. No blaring lights or pounding beats, just Thia on a darkened stage under a lone spotlight singing a cappella. While apparent technical issues made it difficult to hear her vocal throughout, especially when the instrumental kicked in, it was not difficult to tell that said vocal was fantastic. Her clear tone reminds Randy of Michael Jackson and Steven is also a fan. While he sympathized with the audience's task of choosing amongst these standout women, he said that Thia makes it easy to pick.
LAUREN ALAINA "Turn On the Radio" by Reba McEntire
Like Rodriguez, Alaina has an advantage in that she is the only woman representing her chosen genre. Alaina truly gives off the girl-next-store quality of a country cutie and didn't bother to costume herself in a cocktail dress or suffocating leather pants. Instead she dressed like a regular old teenager and, thankfully, left that purple cotton candy monstrosity in her suitcase this time. While she may not be Mariah, Reba McEntire is one of the queens of country music and attempting one of her songs could be just as risky. Alaina pulled it off with ease, though, prompting Lopez to marvel at what a natural she is. Randy paid her the ultimate compliment by likening her to Carrie Underwood and Kelly Clarkson.
PIA TOSCANO "I'll Stand By You" by the Pretenders
As any "Idol" fan knows, Carrie Underwood also covered this song. Again, a risky move for this audience. However, Pia put her own take on the tune and it paid off, eclipsing Underwood's version. They clearly saved the best for last this episode. The judges gave her a standing ovation and Lopez deemed the performance "out of this world." I had no idea Pia could sing like this. While good, her Hollywood Week rendition of Bruno Mars' "Grenade" didn't exactly lend itself to vocal acrobatics. The judges seemed taken aback, too, with Lopez teasing that she had been saving this for when it counts. Steven simply commented that "After Monday and Tuesday, even a week says WTF."