Zosia Mamet could have spent her hiatus from "Girls," shooting a movie, racking up guest spots on TV or doing commercials. Something lucrative that would have helped push her rising star farther into the stratosphere.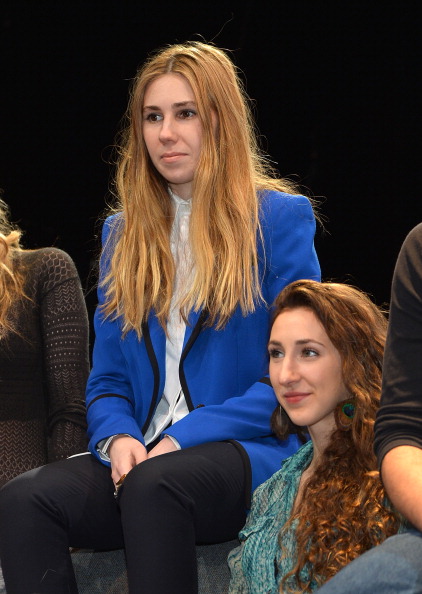 But Mamet, whose father David Mamet lobbed lit sticks of dynamite at American theater more than three decades ago with his profane portraits of battered male egos in dramas like "American Buffalo" and "Glengarry Glen Ross," decided that the time was right to make her own mark on stage. Theatergoers will find out next Thursday if another Mamet is ready to take her place in the theatrical firmament when 24-year-old Zosia debuts as a member of the cast of "Really Really."
"It's something I grew up loving out of the womb," Mamet told TheWrap. "I think a theater is one of the most magical places on earth."
Mamet was in one of those magical places recently, albeit one that has been made to look like a tattered dorm room replete with empty beer bottles, discussing gluten-free diets with the rest of the play's cast of twenty-somethings. Yes, the press was on hand, so all of the actors were necessarily on good behavior. But Mamet's body language, the way she patted a castmember on the arm or draped herself on a piece of furniture made her appear perfectly at ease blending into the youthful ensemble.
Her's is the biggest name in the play, which will run at the 200-seat Lucille Lortel Theatre in Greenwich Village until early March and co-stars Matt Lauria of "Friday Night Lights" and "Parenthood." However, her work as the virginal and bubbly Shoshanna Shapiro on Lena Dunham's much buzzed about HBO show didn't guarantee her a spot in "Really Really." Mamet had to fight for the role of a college student who exploits sexual politics after a boozy party.
David Cromer, who oversaw a critically acclaimed off-Broadway revival of "Our Town" in 2009, confessed that he was not certain Mamet was right for the part until he witnessed her determination to persuade him otherwise.
"She wanted the part, she worked really really hard to get it and she earned it," Cromer said. "I think she's exciting on 'Girls,' but I didn't watch her and immediately think, 'Oh she should play this.'"
Yet after she read for the role, he became convinced that there was a brutal and calculating underside to Mamet's wide-eyed exterior on the show.
"She is completely idiosyncratic," Cromer said. "She seems like a lost, beautiful, sad wounded little girl, and she also can turn on a dime into this very steely, very confidant, very fierce, very tough, very together person. We've got to be able to watch her in scenes and think that poor little girl and then watch her in other scenes and go wow, wow, who is that?"
The character may be more duplicitous than the one Mamet is currently playing on television, but the play is also steeped in generational drift and the diminished opportunities that have greeted recent college graduates in the wake of the economic collapse. Playwright Paul Downs Colaizzo, who is 27, said he was very eager to capture how his contemporaries were promised everything and offered nothing.
"It was very much write what you know," he said. "It was very much the fear that I had for my friends and myself after we were suddenly deemed the lost generation and the idea that some people will not take that lying down. I wanted to examine the lengths they will go to protect their future."
For her part, Mamet welcomes the opportunity to once again dramatize the experience of twenty-somethings, particularly as "Really Really" is hitting many of the same notes as her TV show but in a different key. After all, the stakes for Mamet's character this time are much higher than whether or not Shoshanna will go all the way with a guy.
"I feel lucky to make something about that period of someone's life that is so unabashedly real," Mamet said. "The lighthearted moments of 'Girls' are really not speckled throughout and that to me is just super exciting, to be able to delve into the darkness that you are greeted with in your early 20s and the fear and what that makes you do, the places that you can potentially go with that."
It is also a play written, performed and speaking to a demographic that is different from typical theater audiences, which often skew older. Colaizzo and Mamet, however, argue that could change if there are more plays like "Really Really" that try to capture the often painful transition into full-blown adulthood.
"I think every artistic realm needs to take a look at itself right now and the way that it's doing things," Mamet said, "because I think the times are a changing, and we have to change with them."