Giuliana Rancic is returning to "E! News" this fall opposite co-host Jason Kennedy, the network announced Friday.
Rancic first joined as a correspondent for "E! News" in 2002, and co-anchored the show from 2005-2015. Her co-hosting role will begin September 4.
"Giuliana is an incredibly charismatic and well-respected entertainment journalist. As a longtime member of the E! family, it's exciting to welcome her back home to 'E! News,'" John Najarian, Executive Vice President & General Manager, News & Digital, E!, said in a press release. "While 'E! News' has seen massive growth across digital and social, we have also continued to expand and elevate our television coverage, and Giuliana is an excellent addition to our weeknight series, which remains the most watched entertainment news franchise with young women."
---
Also Read:
Catt Sadler to Exit 'E! News'
---
"Returning to host 'E! News' is every bit as thrilling to me today as it was 16 years ago when I joined the show and embarked on this wonderful career," Rancic said. "Co-hosting alongside one of my best friends, Jason Kennedy, with one of the most talented teams in entertainment journalism, makes this move even more special. I can't wait to reconnect with the 'E! News' audience and go on this journey together once again."
Rancic left "E! News" in the summer of 2015, but continued at the network as a co-host of "Live from the Red Carpet" and "Fashion Police." Her departure came a few months after coming under criticism for a comment made on "Fashion Police" about actress and singer Zendaya's hair.
Rancic apologized, saying "I didn't intend to hurt anybody, but I've learned it's not my intent that matters, it's the result. And the result is that people are offended, including Zendaya. And that is not okay. Therefore, I want to say to Zendaya, and anyone else out there that I have hurt, that I am so, so sincerely sorry."
---
Also Read:
Ken Baker and E! News Part Ways, Say It's Unrelated to Harassment Investigation (Exclusive)
---
"E! News" has seen some talent shakeups in recent months.
Kennedy's co-host Catt Sadler left the network in December of last year, saying that there was "a massive disparity in pay between my similarly situated male co-host and myself." Sadler was part of a rotating group of correspondents who appeared with Kennedy afterMaria Menounos' departure last summer that included Zuri Hall, Erin Lim and Sibley Scoles.
"E! compensates employees fairly and appropriately based on their roles, regardless of gender," the network said in a statement at the time. "We appreciate Catt Sadler's many contributions at E! News and wish her all the best following her decision to leave the network."
Rancic most recently was part of "E! News"' Royal Wedding coverage. She will continue co-hosting "Live From the Red Carpet."
Netflix in June: What's Coming and What to Watch Before It's Gone (Photos)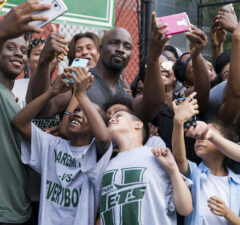 (Tap photo and swipe to view gallery)