Best known as an '80s pinup and co-star of the long-running ABC show "The Fall Guy," Heather Thomas is now a liberal activist, salon hostess and author, whose roman a clef, "Trophies," about power-wielding Hollywood second wives, just came out in paperback. She talked with Eric Estrin about entertaining AARP audiences as a go-go dancer, sexism at UCLA and what she did between takes on a crackers commercial.
My first job, these TV producers came to my junior high and said, "We want the kids who are smart with really big mouths." I think they were moms who lived in the neighborhood, and they were producing this show, "Talking with the Giants." I don't know why they chose my particular school, but they came to our leadership class. We had some teacher who wore a bobby pin, and when he yelled at us we would yell back at him, which was pretty funny.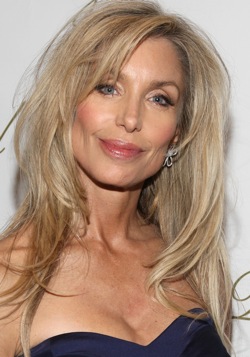 They auditioned a bunch of kids for the show, and I was picked. It was like a talk show; we sat around on these jungle gyms and interviewed a different celebrity every week. So for three years, starting when I was 13, I got to be on an NBC show.
Then, when I was a junior in college, I was in this play called "In the Boom Boom Room," and I had to do this solo dance to "Break On Through to the Other Side" by the Doors. It was weird, because it was a sexy, suggestive dance, and I was dressed as a stripper, so I ended up basically humping at the audience. My big line was, "I smell like a skunk and I'm all out of Jean Nate."
We had a lot of AARP audiences coming to that show. I'll never forget looking down at the audience and seeing all these old ladies and old men looking up my dress. I was wearing a miniskirt and a bathing suit top — but the miniskirt was really mini. But it was a really good dance, and I got an agent out of it. She helped me get a series right away, and la-di-dah.
The series was "Co-Ed Fever," which helped get me into UCLA film school and paid for my student films. I had decided I wanted to be Lina Wertmuller, so I went into the assistant directors program — but it was very, very tough for girls. If you did your job you were a bee-yotch, and if you didn't do your job you were incompetent. The crew would hate you no matter what — despise you, have contempt for your world.
It was just a very misogynistic atmosphere. I stuck it out — but I ended up acting instead, because I was already working as an actress.
I used to work some pretty silly jobs to pay for my films and my acting classes. I did a lot of commercials, but I used to lie to get them. They'd say can you ice skate, and I'd say absolutely, I'm a figure skater. So I did a milk-does-the-body-good commercial where they literally spun me on the ice. It was pretty ridiculous. In another one, I remember eating some crackers on one of those bucking bulls and needing a barf bucket between takes. It was gnarly, to say the least.
Right after I graduated, I got "The Fall Guy." I had done a pilot for Glen Larson for something else, so he had me audition for "Fall Guy." I liked the pilot because the girl went off on her own — a little more autonomy on the character's part than you were used to seeing in those days. It turned out to be a long one — I think we did 126 shows. It happened so fast I didn't have a plan.
I was not a plan-oriented girl, period; it wasn't in my upbringing. I had always been brought up that you go into teaching. Every single person in my immediate family was a college professor. When I got "Fall Guy," my mother said, "But what about your teaching degree?"