Each year on the morning of the Golden Globes, Hollywood Foreign Press Association President Lorenzo Soria gives the Beverly Hilton waitstaff in Beverly Hills a pep talk.
He has one commandment: There shall not be an empty glass in the house.
With official parties starting four days earlier and festivities rolling into Monday (Jan. 9) morning, there may not be an empty glass in a five-mile perimeter of the industry's favorite televised party of the year this Sunday.
Here are the top invites for Golden Globes Weekend 2017.
Wednesday, Jan. 4
Moët Moment Film Festival Kickoff
Doheny Room (West Hollywood)
For the second year in a row, the Globes' champagne partner is seeking undiscovered talent to create bite-sized video submissions incorporating the spirit of the brand. For rank and file guests, it's a fun warm-up of all-you-can-drink bubbles with a side dish of Gina Rodriguez and Bryce Dallas Howard.
Thursday, Jan. 5
W Magazine Best Performances Bash with Audi
Thursday, Jan. 5, 7:30 p.m. until very late
Chateau Marmont
Also Read: Golden Globes Parties: W Magazine's 'Best Performances' Date Announced (Exclusive)
Pound for pound, W and Audi roll out the strongest celebrity density of the weekend … not to be outdone by the next entry on our list.
Friday, Jan.6
The AFI Awards
12 p.m.
The Four Seasons Hotel in Beverly Hills
There are no losers here. There are also no lookie-loos and nearly no media allowed inside. It's all winners.
Sir Howard Stringer and Robert Daly lunch with the 10 best movies and 10 best TV shows of the year, as selected by our country's Smithsonian of the moving image, the AFI. If you distilled the two ingredients of the Golden Globes ceremony – a party and a seated awards show – to pulp, you'd get these two events.
"O.J. Made in America" Cocktails
6 p.m.
Chateau Marmont
After picking up an AFI Award earlier in the day and with an eye towards Oscar nominations on Jan. 24, Ron Howard, R.J. Cutler and other prominent documentarians host a cocktail party with director Ezra Edelman and one of the most popular additions to the 2016-17 awards circuit, Marcia Clark.
Australian Academy of Cinema and Television Arts International Awards
6:30 p.m.
Avalon Hollywood
Awards contenders Mel Gibson, Nicole Kidman, Dev Patel and Joel Edgerton will unite as the Aussies in Hollywood, along with Ruby Rose and "Hacksaw Ridge" breakout Luke Bracey (a really nice guy underneath his villainous turn in "Hacksaw Ridge", go meet him.)
CAA
Catch L.A.
The hotspot shuts down at least one lane of Melrose traffic every night for grand arrivals, even on a Monday. It has fostered its own house press corp with a gaggle of paparazzi since it opened in September, luring many across the street from Craig's. CAA will pack it full. This is a choice invite.
Saturday, Jan. 7
Film Independent Spirit Awards Nominee Brunch
11:00 a.m. – 2 p.m.
Boa
Over brunch and morning cocktails, Sterling K. Brown and Issa Rae will announce a series of grants to filmmakers and huddle with the indie community seven weeks to the minute before the festive Spirit Awards take place down at the beach in Santa Monica.
*A Most Coveted Invite*
Lynn Hirschberg and The It Girls of W Magazine Luncheon
12 p.m.
A.O.C.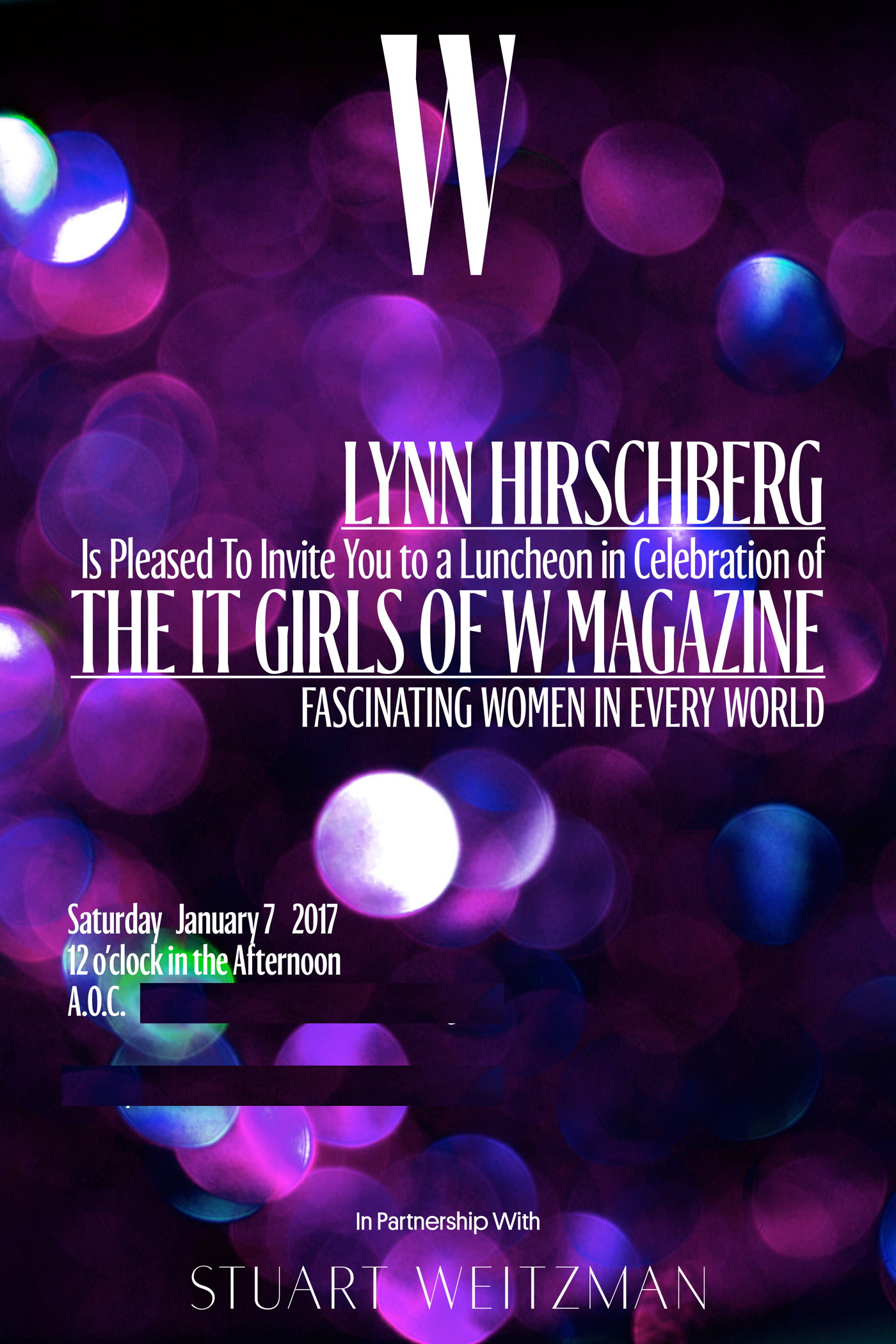 The W Editor at large captured the mood of the industry amidst the mood of the country precisely in her Best Performances portfolio prologue, and 36 hours after celebrating that portfolio (see above) she will bring together Halle Berry, Jessica Biel, Amber Heard, Lola Kirke, Lilly Collins, and Dree Hemingway amongst others to spend time with "Fascinating Women in Every World". It's a sanctuary from the noise surrounding the rest of the weekend. Stuart Weitzman partners with W on the event.
*A Most Coveted Invite*

BAFTA LA Awards Season Tea Party
2 p.m.-5 p.m.
Four Seasons Beverly Hills
This is one of the few cross-film, cross-industry gatherings of the weekend. "The Tea" raises awareness of BAFTA LA's "Access for All" campaign, which recruits new faces in to entertainment industry careers. While the Four Seasons is buzzing all week, this Saturday afternoon warm-up event with a long carpet and A-listers mingling during daylight hours has authentic tinseltown twinkle.
*A Most Coveted Invite*

Lionsgate and "La La Land"
5 p.m.
Cecconi's
The Oscar frontrunner is going to celebrate before the show, a smart move to ensure a crackling crowd. Emma Stone had strep throat earlier this week, so she may be on the mend by Saturday to join Ryan Gosling and musical mastermind Damien Chazelle at the power lunch spot at the corner of Robertson and Melrose.
Brad Grey and Paramount Celebration of "Florence Foster Jenkins", "Arrival", and "Fences"
5 p.m. – 8 p.m.
Chateau Marmont
Given a choice between checking in to the Beverly Hilton (site of the Globes) or at the Chateau (the host of most parties on this list) for the entire weekend, Hollywood's ground zero for semi-discrete indiscretions wins in a Amanda Nunes-style knockout.
Meryl Streep, Hugh Grant, Simon Helberg, Amy Adams, Denzel Washington, and Viola Davis are expected.
Sean Penn & Friends Haiti Rising
6:40 p.m.
Montage Beverly Hills
Penn draws a non-Globes affiliated crowd to his packed fundraiser each year on the night before the Globes.
The people you probably won't see anywhere else this weekend include Rainn Wilson, Emile Hirsch, Jeremy Renner, Diane Kruger, Jason Segal, David Spade, Pamela Anderson, Soleil "Punky Brewster" Moon Frye, and a fix of "Rogue One" with Diego Luna. Last year the news of Penn's "El Chapo" summit broke hours before this event, which in hindishgt was the first twilight zone moment of 2016's year long freakshow. For the sake of 2017, let's hope the only wow-factor at this event is the money they raise for the J/P Haitian Relief Organization. Bill Maher emcees.
Golden Globes After Parties on Sunday, Jan. 8
HBO
8:30 p.m.
Circa 55 Restaurant and Poolside at the Beverly Hilton
If you can get into this one, go.
HBO puts more time, care and money into crafting a unique party playground and environment for each of their bashes (including premieres several times a month) than any other programmer or distributor in town. This makes sense when you win the most too.
They are planning a Billy Butchkavitz custom-designed "Shimmering Pavilion" floating in the Aqua Star pool, but we will just be plying Jonathan Nolan and Lisa Joy with booze to extract answers about "Westworld."
20th Century Fox / Fox Searchlight / Fox Broadcasting / FX / Twentieth TV / Fox 21 /Hulu
8 p.m.
The Fox Pavilion At the Golden Globes
With so many auspices and so many hits, this crowd will have your head spinning: "Atlanta," "The Americans," "The People v. O.J. Simpson" on the TV side, while Ryan Reynolds ("Deadpool"), Natalie Portman ("Jackie"), and the ensemble of "Hidden Figures" (including producer Pharrell Williams) makes this sprawling bash a must-hit.
They have been building the Pavilion since before the New Year through rain and mud on the east side of the Beverly Hilton. Immediately after winning for "The Revenant" last year, the HFPA's Munawar Hosain and Leonardo DiCaprio ducked in here through a side door, so keep your eyes peeled as the people that fill your DVR and Oscar ballot will be floating through.
18th Annual Warner Bros. Pictures and InStyle Golden Globe After-Party
8 p.m.
Oasis Courtyard
Tom Ford Designs (no relation to the Golden Globe nominated director of "Nocturnal Animals") designed this bash that promises to mix "modern technology with a retro '70s opulence." Just say you're with "Tom Ford" and either way, it might work out to get you past the crush to this popular and tight-listed event. All of the HFPA go here after the show.
DJ Michelle Pesce gets people off the walls here, usually with some of Michael Jackson's "Off the Wall".
Amazon Studios Golden Globes After Party
8:30 p.m.
Stardust Ballroom

"Manchetster By the Sea" has been celebrating for a nearly a year, since its smash debut and acquisition at Sundance 2016. With a pre-holidays awards season party at the Sunset Tower, Amazon has been ramping up its footprint this season and has 11 total nominations. There could be lots of trophies here.
Weinstein/Netflix
Details forthcoming.
After-After Parties Away from the Beverly Hilton

WME
Chateau Marmont
CAA
Sunset Tower
The Coke and Pepsi of the entertainment business hunker down in intimate hotels across the street from one another on Sunset Boulevard.
Jimmy Fallon's After Party
Location Withheld
Whenever an "SNL" alum hosts an awards show, their off-the-grid after-hours assemblies are the ones to seek. If we're lucky, we'll get a photo to share on Monday.
All of the parties and events are private and by invitation only.  Beware: This was the security a few blocks away from the Globes last year.
Please send additions and invitations to the party columnist Mikey Glazer here.