The New Year's Day hangovers have barely receded in the rear view mirror as the industry begins celebrating the earliest ever Golden Globes on Jan. 6.
It's an "out with the old" and "in with the new" year.
The era of the Weinstein party, where Taylor Swift, Katy Perry or Kim Kardashian might float through, is kaput. Meanwhile, the opening of the high-end Waldorf Astoria hotel adjacent to the Beverly Hilton opens up the party playground to new spaces.
Here is a look at the top invites circulating the industry.
Also Read: 25 Golden Globes Nominations Snubs and Surprises, From 'Veep' to Ansel Elgort (Photos)
Pre-Parties
BAFTA Los Angeles Tea Party
Four Seasons
Saturday, Jan. 6. 
Expected: BAFTA LA pulls from across studio, film, and network lines for one of the most lively afternoons of awards season. It's an annual highlight on the party circuit.
Sponsors and Partners: BBC America, the GREAT Britain campaign, and American Airlines.
W Magazine's Best Performances Party
Chateau Marmont
Thursday, Jan. 4
Get a peek inside the cloistered soiree here:
Also Read: Golden Globes 2018: W Magazine's 'Best Performances' Bash, 'It Girls' Lunch Return (Exclusive)
AFI Awards Lunch
Four Seasons
Friday, Jan. 5
Expected: Only winners. The AFI names 10 top films and 10 top TV shows of the year for induction in to their almanac, a proverbial hall of fame. It's a densely packed luncheon where there are only about ten people who are not a major star, director, or studio executive.
Sponsors: The presenting sponsor of AFI Fest,  Audi, and year-round partner American Airlines.
*New* – Esquire's Golden Globes Celebration
Home of Mike and Irena Medavoy, co-hosted by Esquire Editor In Chief Jay Fielden
Friday, Jan. 5
Expected: Armie Hammer, Bill Maher, Edgar Ramirez, Harry Hamlin, Joe Keery, Kyle MacLachlan, Milo Ventimiglia, Paul Feig, Phillip Noyce, Rob Riggle, Scott Cooper, Sylvester Stallone and more.
Sponsor: Maserati
Also Read: 'Big Little Lies': 7 Reasons the Golden Globes Darling Is So Worth Watching (Photos)
7th Annual Australian Academy of Cinema and Television Arts (AACTA) International Awards
Avalon Hollywood
Friday, Jan. 5
Featured Nominees: Nicole Kidman is nominated for a second consecutive AACTA International Award for "The Killing of a Sacred Deer." Last year, she won for "Lion."
Sponsor: Australian tourism and events agency, Destination NSW.
Lynn Hirschberg's "It Girl" Luncheon
A.O.C.
Saturday, Jan. 6
Expected:  Historically, attendees have included both Golden Globes nominees and new, emerging talent handpicked by Hirschberg as the next wave of "It Girls" to watch. It's a sanctuary from the noise of the louder and more heavily trafficked events orbiting the glitzy weekend.
Last year: Before choosing Harvard and launching her "black-ish" spinoff "Grown-ish," Yara Shahidi kicked around college options with her seat neighbors.
Film Independent Spirit Awards Nominee Brunch
Boa Steakhouse on Sunset
Saturday, Jan. 6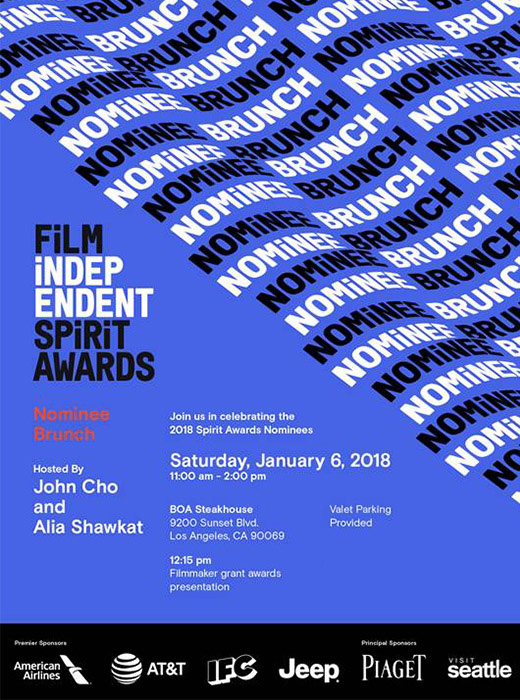 Expected Names: John Cho and Alia Shawkat, who will help make filmmaker grant awards.
Sponsors and Partners: Fiji Water, American Airlines, AT&T, IFC, Jeep, Piaget and Visit Seattle.
Also Read: Dwayne 'The Rock' Johnson's Daughter Simone Garcia Johnson Named 2018 Golden Globe Ambassador
ICM Partners
Poppy
Saturday, Jan 6., early evening
Expected: "The Handmaid's Tale" author Margaret Atwood and series creator/showrunner Bruce Miller. These two are the night's featured honorees along with all of ICM's Globes nominees.
Take Note: Although Poppy is one of the current L.A. hotspots, the space's former occupants (STK) also brought good luck on the evening before other awards shows. Sony Pictures Classics celebrated with Cate Blanchett at this same address the night before she won the Oscar for "Blue Jasmine."
3rd Annual Moët Moment Film Festival
Poppy
Friday night, Jan. 5
Expected: Laura Dern, Billie Lourd, HFPA member Anke Hoffman, and Sharon Badal from the Tribeca Film Festival.
Logline: The Globes' bubbly partner for the past 25 years returns with a kick-off event for their 60-second short film competition that will award a new filmmaker a $25,000 grant and the opportunity to make another film as part of Moët & Chandon's global campaign.
Sean Penn's J/P HRO & Disaster Relief Gala honoring Leonardo DiCaprio
Milk Studios
Saturday night, Jan. 6
Star Power Alert: Bryan Lourd and Sean & Alexandra Parker co-host with Penn.
The mission: Penn and his organization have been relentless since the 2010 earthquake. They run a community clinic that treated over 11,000 people in 2017. Their School of Hope educates 200 students from marginalized backgrounds free of charge, 50 of whom are disabled. After Hurricane Matthew, they repaired 4,000 houses, allowing 20,000 people to return safely to their homes. On an awards weekend where there's more sizzle than steak, this event has teeth.
Post Show Parties
HBO
Circa 55 Restaurant and Poolside
Expected: Lots of trophies, especially if "Big Little Lies" repeats its Emmy night dominance. HBO earned 12 nominations, the most of any network.
**Coolest Booking ** Amazon Studios Golden Globes Party
Stardust Ballroom at the Beverly Hilton
Expected: "The Marvelous Mrs. Maisel" has come barreling out of the gate. The show is nominated for "Best Television Series – Musical or Comedy" and star Rachel Brosnahan earned a nomination for her leading role as the titular character. Chief Jeff Bezos is a major celebrity sighting even amongst the Globes' glitzy crowd.
Also keep your head on a swivel for: Kevin Bacon, nominated for "I Love Dick".
Dance floor alert!: Amazon wins the entertainment award with a coup booking of both Mark Ronson and Samantha Ronson. How come nobody thought of this before? Taking over the Beverly Hilton's rooftop penthouse, this is a room for bon vivants. Audi will be shuttling their VIP guests.
19th Annual Warner Bros. Pictures and InStyle Golden Globe After-Party
Oasis Courtyard
Expected Talent: All the good ones. This party has a reputation for being glam but not stuffy, and it will bear a significant impact of the disappearance of the Weinstein party. A slice of the InStyle and Weinstein guest lists did not overlap with each other, leaving former Weinstein invitees (who were often less connected to the night's awards and only attending Weinstein as social guests) as post-show refugees.
Sponsors: Cadillac, eyelove™, and L'Oreal Paris.
Fox Post Show Celebration
The Fox Terrace on the Roof Deck
Expected Talent: Between Fox Searchlight ("The Shape of Water," "Three Billboards Outside Ebbing, Missouri") and Twentieth Century Fox ("The Post" and "The Showman"), the sister studios have 27 nominations, more than any others on the feature side. With FX's eight nominations, three for Hulu, and National Geographic in the race, this is going to be a muscular bash.
Warning: "This invitation is absolutely non-transferable," cautions the elaborately designed invite.
Netflix Golden Globes Afterparty
Waldorf-Astoria
True to their gamechanger philosophy, "big red" is the first to venture in to the newly opened Waldorf Astoria and claim the prime party real estate. They will enjoy the buffer from the swollen Beverly Hilton after show scene.
Gifting Suites
HBO Luxury Lounge
Four Seasons
Friday and Saturday, Jan. 5-6
12 p.m.
Expected Talent: HBO's on-camera talent and influencers.
Gifts and swag from: Ancestry.com, Don Julio Tequila, Watch Gang, Ciroc Vodka, UPPAbaby,  Lucy Hart Ink, and more.
DPA
Luxe Rodeo Drive
Thursday-Saturday, Jan. 4-6
10 a.m. – 6 p.m.
Gifts and swag from: Per a press release, Arido jewelry is offering a $50,000 diamond and sapphire pendant to six celebs. Host Nathalie Dubois draws globally. Also on the menu: Gaura hydrogen water bottles, Kerstin Florian Beauty, Idrotherapy and Essence of Argan.
All events are private and by invitation only. Please send updates and additions to the writer, Mikey Glazer, here.