In this morning's roundup of Oscar news 'n' notes from around the web, it's an Oscar-eve roundup of memorabilia, movie stars, lawsuits, rude jokes and bomb squad photos
The Foreign Policy website puts up
a remarkable photo essay
showing the work of actual bomb techs in Iraq: "The Real Hurt Locker," they call it. Many of the dramatic, eye-opening photos look like scenes out of the movie; others point out the liberties the filmmakers took. Kayvan Farzaneh's text lays out, clearly and succinctly and calmly, the difference between the fictional world of the film and the real world in which these bomb techs operate. (
Foreign Policy
)
When he's not blogging at Gold Derby, Tom O'Neil collects awards and awards memorabilia – and once a year, at Oscar time, he shows off some of his collection by curating
an exhibition at the Hollywood Museum
, just across the intersection from the Hollywood & Highland center. Along with the Oscars, Golden Globes and even a Razzie on display, O'Neil has Katherine Hepburn's Oscar nomination plaque for "Suddenly, Last Summer," while studios have donated original costumes from many of this year's nominated films, including "The Hurt Locker," "The Blind Side" and "Inglourious Basterds." Oh, and if you're tired of how the Oscars just concentrate on, you know, good movies, there's stuff from "Transformers: Revenge of the Fallen" and "Twilight: New Moon," too.
Details at Gold Derby.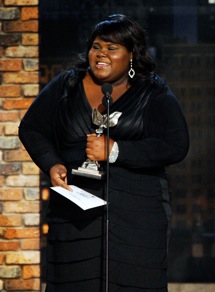 They're all connected.
USA Today puts together a nifty graphic
in which you can trace the connections between all the nominated actors. Some, like George Clooney and Matt Damon, have direct ties to more than a dozen of their fellow nominees; others, not so much. Mo'Nique, for instance, has co-starred with two other nominees, Gabourey Sidibe and Helen Mirren, and has something in common with Stanley Tucci because they're both the parents of twins. And did you know that Sidibe and Clooney share a birthday? (
USA Today
) (
Photo by Kevork Djansezian/Getty Images
)
Andrew Gumbel says the Oscars have a problem:
not enough movie stars
. He's not talking about the Oscar show, he's talking about the Best Picture nominees, only three of which ("Up in the Air," "Inglourious Basterds" and "The Blind Side") have big-time, movie-star leads. Of course, "Avatar" hardly needs movie stars to attract viewers, and the whole point of the casting in "The Hurt Locker" was not to put movie stars in the lead roles. He also talks about the "Oscar bump," the increase in ticket sales caused by nominations, and says it's largely missing in action as well. (
The Guardian
)
"The 10 Most Interesting Oscar Lawsuits Ever,"
says Eriq Gardner. Four of the 10 involve people suing the Academy; six are the other way around. Number one is Disney's lawsuit after Oscar producer Allan Carr used the character of Snow White in his opening number without permission. Others include the Academy suing a chocolatier, the "Hackademy Awards," the heirs of Mary Pickford, an Oscar-winner impostor, and Sasha Stone, who currently runs the Awards Daily website, for originally calling her site "Oscarwatch." (
The Hollywood Reporter
)
"Honest Movie Titles," and phony posters with new taglines, from College Humor. To say they are rude would be an understatement. "The Blind Side," for instance, is retitled "White Lady Saves the Day." "Inglourious Basterds" becomes "Inaccurate Trailer," with the tagline, "Brad Pitt's hardly in it and it's mostly in French." (College Humor)
David Poland gets a press release
(from Paramount, for some reason) saying that the dance troupe LXD (or Legion of Extraordinary Dancers) will be performing on the Oscars. After seeing some hints that producer Adam Shankman had dropped on Twitter,
I suggested as much in this column on December 28
; if you want to see what the dance group looks like, I included video as well. (Apparently there's some bootleg Oscar rehearsal footage floating around as well, but I'm not looking for it.) (
The Hot Blog
)
Army veteran Brian Turner, now a college teacher and a published poet,
writes about seeing "The Hurt Locker"
in "a small art house theater" in Haoi. The film evokes memories for Turner, who spent time in Iraq in 2004; he's particularly intrigued by the final image in the film, and the way it evokes the classic Western gunslinger. To me, though, the most interesting part of the article is the offhand mention that in 2004 Turner wrote a poem called "The Hurt Locker" after hearing his squad use the phrase. That would be the phrase that Sgt. Jeffrey Sarver, who is suing the makers of "The Hurt Locker," claims to have coined. (
The New York Times
)