Gordon Ramsay has one less person to be angry at.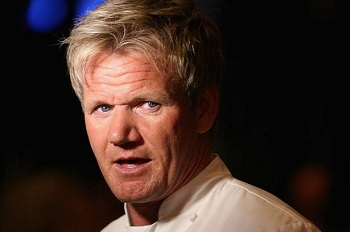 The famously crabby "Hell's Kitchen" and "Kitchen Nightmares" celebrity chef has settled his lawsuit with publicist and former "News of the World" editor Phil Hall over leaked images and information that he sold to the Daily Mail.
Though the specific amount of the settlement was undisclosed, according to British newspaper the Guardian, Hall will make a donation to a charity of Ramsay's choosing. Ramsay has picked the Scottish Spina Bifida Association as the recipient of the settlement.
Hall — founder of public-relations firm Phil Hall Associates — also publicly apologized to Ramsay, admitting that he obtained the information about Ramsay through "illegitimate means."
Also read: Gordon Ramsay Sues Over Shark Fishing, Hair Transplant Emails
According to Hall, in late 2010 and early 2011 he was approached by Ramsay's father-in-law, Chris Hutcheson, and asked to pass along the information to the Daily Mail. "In particular, Mr Hutcheson provided me with private information about the Ramsays, including personal family pictures and medical information," said Hall.
He added that, in light of Ramsay's public falling out with Hutcheson, he should have known that the information was ill-gotten.
"I accept that, given the public breakdown of the relationship between Mr Hutcheson and Mr Ramsay, of which I was fully aware at the time, I should have guessed that Mr Hutcheson was not entitled to this information and in all likelihood may have come by it via illegitimate means," Hall continued.
Also read: Gordon Ramsay Cooks Up $2M+ Lawsuit Against Former Business Partner
Among the information that Hall sent to the mail was a picture of Ramsay on a trip during which he seemed to catch a shark. The Mail made hay of the photo in a January report, painting him as a hypocrite because he had recently appeared in a documentary and called shark fishing "cruel," "sick" and "barbaric."
The court was also told that Hall sent information about Ramsay's hair transplant.
Also read: Gordon Ramsay Speaks Out on Chef Suicide
During proceedings on another matter, it was discovered that Hutcheson had illegally obtained the information. Hall's lawyers said that their client was not aware that the emails were illegally intercepted.
"I would like to offer Gordon, [his wife] Tana and their family a full and unreserved apology for my actions and any distress caused, and, at Mr Ramsay's request, I have made a donation to a charity of his choice," Hall's apology read.