Leave your tuxedo in the garment bag.
Only outsiders (and Mark Burnett) bust out bowties and cummerbunds for Grammy parties. What intimacy the Grammy show experience sacrifices within the cavernous Staples Center, it makes up for with several nights of festivities that, unlike the formality of music's TV and film peers, are actually fun.
Enjoy it while you can, L.A. Next year the Grammys are reportedly heading back to New York.
Here are the Party Report's top invites for the Grammys 2017 before and after the telecast on Sunday, Feb. 12.
Thursday, Feb. 9
Thursday night sees the heaviest competition with multiple marquee events.
The Chainsmokers, Maren Morris
Spotify Celebrates the Best New Artist Nominees
Belasco Theater in Downtown L.A., 7:30 p.m.
In contrast to the industry's lazy bookings for Super Bowl events — beginning with "Who will do it?" and ending up with Nelly and a condiment company sponsorship — this is an organic and natural match.
The Chainsmokers and Spotify's symbiotic relationship over the last year propelled both sides to a massive win-win. Drew Taggart and Alex Pall ("Roses," "Closer," "All We Know," "Paris,") rank number three in the world on the leading streaming service, with 37 million streams a month. With these results came a three-year exclusive residency at Wynn nightlife properties in Las Vegas, record setting crowds at Coachella in April 2016, Billboard magazine covers, cross-country shows in the same day, and an epic end-of-year homecoming victory lap in L.A. (See below).
In addition, anchoring their own corner on Spotify, the "nice hair" duo are the apotheosis of multi-format crossovers, something Spotify seized on by splashing their faces on cover-art for numerous Spotify owned-and-operated playlists ranging from pure thump (electroNOW) to ones your mom listens to while running errands (dance pop X-Overs).
Don't blame Spotify for slugging them with the misnomer of "Best New Artist." Years after they collaborated with Tiësto on "Split (Only U)" and escaped the goofy stink of novelty hit "#Selfie," the Grammys relegated them to the "New Artist" junior varsity. Their company is A+: the surging Kelsea Ballerini, independent force Chance the Rapper, Anderson .Paak (the one true fresh face from 2016), and fellow Spotify honoree, Maren Morris. Nona Entertainment's DJ Alex Merrell will spin between performances.
Remember, Spotify is a data company. They know what you like.
Halsey
Delta's Grammy Party – Official Grammy Event
Location withheld in Hollywood
A "Closer" performance has to be coming.
The Chainsmokers will play a few miles from downtown (see above) with an early 7:30 p.m. start time, with Halsey following at 9 p.m. Besides their high-profile live performances (like the VMAs in last summer), the boys and Halsey have linked up in more intimate settings. The "New Americana" singer jumped out of a VIP booth to join the Chains at the opening of Jewel Nightclub at the Aria in Las Vegas last May.
Celebrating 10 years as the Grammys' official airline, Delta's salute to "first time nominees" dovetails nicely with Halsey. She's hot right now with a song for the new "Fifty Shades Darker," with early screenings beginning down the block at the Arclight at the same time this bash gets underway.
The other big story here, though, is the location. This is a debutante party for a major new hospitality block in Hollywood that has not yet flipped the switch to "open."
Erykah Badu
ESSENCE Black Women In Music - Official Grammy Event
NeueHouse, 8 p.m
The 8th annual event pays tribute to the "On & On" singer on the 20th anniversary of her arrival on the music scene. Back in 1997, Badu had two albums go platinum in her debut year, selling over five million copies total. An official Grammys week event, Lincoln and Absolut join the Recording Academy for this party at NeueHouse, an emerging player on awards weekend. Tiwa Savage will perform before Badu.
Whole Planet Foundation
OHM Nightclub (6801 Hollywood Blvd.)
Whole Foods' charitable foundation works around the world doling out micro-loans to self-employed farmers and poor communities that grow and produce the food sold on their shelves. This event honors a group that has funded 4,463 births, planted 57,575 trees, and donated 7,482 bicycles while building 10 schools and offering supplies to over 32,000 students. Katey Sagal, Kris Kristofferson and Chris Assaad perform.
Friday, February 10
Tom Petty: 2017 MusiCares Person of the Year - Official Grammy Event
L.A. Convention Center, 5:30 p.m.
Each year, MusiCares continues to astound with one-of-a-kind performances. This year, Stevie Nicks, Gary Clark Jr., Foo Fighters, Kings of Leon, The Bangles, Don Henley, Jackson Browne, George Strait and more will each perform a cover of their favorite Petty hit before joining the rocker on stage for a massive jam session to close the night.
The dinner, auction and show benefits the Grammys' official charity, MusiCares. It provides a safety net for unknown musicians by providing emergency financial assistance for basic living expenses, medical emergencies, sober touring networks and addiction and recovery services.
A "top tier" industry event, some $75,000 front row donor tables are available this year for the first time. That's you plus ten friends who each have loose change and an open Friday night.
20th Annual Friends and Family
Quixote Studios (1011 N. Fuller Ave)
9 p.m. – 2 a.m.
The sprawling bash is a union of multiple groups, including ASCAP, BMI, Advance Alternative Media, Disney Music Group, Sound Exchange, Warner/Chappell, YouTube, Evolutionary Media Group and more. There are a ton of ways to get lost in here. Donations at the bars will benefit the ACLU of Southern California, a great way to wash down the guilt of hitting the Grilled Cheese truck on site.
Saturday, February 11
UMG Artist Showcase
The Theatre at the Ace Hotel, 12:30 -3:30 p.m.
Universal Music Group hosts their annual Artist Showcase on the Saturday of Grammys weekend, presented by Citi and American Airlines. While the performances are a surprise, past artists who have performed at the UMG showcase include Demi Lovato, DNCE, The Weeknd, Sam Smith, Keith Urban, Ariana Grande and Lorde.
*Mystery Stars Kept Under Wraps*
Clive Davis Party
The Beverly Hilton
Clive never reveals who will perform at the party in advance. It's always a surprise for the audience, themselves all big names crammed into a small room.
In recent years, Pharrell Williams, Afrojack, Kelly Clarkson, Miley Cyrus, Jennifer Hudson, Barry Manilow, Robin Thicke and Lionel Richie have taken the stage. Davis actually hosts, as in, he gets on the microphone and extols artists and gives shout outs to the famous faces in the room. It's the most exciting Bar Mitzvah bash you've been to since seventh grade.
Anderson .Paak & the Free Nationals, DJ set by Kaytranada
Soho Sounds: LA
Downtown L.A., 9 p.m.
Soho House launches a new pop-up music series with this event. While named "LA," the future editions will not be restricted to our fair city. Kudos to the membership club for bringing their trademark sense of taste and discretion to cull a legitimate, relevant and in-demand Anderson .Paak to kick it for Soho members and a few select music industry friends. Bacardi will provide the pours and Samsung trots out the 360 photo booth. BMW is shuttling people downtown, something SoHo members may be getting used to soon with a new location coming in the 213 at some point. For Kaytranada, see him here now or at Coachella in April.
CeeLo Green, Charli XCX, Melissa Etheridge, Cypress Hill, DJ Cassidy
Primary Wave 11th Annual Pre-Grammy Party
London West Hollywood (Rooftop)
7 p.m.


The truly modern multi-platform entertainment company (talent management, music publishing, content production) run by Larry Mestel, David Guillod, Jeff Gaspin, and Mark Burg has a lot of things to celebrate. There's a new Audience network show ("Loudermilk") and the invite touts that key client CeeLo Green will debut a new persona, "Gnarly Davidson." That's a play off of Green's "Gnarls Barkley" days, which produced the big hit "Crazy" back in the mid 2000's. Flexing their brand integration muscles, PWE looped in Smirnoff for this bash.
Maren Morris, Preservation Hall Jazz Band and DJ Michelle Pesce
Nielsen's Party
Nightingale Plaza (West Hollywood), 8 p.m.
Maren Morris will be everywhere this Grammys weekend. Like Miguel or Andra Day in years past, after non-stop exposure to the industry over a few days, she won't require a Google after Feb. 12. Before Preservation Hall gigs at Coachella (sweet move, manager Greg Lucas), check them in West Hollywood here.
For Pesce, she returns to the booth that she christened. On Emmys weekend last fall, Donald Glover supervised a Pesce-generated dance circle at Entertainment Weekly's party here, which was the first gathering ever at the La Cienega Blvd. nightclub.
Grammy Night: Sunday, February 12
Chance the Rapper
GQ
Chateau Marmont
GQ's Jim Nelson and Jim Moore have already won big Grammy night: partnering with DIY superstar rapper Chance the Rapper to celebrate after the show. Chance has seven nominations, including three of the five noms for "Best Rap Song." The party is in partnership with YouTube, appropriate for the guy who made history in 2016 for charting the first ever "streams only" album, meaning, there was no plan to sell albums, only to stream. It worked.
With their dense "Men of the Year" celebration lighting up the Chateau each December, the men's style guide should feel right at home.
Republic Records and Fiji Water
Catch LA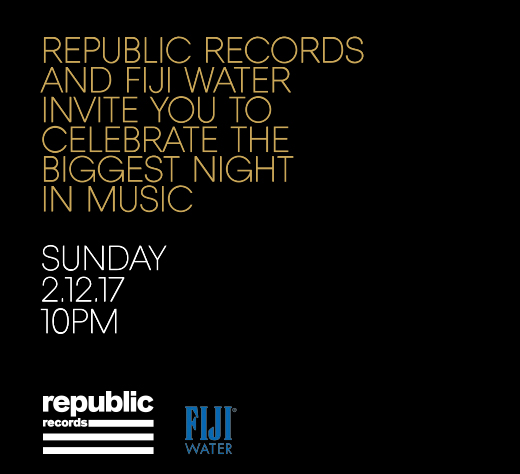 Now this makes sense: the hottest label with the most marquee artists taking over the reigning see-and-be-seen nightspot in West Hollywood. Catch swallows one of Melrose's narrow traffic lanes for arrivals on a regular weeknight, so expect chaos and a crowd on Grammy night. The brothers Lipman (Monte and Avery) will be ensconced inside with many superstar signees like The Weeknd, Zendaya, Ariana Grande, Drake, Nicki Minaj, Lil Wayne, Lorde, Tïesto, Pearl Jam, James Bay, and more.
Universal Music Group Grammy After Party
The Theatre at the Ace Hotel
Universal returns to the Ace Hotel for a bash that will go into the night. Shawn Mendes, the "Kaceys" (Kacy Hill and Kacey Musgraves), Hailee Steinfeld, Russell Simmons, Joe Jonas and Zendaya all partied here last Grammy night. Crossing corporate fiefdoms, even CBS chief Les Moonves made this his party preference after the Grammys signed off. American Airlines and Citi continue their partnership with Universal for this party, as well.
Gallant, Kehlani and Spencer Ludwig
Warner Music Group Grammy Party
Milk Studios, 9 p.m.
Unlike last year's throwback performer Missy Elliott, these three headliners are super relevant right now.
Kehlani's album "SweetSexySavage" arrived last Friday (Jan. 27), an occasion to open up to the L.A. Times about being a "young black, Spanish, Native American, queer [woman] … all things that have been attacked (in the new Trump administration)." A Coachella date and a world tour will follow, but after the Grammys catch her at Milk with the Warners crew.
Win or lose, Warner throws a good party. We don't understand why other industry players don't choose Milk Studios for more awards show after parties, as it is engineered for both cocktails and performances. It sits empty on Oscar, Emmy and most other awards show nights except the night before the ESPYs, when a dude-heavy ESPN crowd turns it in to a glitzy Hollywood locker room.
All events are private and by invitation only.
Consumer Events, Open to the Ticketed Public
One Republic
Hilton Honors Music Program
Beverly Hilton, Wednesday Feb. 8
Hit machine One Republic will play an acoustic set on the roof of the Beverly Hilton, part of a partnership with Hilton Honors.  Like Amex and Citi, Hilton has a music themed benefits program for its members. They will be making announcements at this event about future events. Expect industry VIPs and news on deals with Live Nation, the Recording Academy, Spotify and the sweet harmonies of Drew Brown's guitar, piano, (and sometimes) fill-in drumming. "Oh My My," indeed.
Sting, Metallica, the Chainsmokers, and Beck
Citi Sound Vault
The Palladium, Wednesday, Feb. 8 – Sunday, Feb. 12
These big artists will play the relatively small Palladium in Hollywood as part of Citi's membership benefit program, Citi Sound Vault. Access is exclusive to cardmembers.  The finance giant touts that the program will go beyond just concert tickets to private shows (which is pretty cool), with backstage access and meet-and-greets to come. Tickets went on sale January 31. Here's the lineup:
Please send invites and updates to the party columnist Mikey Glazer here.