From Joan Crawford accepting in a nightgown to John Wayne's call to patriotism and the truth about how Sally Kirkland became an Oscars fixture.
1946
Returning to prominence with the title role in "Mildred Pierce" after nearly a decade of lackluster, largely unsuccessful movies, Joan Crawford hires press agent Henry Rogers to mastermind what might have been the first true Oscar campaign.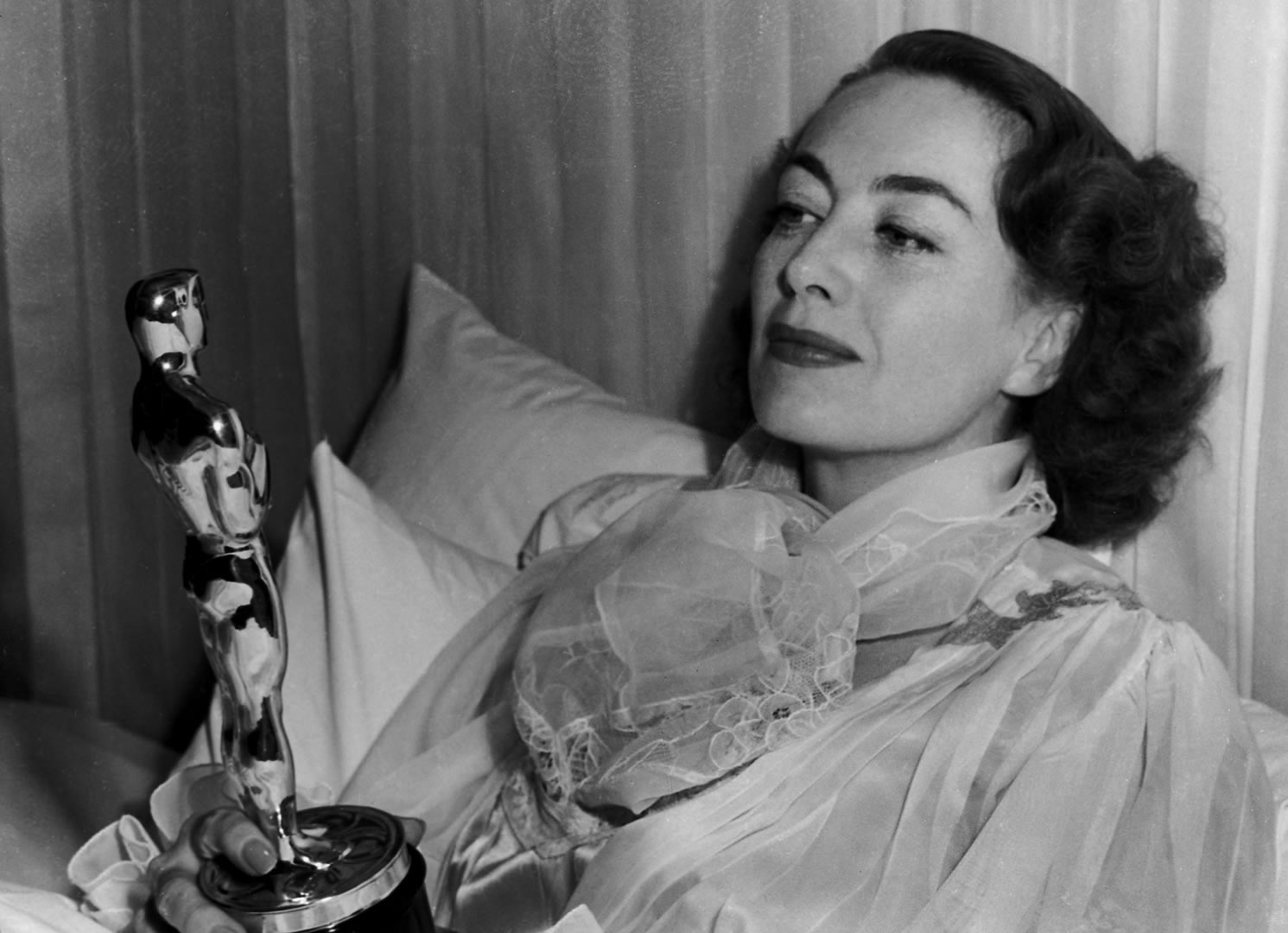 Planting items in gossip columns, calling friends at the studios and making sure Crawford was available and cooperative with any reporters who wanted to talk to her, he turned his client into the odds-on favorite by Oscar night — at which point a terrified Crawford refused to attend the show because, she said, she knew she was going to lose.
Also read: The Secret Tricks of an Awards-Season Influencer
Undaunted, Rogers notified the press that his client was in bed with a 104-degree fever, while dispatching a makeup artist and a hairstylist to her house just in case. Crawford won, and Rogers brought the press when he delivered her Oscar after the ceremony.
Said the admiring publicist later, "the photo of her in bed clutching the Oscar pushed all the other winners off the front page."
1956
The low-key drama "Marty" becomes the first film whose production cost ($340,000) is less than the price of its Oscar campaign ($400,000).
With extensive pre-release screenings to foster word-of-mouth, ads bearing endorsements from the likes of Charlton Heston, Dean Martin and Jane Russell, nonstop personal appearances by the film's likeable star, Ernest Borgnine, and an unprecedented offer to send a 16-millimeter print of the movie to the home of any Academy member, the film's promotional blitz nets it four Oscars, including Best Picture and Best Actor.
1961
To support his expensive, flag-waving epic "The Alamo," John Wayne mounts one of the most excessive Oscar campaigns in history, with ad after ad essentially suggesting that it would be unpatriotic not to vote for his film, "the most expensive picture ever made on American soil."
Also read: 7 Oscar Campaign Managers You Should Know
His campaign results in six nominations — including one for supporting actor Chill Wills, who proceeds to outstrip his costar with a campaign of unparalleled tastelessness. The last straw is an ad picturing the cast of "The Alamo" and suggesting that they are praying for a Wills victory "harder than the real Texans prayed for their lives at the Alamo."
Wayne blasts Wills, press agent W.S. "Bow-Wow" Wojciechowicz takes the rap, and "The Alamo" wins but a single Oscar, for sound.
1979
A press agent with a penchant for flash, Allan Carr, mounts a campaign designed to turn a three-hour Vietnam film from little-known director Michael Cimino into an Academy favorite, and then use the awards buzz to hype the film's release.
Carr's tactics, which include exclusive year-end runs in L.A. and New York, lots of private screenings and a push targeted at critics' groups, help land "The Deer Hunter" five Oscars, including Best Picture and Best Director.
Cimino subsequently torpedoes his career with his next film, the expensive disaster "Heaven's Gate," while Carr goes on to produce the 1989 Oscars, widely derided as the worst ever.
1988
Feverish for Academy recognition after her well-received role in the indie movie Anna, veteran actress Sally Kirkland pulls out all the stops in the most feverish one-woman blitzkrieg campaign the Academy has ever seen.
She hires two press agents, writes personal letters to every single Academy member and gets Shelley Winters to make 150 phone calls to voters. Kirkland lands a nomination but loses to Cher … and 25 years later, she's still a fixture at Oscar shows.
1996
While Ron Howard's "Apollo 13" is the odds-on favorite going into the Oscar show, Mel Gibson's "Braveheart" wins Best Picture and Best Director.
Why? Screeners have arrived on the scene, and Academy members have "Braveheart" but don't have "Apollo 13."
2000
After turning Oscar campaigning into a contact sport and scoring victories for "My Left Foot," "Pulp Fiction" and "Shakespeare in Love," Harvey Weinstein's Miramax pulls off one of its most impressive tricks, turning "The Cider House Rules" from a mildly-liked drama into the chief rival to eventual winner "American Beauty."
A campaign that misrepresents the film's abortion and drug-addiction themes to paint it as a feel-good alternative to "American Beauty" takes the film further than it had any right to go, netting it awards for screenwriter John Irving and supporting actor Michael Caine.
2003
The day of the Oscar nominees luncheon, an article appears in the Los Angeles Times under the byline of 88-year-old director and former Academy president Robert Wise. The piece lavishly praises "Gangs of New York" director Martin Scorsese and calls the film "a summation of his entire body of work," neatly dovetailing with the Miramax campaign pushing a Scorsese Oscar as a de facto lifetime-achievement award.
When it turns out that the article was actually written by a Miramax-affiliated publicist, rivals cry foul and the Academy steams — but it doesn't take action, because it hasn't punished Fox the previous year for a pro-"Moulin Rouge!" ad also signed by Wise. Scorsese waits another three years before finally winning his first Oscar.
2011
For most of the 2010-2011 Oscar season, Melissa Leo is the clear supporting-actress frontrunner for her role as Mark Wahlberg's fiery mom in "The Fighter." But the 50-year-old actress isn't satisfied with simply winning critics' awards and being talked about as an Oscar shoo-in — she also wants to show potential employers that she isn't just the downscale character she plays in the movie.
So she takes out her own glam ads in the trades, posing in fur (or faux fur?) under the heading, "CONSIDER." The ads make her look desperate, but she wins anyway.