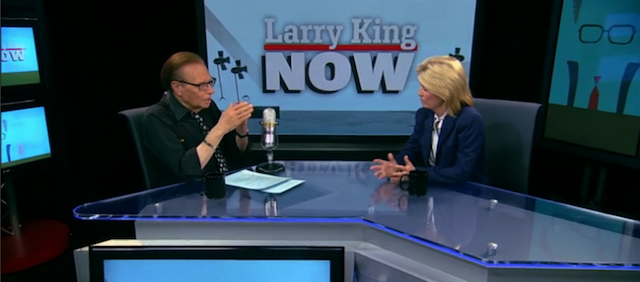 Greta Van Susteren stopped by "Larry King Now," Larry King's Ora TV talk show, on Thursday to take a few digs at CNN's new direction.
The Fox News commentator, who, like King, once worked for CNN, accused the channel of going soft on the news.
"I think now as CNN goes a little softer, I wonder if they're forgetting that what they were successful at was delivering the news," she said.
Van Susteren even had a few suggestions for CNN, recommending the rival network cover the genocide in Sudan's Nuba Mountains (as she herself has done). International coverage is expensive and harder to sell, she said, but "if you're gonna spend the money for a helicopter over a disabled cruise ship, if you got that kinda cash, why not spend it to send people to the Nuba Mountains?"
Also read: Can Jeff Zucker Rebuild CNN From 6 A.M. Up?
But she didn't stop there: Van Susteren talked about Howard Kurtz's upcoming move to Fox News, saying that while they've had disagreements in the past, they "remain friends." She then criticized CNN's decision to lose Kurtz – and King.
"I think it's a loss for CNN," she said of Kurtz's move, calling King's departure CNN's biggest loss.
"How do you get rid of the brand?" Van Susteren asked, to King's visible amusement; "That was really stupid."
Watch the videos below: