The Guardian is making a second run at the United States, opening a new operation based in New York and launching a new url: www.guardiannews.com.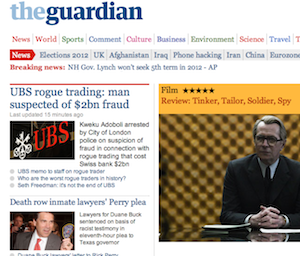 The left-leaning British daily tried this back in 2007 with Guardian America, which flamed out. This time the goal is to be "internationalist" rather than America-focused, though it will still be catered to its U.S. audience.
"As well as launching the new homepage, we're hiring a new U.S. team of writers, technologists and editors to work with journalists from the U.K., to combine the Guardian's internationalist, digital journalism with American voices and expertise," new U.S. Editor-in-Chief Janine Gibson said in a blog post.
Its plans for a new U.S. operation were reported before, but the official launch is now under way.
As the paper continues to struggle financially, it has shifted its focus even more so than usual on the online sphere. Many of its resources are being diverted to the digital side, while the print turns into more of a hub for analysis than breaking news.
The Guardian does not have a massive print circulation, but it does have a loyal online following. The U.S. has been a fruitful market for the newspaper, in particular this summer with all of the News Corp. phone-hacking news – a story the Guardian owned.
It is thus fitting that Gibson, who was the editor of www.theguardian.co.uk, will lead the U.S. operation.
Nick Davies, the journalist seen as most responsible for breaking the hacking story wide open, is one of the first high-profile names to join the U.S. team. He will be based out of Los Angeles.
Also on board is Ana Marie Cox, founder of Wonkette and former GQ Washington, D.C., reporter.
Both of these hires were first reported by Capital New York's Joe Pompeo.
The Guardian's move follows a similar U.S. jump by another U,K, paper, the Daily Mail.