Guillermo del Toro spent a lot of time imagining what his amphibious creature would look like in his Oscar nominated film "The Shape of Water." He thought about how it would move, how it would sound and what it would look like, from its head to its… you know.
And he wasn't alone, because TheWrap spoke with the makers of a sex toy — okay, a dildo — inspired by "The Shape of Water" and what the Amphibian Man might have packing down below. Del Toro has seen it too, and it's one of the most curious things he's encountered during this Oscar campaign.
"I'm sure Dunkirk doesn't have that problem," del Toro said jokingly following TheWrap's screening of "The Shape of Water." "I don't think it's an accurate representation. It's some form of fan art… I guess."
Also Read: 'The Shape of Water' Dildo: We Just Spoke With the Creator of the Amphibian Man-Inspired Sex Toy
For the record, the dildo is made from 100 percent silicon, it's color matched blue and black to the look of the sea monster in the film, the "medium" sized one is 7 and-a-half inches in length, and you can purchase it on Etsy from a company called XenoCat for $70. And since you're wondering, here's a picture: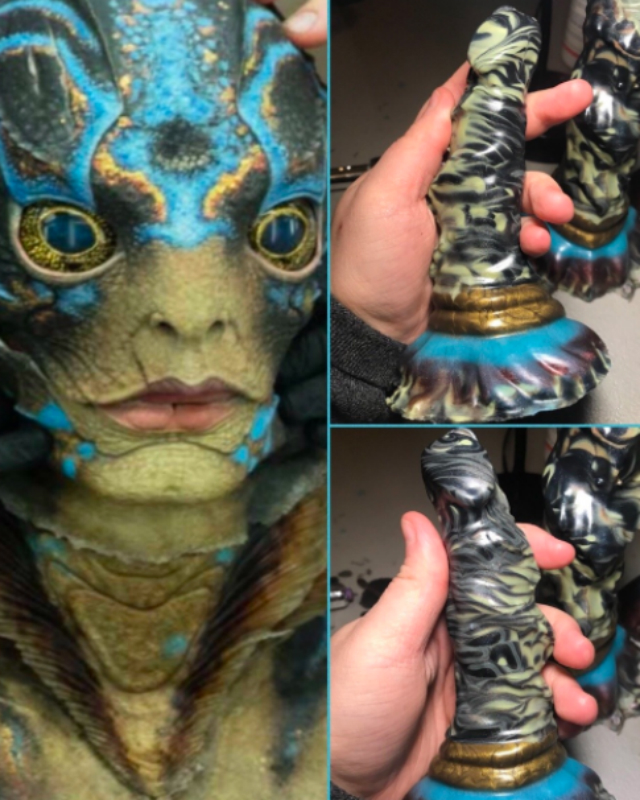 Del Toro didn't go as far as they did to actually include one in his design, but he thought about what his character's penis might look like more than you'd expect.
"It's not explicit in the movie, but in large swarms of fish, they switch gender if they need to," del Toro explained. "I just wanted to have that in the design in my mind. It was important for me. But I didn't do sketches either in my notebook or on my bathroom walls."
 Watch the full video to catch del Toro's comments.