Viewers should be feeling a little guilty about not supporting "Guilt."
The crime drama was canceled by Freeform Thursday after just one season, TheWrap has learned.
Starring Billy Zane, Daisy Head, Emily Tremaine, Kevin Ryan, Cristian Solimeno and Naomi Ryan, the whodunit series was inspired by real-life murder cases such as those involving Amanda Knox, JonBenet Ramsay and Casey Anthony.
---
Also Read: 'Guilt' Co-Creator Reveals Why Freeform's New Crime Drama Is Not About the Amanda Knox Case
---
"Guilt" told the story of Grace (Head), a young American woman in London who becomes the prime suspect in the savage murder of her roommate, Molly Ryan. The case soon became an international sensation in the media after which every one of her past actions came under scrutiny.
 The thriller left many hanging threads when the Season 1 finale aired on Aug. 22.
The series was written, created and executive-produced by Kathryn Price and Nichole Millard. Stephen McPherson served as executive producer for the co-production between Sea to Sky Entertainment (the joint venture between Lionsgate Television and Thunderbird Films) and BV Family Productions in association with ABC Family.
'People v OJ Simpson': 11 Other Trials We Want to See Dramatized on TV (Photos)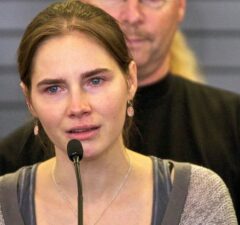 (Tap photo and swipe to view gallery)