October has arrived faster than we could say "trick or treat," and with that comes the spooky holiday Halloween — and thankfully, Los Angeles has got you covered with plenty of events that will give you the chills.
From watching a movie among graves at the Hollywood Forever Cemetery, to partying it up on the streets of West Hollywood, there's a lot going on this year.
Check out TheWrap's list of L.A. events happening this October.
Also Read: New 'Halloween' Movies Dated for 2020, 2021
Hollywood Forever Cemetery
Cinespia has partnered with Amazon Studios this year to screen Hollywood classics and all-time favorite films among the graves of the Hollywood Forever Cemetery, which includes the resting places of Judy Garland, Rudolph Valentino and gangster Bugsy Siegel. John Wyatt founded Cinespia in 2002 because he wanted to get people together to watch classic films in a fun experience.
"At the time there were no outdoor screenings anywhere in Los Angeles," Wyatt told TheWrap. "Cinespia was the only game in town for 10 years or so. It took off right away, revealing a need for community experience in LA… anyone who's attended knows how fun it is to watch a movie with 4,000 people. It's like a ball game or a concert, it's exhilarating!"
To get into the Halloween spirit, Cinespia will screen "The Sixth Sense" on Oct. 19 to celebrate the film's 20th anniversary, and director M. Night Shyamalan will drop by for a Q&A.
On Oct. 27, Cinespia will screen 1974's "The Texas Chainsaw Massacre" for its 45th anniversary. What better way to see the movie than sitting on a picnic blanket with friends, drinking a cold beer and snacking on cheese and charcuterie? And Wyatt hopes to soon show Disney animated features, something that hasn't been possible yet because some distributors still "don't see the benefit of their films getting the Cinespia treatment."
Halloween Horror Nights
Universal Studios' annual Halloween Horror Nights is back, and with more mazes than ever. Walk through the park with characters from your favorite horror films chasing you, bringing out your deepest and darkest fears.
This year, new mazes include Jordan Peele's "Us," "Ghostbusters," "Stranger Things," "Killer Klowns from Outer Space," "Creepshow," "Frankenstein Meets the Wolf Man," "House of 1000 Corpses," "Holidayz in Hell," "Curse of Pandora's Box," "The Walking Dead" and the "Jabbawockeez." It runs until Nov. 3.
Additionally, every Thursday Universal Studios is throwing back in Throwback Thursdays, including classic '80s music videos and song played throughout the mazes.
"Psycho" at the LA Opera

LA Opera will show Hitchcock's "Psycho" on the big screen while a live performance of the score will be played by the LA Opera Orchestra.
The event will take place at the Theatre at Ace Hotel and will run from Oct. 25 to Oct. 31. There will also be a special event on Oct. 26 when the hotel will put on an All Hallows ritual in the haunted cathedral, accompanied by music and dark arts.
On Oct. 31, the Ace hold its annual bash, this year being titled "A Hitchcock Halloween." It will be free with your LA Opera "Psycho" ticket.
Also Read: 'Halloween Kills': Kyle Richards to Reprise Her Role From Original Horror Film
Melrose Rooftop Theatre
Throughout October, the Melrose Rooftop Theatre is playing some of your favorite Halloween classics, like "Halloween Town," "Beetlejuice," "Interview With a Vampire," "Labyrinth," "Carrie," "I Know What You Did Last Summer," "The Conjuring," Gremlins" and "Scream."
Inching closer to Halloween, they will screen "Halloween" on Oct. 27, "Nightmare on Elm Street" on Oct. 28, "Silence of the Lambs" on Oct. 29 and "Hocus Pocus" on Oct. 30 and Oct. 31.
See the full schedule here.
"A New Dia" Immersive Art Installation
Mexican beer company Estrella Jalisco and Wisdome LA is celebrating Day of the Dead with a new immersive art installation titled "A New Día." The installation will be open to the public from Oct. 18 to Nov. 1, and hopes to "inspire people to discover and embrace the holiday as a celebration of life and living tradition."
It's a multi-room, four geodesic dome exhibit stretched over 35,000 sq. ft. For more information, click here.
House of Spirits Haunted Cocktail Soiree
When you step inside the House of Spirits for the cocktail soiree, you'll be able to freely roam a mysterious mansion while experiencing magic, sipping cocktails, getting your tarot cards read and participating in sinister seances.
The event runs until Nov. 2 and each sessions last two hours.
Nights of the Jack

Spend an evening at this event, and you'll be amazed at what people can do with just a few pumpkins and a knife. Walk the grounds and look at the intricately hand-carved designs of the illuminated jack-o'-lanterns.
See underwater creatures, dinosaurs, Spongebob Squarepants, and your favorite Hollywood celebrities carved into giant pumpkins, and then treat yourself to some of L.A.'s best food trucks.
Haus of Creep
Haus of Creep is a 75-minute multi-sensory exhibit that is set up at the Row DTLA, encompassing a 5,000 square-foot space. It's an exhibition which takes visitors into the dark world of Los Angeles with the growing popularity of "grammable museums."
Haus of Creep is directed by Justin Fix, written by Daniel Montgomery and choreographed by Stephanie Turek. The installation runs until Nov. 3.
Also Read: 'Trick or Treat' Theater Review: Everything Bad Happens on Halloween
Paramount After Dark Studio Tour
Until Nov. 16, you can take Paramount Pictures' After Dark Tour, where you will be guided past the darkest corners of the studio's backlot after kicking off the night with a champagne toast. Then, by flashlight, you will walk through the legendary Hollywood Forever Cemetery to learn about some of the biggest names that have been buried there.
You can see more information here.
Queen Mary's Dark Harbor
Over 200 monsters, including the Captain and Scary Mary, will haunt you until November on the legendary Queen Mary in San Pedro, California. For Halloween, the ship houses six mazes, nightly live entertainment, secret bars and other rides.
Plus… Time Magazine has named the Queen Mary one of the "Top 10 Most Haunted Places on Earth"… so beware.
Haunted Hayride
The Haunted Hayride is back this year, with a new theme called Midnight Falls. Since 2009, visitors can hop onto wagons and be taken through Griffith Park while being scared by timeless and traditional creatures and theatrics.
Freeform's Halloween House
Freeform is putting on a Halloween House, an interactive experience where your favorite Halloween films — including "Hocus Pocus," "Tim Burton's The Nightmare Before Christmas" and "The Addams Family"– will be brought to life.
The Halloween House will feature the iconic Sanderson Sisters' cottage, as well as the Halloween Town tree portal and Billy's Grave from "Hocus Pocus." You can also chute down from the treehouse into Oogie's House from "The Nightmare Before Christmas."
Haunted Little Tokyo
Los Angeles' Little Tokyo district is celebrating Halloween the whole month of October with pumpkin patches, games, screenings, haunted walking tours and fun food and drinks, which will ultimately end with a huge block party and trick or treating on Oct. 26.
Get more information here.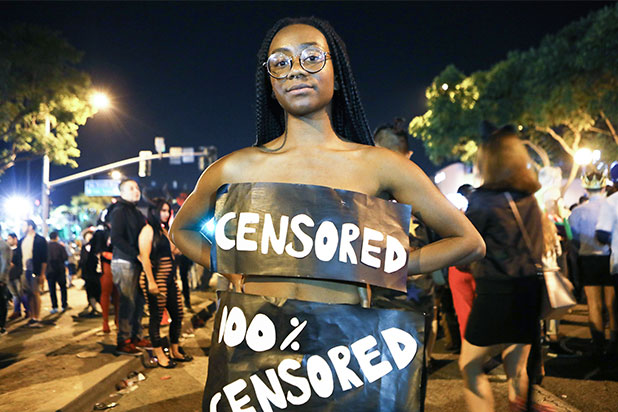 West Hollywood Halloween Carnaval
Founded in 1987, the West Hollywood Halloween Carnaval has become one of the biggest Halloween parties in Los Angeles, with about 500,000 attendees every year.
Local DJs play, and recently crowned royals include Rihanna, Queen Latifah and Darren Criss. Unfortunately, this year's Oct. 31 falls on a Thursday — but if you're looking for a party, this is the one.

Haunted Hotel
The Viceroy Hotel in Santa Monica, California is putting on its 6th annual Haunted Hotel, where 1,000 guests will transcend on one of the biggest Halloween parties on the Westside. A professional psychic will be there, and "The Bachelorette" star Eric Bigger will host a costume contest.
The party will take place on Oct. 26.
W Hollywood Costume Ball
If you want an elaborate, fully-fledged costume ball, go to the W Hollywood on Oct. 26. A cool thing: the VIP booths and tables are named after your favorite horror movie villains, like Freddy Krueger, Jason Voorhees and Michael Myers.
Similarly, the W Hotel in Hollywood is also putting on a masquerade Halloween party on Oct. 31.