Whoever came up with the idea of Bill Clinton making a cameo in "The Hangover 2" is a genius. Even if it's not true, the sheer idea of it is pretty brilliant, too. Just think: the R-rated Clinton in a follow-up to the R-rated Vegas bachelor party from hell.<br /><br/>
But that's to come. Here are some pretty cool cameos the former Prez and the wannbe Prez have to beat.
CHARLIE SHEEN
Charlie is the King of Cameos. He stole the show in "Wall Street: Money Never Sleeps" with that trademark roguish smirk and got one of the biggest laughs at the end of "Due Date," when a stoner Zach GalifIanakis makes a "cameo" on a fake "Two and a Half Men." And the same week he had a meltdown in NYC, he filmed a quickie in Hilary Duff's "She Wants Me" as who else? – himself.
MIKE TYSON
His turn in "The Hangover" packed a hell of a lot of punch. He literally and effortlessly decked Zach Galafianakis, demanded his tiger back and offered life advice to the addled boys in the film. But the real treat had to be watching Iron Mike air drum to Phil Collins. Talk about a comeback!
TOM CRUISE
Cruise had a couple of rough years there for a while. Then with little fanfare, Cruise, in a fat suit and a bald wig, screamed back onto the screen as the foul mouthed, ruthless, hairy chested, hip-hop grinding Hollywood superproducer Les Grossman in 2008's hit "Tropic Thunder" – and all was rightly forgiven. He even got a Les Grossman movie out of the deal.
Sealing the deal: that dance routine with JLo on the 2010 MTV Awards.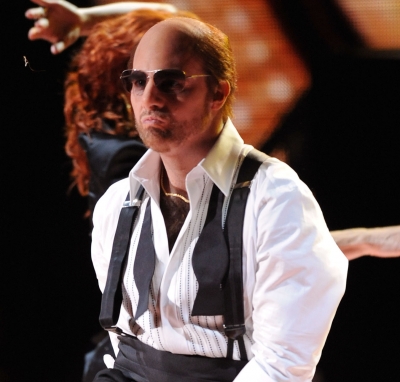 ELVIS COSTELLO
"Spice World," 200 Cigarettes," "Austin Powers: The Spy Who Shagged Me," and "Talladega Nights: The Ballad of Ricky Bobby," not to mention HBO's "Treme" and going head to head with the Man himself Charlie Sheen in "Two and a Half Men," Elvis is almost as prolific onscreen as he is musically … and sometimes much better.
ARNOLD SCHWARZENEGGER
The soon-to-be former Governor of California was digitally slipped into 2009's prequel "Terminator Salvation" via CGI, but he made an actual appearance in pal Sylvester Stallone's "The Expendables" — in a mercenary ménage a trois with Sly and Bruce Willis in a church. As Arnie leaves, Stallone tells Willis that Schwarzenegger is "just pissed cause he wants to be President." As his cameo in "The Expendables" reveals, the Governator might be aiming higher in his comeback.
KEITH RICHARDS
Johnny Depp has never made much of a secret about basing a lot of the swagger of Capt. Jack Sparrow on the Rolling Stones' guitarist … but when Richards showed up as Depp's dad in "At World's End," the screen lit up with the decadent starpower of the real deal. Keith will be rejoining Depp for another round at sea in "Pirates of the Caribbean: On Stranger Tide" coming out in May 2011.
NEIL PATRICK HARRIS
The former Doogie Howser still had a marginal career but after his drug fueled and hooker chasing appearance as himself in 2004's "Harold and Kumar Go To White Castle" he had caché … and caché led to "Who I Met Your Mother" in 2005 and a whole new career as one of Hollywood's go-to song and dance men. And, yes, he's coming back in "A Very Harold and Kumar Christmas." Lock up your daughters.
BILL MURRAY
They called him one of the "biggest movie stars on the planet" in "Zombieland" and as a fake zombie hiding out in his Beverly Hills mansion, Murray, as himself, gives a grand performance. How good is he? This good: When asked if he ever had any regrets, he replies with understated genius "Garfield, maybe."