The Hoff is back, and not just in Germany.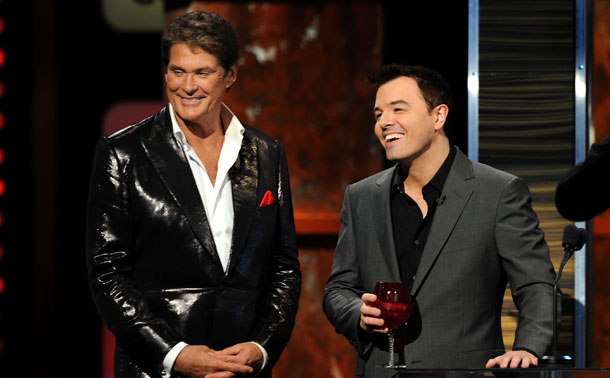 Submitting himself to the dignity-sapping rigors of Comedy Central's roast, actor David Hasselhoff led the cable channel to its highest rated Sunday night since April 2009 and its best weekly rating in 10 months.
The premiere run of his roast special scored 3.5 million total viewers and 2.5 million age 18-49.
"Comedy Central Roast of David Hasselhoff" scored the top rating in that key adult demo for basic cable on the night. In Comedy Central's core demo of males 18-34, it garnered 1.1 million viewers, the best performance for the night in all of TV.
Compared to the premiere showing of the network's last roast — that of Joan Rivers — ratings were up about 40 percent in adults 18-49 … and a whopping 77 percent in males 18-34.
While Hasselhoff subjected himself to jokes about alcohol abuse and all manner of physical foible, it pried open a few opportunities for his dormant television career.
The CW, for example, announced Tuesday that the former "Knight Rider" star will host a one-hour variety-show special on Aug. 27 that will pay tribute to the Gulf Coast five years after Hurricane Katrina.
Airing from 8-9 p.m., "The Gulf Is Back" will feature appearances by Dean Cain, Shannon Elizabeth and B.B. King.