(Warning: This post contains spoilers for "The Haunting of Hill House" through the finale.)
The Red Room: the bane of every Crain family member's (and "Haunting of Hill House" fan's) existence.
The mysterious location — described by poor, deceased Nellie Crain (Victoria Pedretti) as the titular home's "stomach" — spends the better part of the 10-episode Netflix series "digesting" the family, by lulling them into a false sense of security within its walls so it can learn their fears and desires and prey on them more easily.
But you don't find that out until the final moments of the finale, when the four living Crain siblings — Steve (Michiel Huisman), Shirley (Elizabeth Reaser), Theo (Kate Siegel) and Luke (Oliver Jackson-Cohen) — are trapped inside its walls, once again allowing it to play tricks on their minds, and must rely on their father, Hugh (Timothy Hutton), to negotiate with their now-ghost mother Olivia (Carla Gugino) to get them out.
Also Read: 'Haunting of Hill House' Creator Explains How They Kept Red Room Twist Hidden Until the Very End
(And if you're wondering how the show kept that room hidden in plain sight this whole time, we've talked extensively about that with creator Mike Flanagan, which you can read about here.)
It all turns out (mostly) OK in the end. Every Crain except for Olivia, Nellie and Hugh — who sacrifices himself so his children can escape — goes back to his or her life and changes for the better, after that dark night in the Red Room. We even close the whole show on Luke's 2-year sobriety.
Except, maybe we didn't.
Also Read: 'Haunting of Hill House' Star Didn't Know About Stages of Grief Fan Theory - But 'Totally' Sees It Now
While discussing the intricacies of playing Luke — a recovering drug addict and Nellie's twin brother — with TheWrap, Jackson-Cohen talked "Hill House" Easter eggs, pointing out one he's still waiting for fans to discover. And brace yourselves, because this clue might just undo the show's bittersweet ending, by revealing the Crains are still trapped in a fantasy inside the Red Room.
"There's this thing that happens when we're all in the Red Room," Jackson-Cohen told us in an interview Monday. "Every, uh — again, I feel like I have to be careful if I'm saying this right. (laughs) But whenever each child, each sibling, is in the Red Room, something in the fantasy is red. And it'll be a very, very small thing. For Luke, when Luke gets taken to the hotel room, he's worn Converse throughout the show, and all of a sudden his Converse are red. And it's so slight you can barely even see it. And I think Steven is wearing a red jumper [in his fantasy.]"
"And so there's something at the end — it was Kate [Siegel], who plays Theo, who kind of pointed it out to me — with Luke's sobriety cake," he continued. "Um, she went, 'The cake is red.' And on set I went, 'Oh, my God!' And she went, 'I don't know!' And I asked Mike [Flanagan], and he went 'I don't know.' And so I can't tell whether or not I'm just crazy with this — or whether or not it's something that could have legs."
Also Read: 'The Haunting of Hill House' Season 2: If Story Continues, It Won't Be About the Crains
Here's a screenshot of Luke's red Converse in his Red Room fantasy:
And here's a screenshot from the closing moments, with a red cake for Luke at his sobriety party: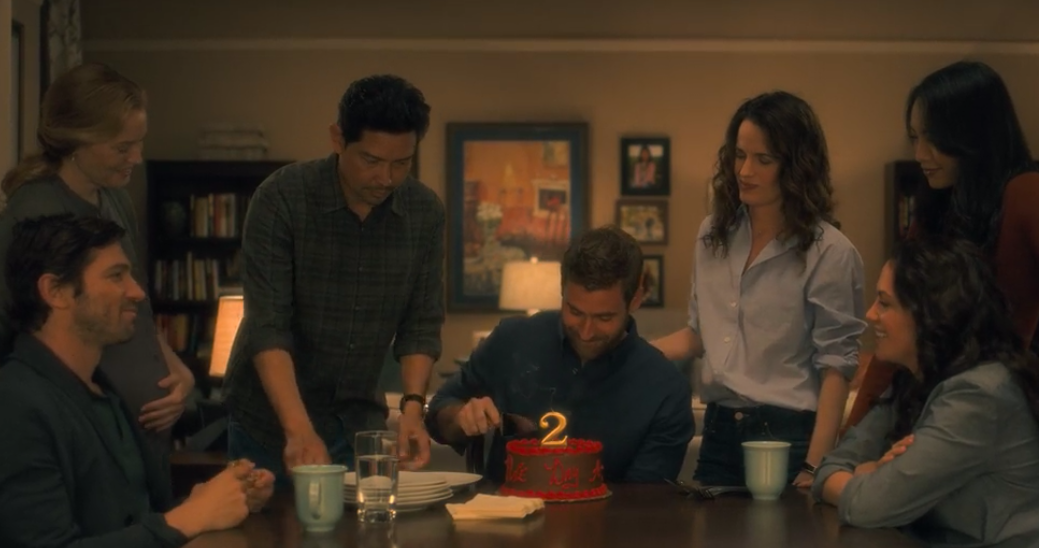 So, uh, we'll let you digest that, while we ask Jackson-Cohen if he was happy with how the Crains story ended — or if he wants the door to be left open for more from Luke and his siblings.
Also Read: 'Chilling Adventures of Sabrina': Ross Lynch Is Just as Into Harvey-Nick Bromance As You Are (Video)
"Well, I think it's always a bit of a tricky one," he says. "When you fall in love with playing a character, it's always a hard thing. Even if it's just a movie, a standalone movie. It feels quite sad to say goodbye to the character, in a way, as an actor. Especially someone that you love so much. So I think whatever direction — again, I have to be so careful about how I answer these questions, because Netflix supposedly hired snipers to like live opposite our houses and just shoot us if we say anything else (laughs)."
"I think, you know, the great thing about the show is it can go anywhere," he continued. "You could revisit the Crains. There's Easter eggs in the show that not many people have actually picked up on yet — which I find quite surprising — where you could very, very easily go back and visit the Crains. You could do an anthology, which I know is what Mike definitely feels he wants to do. So I think it's kind of the exciting thing about being a part of a show like this, where you just don't know where it's going to go next. So I'm really interested to see what they come up with, and what everyone decides they want to do with this. It's weird, we get all these questions, but we just don't know."
"Haunting of Hill House" Season 1 is available for streaming now on Netflix.