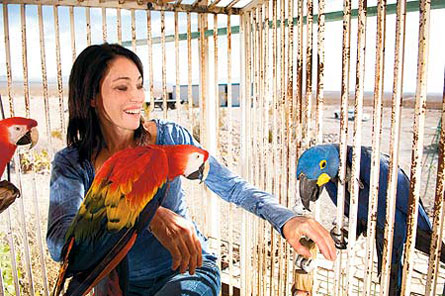 In what can only be the surest sign of the impending TV apocalypse ever, Animal Planet is set to air a documentary called "Heidi Fleiss: Prostitutes to Parrots."
Yes, this is an hour look at what the infamous Hollywood Madam is up to now, after a three-year stint in rehab and nearly two decades of legal troubles since feds busted up her lucrative illegal sex kingdom.
And what she is up to is owning parrots.
Polly want a crack whore?
Fleiss, who lives in Pahrump, Nevada, also spends her time operating a laundromat called Dirty Laundry and planning a doggie day care venture.
"I never, ever thought that I would end up here, but everything happens for a reason," said Fleiss in an Animal Planet announcement. "[Today] some people call me a crazy lady who plays with birds. It's been a crazy way to reinvent myself, but I love these birds and I will be successful."
Fleiss' house burned down last Thanksgiving — but all of her winged pets survived.
Heidi Fleiss: Prostitutes to Parrots" airs on July 31 at 10 p.m. ET.