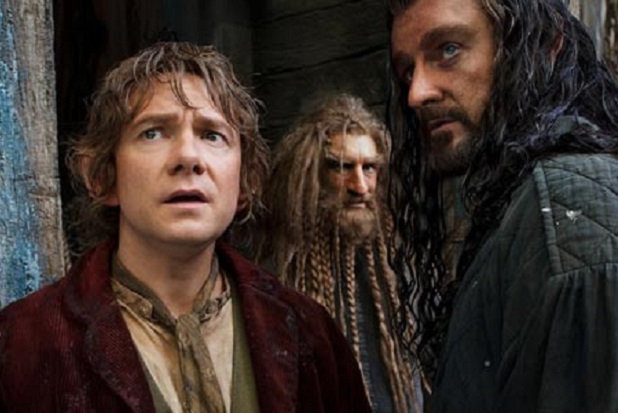 "The Hobbit: The Desolation of Smaug" dominated in its debut at the North American box office Friday, rolling up $31 million and putting itself on pace for a three-day total of around $75 million.
While massive, Peter Jackson's hotly anticipated sequel first-day numbers are behind those put up by the first film in the trilogy, "An Unexpected Journey," which took in $37 million on its opening Friday and totaled $85 for the weekend.
That one was in 4,045 theaters, but "Desolation of Smaug," from Warner Bros., New Line and MGM, is on 3,903 screens and facing more formidable competition. First-night audiences gave "Smaug" an "A-" CinemaScore, in line with critics who have been generally positive.
The Friday gross includes $8.8 million from Thursday midnight screenings. "Smaug" is getting a bottom-line boost from around 3,000 3D sites, which along with Imax and high-frame-rate screenings bring ticket upcharges.
Also read: 'The Hobbit: The Desolation of Smaug' Reviews: Bilbo's Back – But Is He Better Than Ever?
Last weekend's No. 1 movie "Frozen" took in $5.1 million Friday and is looking at a three-day total of around $25 million in its third week of wide release. It was actually a little behind the weekend's other wide release, "Tyler Perry's A Madea Christmas," after Friday, but the Disney Animation 3D kids film is expected to surge when families turn out on Saturday and Sunday. It's in 3,716 theaters.
Lionsgate's "Madea Christmas" brought in $5.7 million from 2,194 locations Friday, putting it on pace for weekend in the $16 million range, on the low end of expectations for the holiday comedy. Perry's Madea movies have on average opened to $28 million and his last one, 2012's "Madea's Witness Protection," opened to $25 million. "Madea's Christmas" received an "A-" CinemaScore, so word of mouth may help.
"The Hunger Games: Catching Fire" was fourth on Friday with $4.1 million, and will likely finish the weekend with around $14 million. If that holds up, Jennifer Lawrence's blockbuster sequel will have brought in nearly $360 million domestically since opening a month ago.
Also read: 'American Hustle' Scores Big in Limited Box Office Debut
Disney's "Thor: The Dark World," Relativity's Christian Bale drama "Out of the Furnace" and the Vince Vaughn comedy "Delivery Man" followed, and all will wind up at between $2 million and $3 million for the weekend.
Oscar hopefuls "Philomena" and "The Book Thief" were next, with Open Road Film's action thriller "Homefront" rounding out the top ten.
"Hours," one of the final films of the late Paul Walker, debuted softly on 16 screens with about $16,000. Distributor Pantelion has said it will donate portions of the film's box office to the actor's charity Reach Out Worldwide. "Hours" was completed months before the Nov. 30 auto crash that took Walker's life.