A roast broke out at the Hollywood Film Awards on Monday night.
The annual October event showcases awards season hopefuls and draws major talent, such as Robert DeNiro (left, with Bradley Cooper) and Dustin Hoffman to accept non-voted awards. Nearly all of the honorees appear in films that have not been released yet and seen by only a few.
Judd Apatow and Seth Rogen were having none of it.
The night already had a stack of highlights — including the real-life survivors of "Argo," including CIA extractor Tony Mendez, and breakout newbie Quvenzhane Wallis (below, right), Hushpuppy from "Beasts of the Southern Wild," standing on a box to reach the podium.
Then Rogen and Apatow showed up on stage in succession.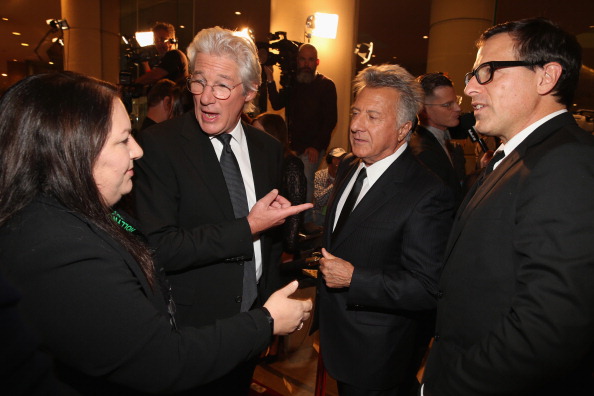 In minutes, they tore down actual host Carlos de Abreu and show-host Nancy O'Dell's "charade," as presenter Diablo Cody called the night. Apatow stole the show, spitting out four and half minutes of material scribbled on a program, skewering everything to that point.
Here's the top quotes and killer jokes from a talent-heavy, "Argo"-heavy and "Silver Linings Playbook"-heavy night at the Beverly Hilton with David O. Russell, Amy Adams, Quentin Tarantino, John Goodman, Melissa Leo, Ben Affleck, Richard Gere, Edward Norton, Helen Hunt, Harvey Weinstein and Tom Ford.
Seth Rogen on the Hollywood Film Awards' reputation for anointing films early:
"This is known as the first stop of awards season, but if you work in comedy, it's the last stop of awards season. This is it. We'll lose to a musical at the Golden Globes. The funniest movie in the world could come out, and we'd lose to 'Les Miserables.'"
John Hawkes ("The Sessions") on accepting the "Hollywood Breakout Performance Award": "After 26 years in the business, it's never too late to make a first impression."
Seth Rogen: "Who voted for these things? I'm told someone named Carlos. I'm going with 'Carlos the Jackal.'"
Judd Apatow: "Throughout the night I took notes on ways to improve the ceremony:
>>Please tell the kid from "Beasts of Southern Wild" not to mention God. This is Hollywood.
>>Note to self: Ask Megan Ellison for $60 million.
>>I wish they would screen "The Sessions" right now.
>>John Hawkes looks like he would kick the s— out of the guy in "The Sessions."
>>Why the f— is Katzenberg here, and not watching the debate? We need him to support our president.
>>Please add commercial breaks so we can all pee, smoke and talk.
>>The crowd talked during production design awards — very rude. I was ashamed of that, ashamed of our town.
>>On Dustin Hoffman's lack of a professional or personal colleague presenting his award: "Why didn't Hoffman have a friend give him the award? Is Carlos (de Abreu) Dustin Hoffman's best friend? Where the f— is Jon Voight? At Romney's after-party?
>>Hostages rock. Next year, can we get the other 50 here?
>>On Ben Affleck's pronunciation of "Iran." So it's 'eee-ROHN, not EYE-ran, OK?"
>>On developing a movie with all the award winners in the room: "If we make a movie with John Hawkes, edited by Dylan Tichenor, shot by Wally Pfister, directed by Christopher Nolan, the world will implode on itself."
Robert DeNiro on his changing role at awards shows: "Now that DiCaprio has taken my spot in Scorsese's films, I've been relegated to handing out awards."
Judd Apatow: "Get Robert DeNiro's speechwriter to write Nancy O'Dell's monologue next year."
Seth Rogen on Apatow's Directing Skills: "Judd is a good director but not as good as Ben Affleck. If Judd directed 'Argo,' it would have been very un-suspenseful… and I would have been in it.
"Judd, do not get caught doping in the future, or they will strip you of this award."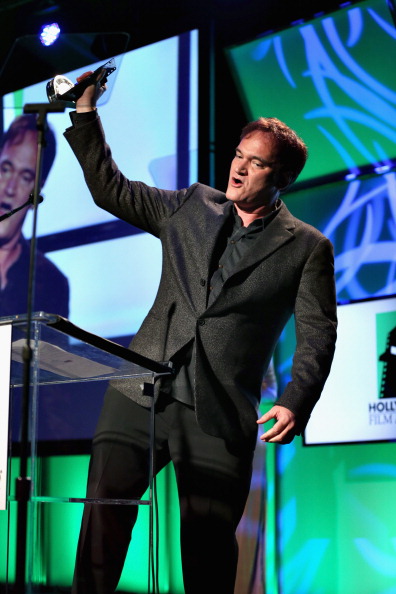 Quentin Tarantino (Screenwriter Award) on having to leave the stage to go home and watch dailies of "Django Unchained" and prepare for Tuesday morning's edit: "It's kind of strange to get an award while you're still in the editing room for a movie. Now when my editor wants to cut down a long section of dialogue I can say: 'Youuuu want to take a line out of my awarrrrrd winning screenplay?!'"
Nancy O'Dell reading debate-related tweets off her phone: "Does anybody want to hear what Donald Trump said?" The audience responded "Noooooo," but O'Dell read it anyway. "Stop congratulating Obama for killing Bin Laden. The Navy Seals killed Bin Laden #debate," Trump tweeted. The Beverly Hilton ballroom responded with 80% boos and a few scattered whistles and cheers coming from the back.
Ed Norton, prefacing his remarks about honoree Richard Gere (below, with Carlos de Abreu): Norton recounted Gere's disarming and humble approach to Norton's two-day, career-making screen test on the Paramount lot opposite Gere, that landed Norton his first role, "Primal Fear": "I just got an email from Seth Rogen. He's already home in his underwear… high …laughing at all of this.
Richard Gere ("Career Achievement Award") ending the night with a sincere tribute to his 40-year agent Ed Limato:
"All the movies you saw (in my introductory video package), there was not a decision I made without talking to (Limato)… as a friend, the way things should be, as a really dear friend. There was no manipulation, there was no funny business involved. There were a number of times we cried together over whether we should do something or not.
For a quick awards season primer, the films tapped for November-February glory by the Hollywood Film Awards include: "Argo," "Silver Linings Playbook", "The Perks of Being a Wallflower," "Arbitrage," "Flight," "Django Unchained," "The Dark Knight Rises," "Les Miserable," "Not Fade Away," "The Sessions," "Anna Karenina," "The Rise of the Guardians" and "The Master."