Hollywood is invading the Super Bowl.
Major studios will fill the airwaves during this year's big game with trailers for "Captain America," "Rango" and "Pirates of the Caribbean: On Stranger Tides."
Read also: From 'Glee' to O'Reilly, Fox's Plan to Be a Super Bowl Winner
All told, this year's Fox broadcast of the Packers and Steelers game will boast a record 14 trailers, according to Kantar Research.
That's more than double the six spots that ran last year and a substantial increase from the nine trailers that aired in 2009.
Paramount leads the pack with five in-game spots for summer films such as "Thor" and "Transformers: The Dark of the Moon."
Other studios were more judicious. Universal, Relativity and Disney chose to go with single spots -- a more economical approach given that a 30-second ad can cost $3 million.
The strangest member of the modest spenders is 20th Century Fox, which will air one 30-second spot for its animated film "Rio." Though the game is airing on its corporate sibling, and the broadcast network is using the opportunity to hawk everything from Bill O'Reilly to "American Idol," Fox's film division is leaving the big buys to Paramount.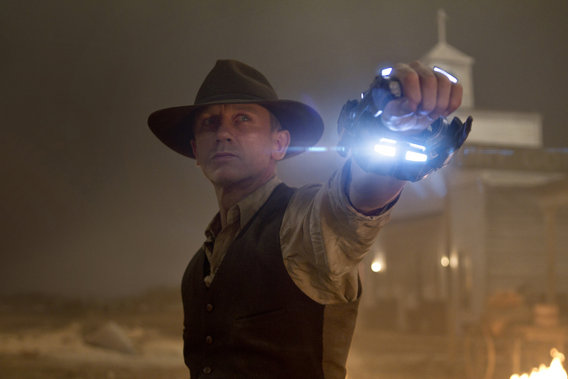 In-games ads aren't the only way that studios are seeking to capitalize on Super Bowl excitement. Sony and Focus are buying up space in the pre-game hours, according to Kantar. Sony will air spots for "Just Go With It," "Battle: Los Angeles" and "Priest." Focus has bought time for the sword and sandal actin film "The Eagle."
Movie studios will also be featured prominently during a special post-game "Glee" episode. Paramount has purchased a spot for Justin Beiber's 3D concert film "Never Say Never," and Relativity has bought ad time for "Take Me Home Tonight."
Here's a breakdown of the studios' in-game buys, courtesy of marketing agency Optimedia:
Paramount: Five in-game spots for upcoming films "Captain America: The First Avenger," "Rango," "Super 8," "Thor" and "Transformers: The Dark Of The Moon."
20th Century Fox: One 30-second spot in the fourth quarter for the animated film "Rio."
Universal Studios: Two ads, one for "Cowboys & Aliens."
Walt Disney Pictures: One spot during third quarter for "Pirates of the Caribbean: On Stranger Tides."
Relativity Media: One spot for "Limitless"