Hollywood has a new insider status symbol, and it's a non-paying job for the most public guy in the country: being an Obama surrogate.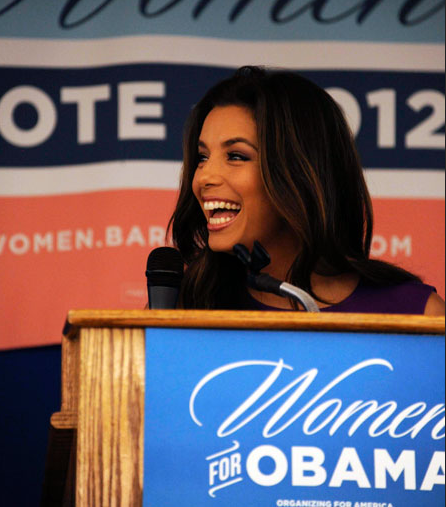 What's a surrogate? "Anyone who can speak on behalf of the president or appear on behalf of the president. We come from all walks of life and can reach out and include people who may not be tuned into the election," said actor and national campaign co-chairman Kal Penn. "It's a huge honor and it's something that can make a real difference."
Also read: Obama's Hollywood Heavyweights: Who's Who and How Much
This campaign that includes everyone from Eva Longoria to Alec Baldwin to Gwen Stefani to the Red Hot Chili Peppers.
They blog on Huffington Post. They drop key White House accomplishments in interviews otherwise scheduled for movie openings. They give concerts.
With George Clooney opening his house for a fund-raiser and Sarah Jessica Parker having a who's-who of guests to dinner, it's obvious that lots of Hollywood celebrities are getting up close and personal during this campaign.
Also read: Anna Wintour, Sarah Jessica Parker Welcome the Well-Heeled to NYC Obama Fund-Raiser
But the surrogates program is something more, a secret club of celebrity activists who have lined up for the cachet of being deployed as a stand-in for the President.
Just in the last couple of weeks Obama's Hollywood surrogates have been sent on the road in various ways:
>> Marc Anthony did a fund-raising concert for Obama in Miami, including a contest that let the winners meet the pro-presidential singer backstage.
>> The Red Hot Chili Peppers, in Cleveland for a Rock and Roll Hall of Fame event, gave a "Rock for Obama" concert for Obama volunteers in the key swing state.
>> Actress Tatyana Ali went stumping for Obama in Philadelphia and Cincinnati.
>> Actress Kerry Washington took her dad to Tampa, Florida, for a voter registration effort, visiting a campaign and a beauty salon.
>> NY Giant Victor Cruz was in South Florida doing voter registration events this past weekend.
Also read: George Clooney to Campaign for Obama in Geneva
And Clooney is planning back-to-back fund-raising events in Geneva in August for Americans Abroad for Obama.
"A lot of this stuff is organic," said an Obama campaign staffer, who would only speak on background. "People want to help. We work to channel that support and deploy that."
Every presidential campaign uses surrogates, said one veteran of Democratic campaigns who declined to be identified. But this time around it's much more organized.
"Last time it wasn't systematic, they were drinking from a firehose," he said. "Oprah was the big visible one out there. It's different now — the guy's the president. You can see the inner machinery better."
While these celebrities are certainly acting from political conviction, there's no denying the cool factor in being recruited by the president himself.
The effort began in earnest in January, when Obama held an unscheduled, early-morning meeting at the Beverly Regent Wilshire hotel with key agents, managers, publicists and executives, asking them to get involved in the campaign.
The insider group included mogul Harvey Weinstein, CAA managing partner Rob Light, ICM President Chris Silbermann, "Modern Family" creator Steve Levitan, Atlantic Records Chairman Craig Kallman, music producer Eric Ortner, Island Def Jam Vice President Karen Kwak, Warner Bros. Records President Livia Tortella, ID-PR partners Kelly Bush and Mara Buxbaum, Universal Music Publishing chief Tom Sturges, entertainment attorney Chuck Ortner, and talent managers Greg Mertz, Bruce Flohr, Michael Green, Steve Moir and Bill Silva.
These influencers have been key in getting their talent directly involved in the campaign. In June, Obama had another quiet meet-and-greet, this time at the CAA headquarters in Century City organized by CAA partner Bryan Lourd, with a number of celebrities present.
Why is it cool? Being a surrogate means you're savvy, on the inside, politically hip and best of all – you're just a phone call away from the president himself.
Along with their agents and publicists, the Obama surrogates receive weekly emails outlining the campaign's latest talking points and get special attention from a half-dozen campaign staffers who help schedule their appearances and coordinate with the celebrities' paying gigs.
Recent talking points have been about the importance of registering to vote, highlighting Obama's accomplishments on the economy and touting the health care victory at the Supreme Court.
The prevalence of celebrity involvement in the presidential campaign – the latest high-profile recruit is Gwen Stefani, who will co-host a family event with Michelle Obama at Stefani's home on Aug. 12 – has led some political observers to wonder if the effort could backfire and brand the president as an elitist.
Veteran Democratic strategist John Emerson doesn't think so. No one will be surprised to see celebrities attached to Obama, he said, adding, "If you have people help draw crowds or attract people to fundraisers — I don't see how that possibly backfires in general."
So expect more surrogates, not fewer, as we head to November. Eva Longoria, a campaign advisor acknowledged, will be devoting her fall to being a surrogate for the president.