In one of the most outrageous scenes from "Furious 7," as Paul Walker's character Brian O'Conner is backing his car out the rear of a two-mile-high cargo plane and preparing to parachute to a perfect landing, he says, "Just when you didn't think it could get any better, huh?"
Moviegoers are saying the same now that "Furious 7" has hit theaters, and likely will be again on July 31, when Tom Cruise's "Mission Impossible – Rogue Nation" arrives. Both high-profile franchises have spiked the action ante with new films with stunts so spectacular and over-the-top that suspending disbelief becomes a must for audiences. But physics, the laws of gravity and the bones of stars and their doubles be damned, the films' fans have turned "Furious 7" into an instant  blockbuster, and lit up social media buzzing about the mind-boggling stunts. And they've only seen the"MI5" trailer.
"The 'suspension of disbelief' doesn't begin to cover it when it comes to some of these outrageous stunts, but fans who have become accustomed to bigger, bolder and more over-the-top set pieces love to go along for the wild ride that the directors of these ultra-action epics are more than happy to take them on," said Paul Dergarabedian, senior analyst at Rentrak.
See photos: 9 Jaw-Dropping Movie Stunts That Made Us Shout at the Screen
"Furious 7" exploded in this weekend's $143 million opening for Universal, tops in 2015 and the best ever in April. "Rogue Nation" will build on the $2 billion in worldwide grosses that the four previous "Mission Impossible" movies have brought in. Gasp-inducing stunts were a major part of the appeal of 2011's "Ghost Protocol," the last and most profitable film in the series. That face wasn't lost on the Paramount brain trust, which made it clear moviegoers can expect more of the same with a new trailer in which Cruise dangles from a jetliner.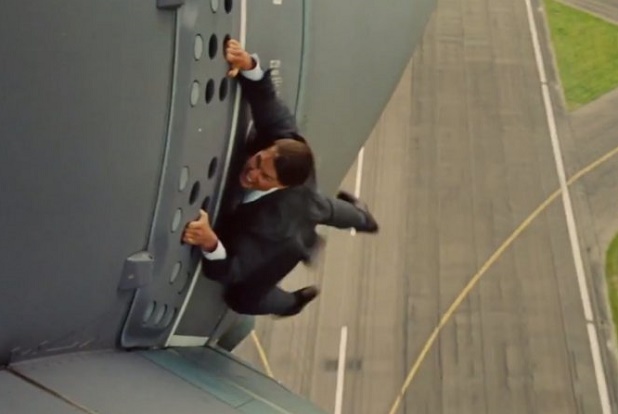 "These are franchises that have built their massive followings on completely bonkers stunt sequences that seemingly take place in completely unreal worlds, and fans love that," said Dave Karger, Fandango's chief correspondent. "They want stunts that are insane."
Escaping reality is why many go to the movies, and these films and others, like Fox's "Kingsman: The Secret Service," are designed to do just that.
Of course, it can be expensive, so usually it's only the most lucrative franchises like these two and the James Bond and "Terminator" films that get the greenlight to supercharge their stunts. Paramount hasn't disclosed the cost of "Rogue Nation," but the production budget on "Furious 7" was $190 million. And if the stunts wind up costing as much as the stars, it makes sense because they drive business, too.
Also Read: 'Kingsman: The Secret Service' Review: Colin Firth Rocks Suits, Stunts, and 'Splosions
"The studios are showing off more of the most outrageous stunts in the trailers, so it's clearly a big part of the marketing for these films," Karger said. IMAX theaters and Premium Large Format screens can amp up fans' experience and their proliferation has accelerated the popularity of the envelope-pushing action films. Both IMAX and PLF set records on "Furious 7," and together they accounted for roughly 20 percent of the premium-goosed grosses.
"They play best with a huge crowd in a theater, where moviegoers can marvel, and ooh and ahh, and even laugh at them," Karger said. Action has long been a top priority for foreign audiences, in part because spectacular stunt work translates better than dialogue, and they provide the bulk of the action film's box office today. Again "Furious 7" would be Exhibit A, having taken in $240 million in its first weekend of overseas release.
The tech and craft levels displayed in some of today's action scenes –the "Furious 7" car drop is detailed here by stunt coordinator Jack Gill and second unit director Spiro Razatos — are unprecedented. But there will always be skepticism on the part of some moviegoers.
Walking the fine line between incredible and incredulity has always been a challenge for even the best filmmakers. In the 1980s, the poor marksmanship displayed by the "Star Wars" baddies was so blatant that it spawned the phrase "The Stormtrooper Effect" — the short explanation of why point-blank shots fired by the evil empire's supposedly crack troops always missed while, despite full body armor, they dropped like flies when hit.
Dangling 20 floors up from an Abu Dhabi skyscraper, as Cruise did in "Ghost Protocol," is a whole different thing. The highest-level stunts can be so over the top that they veer close to camp at times, or seem like something only a Marvel character could pull off.
Also Read: Dwayne 'The Rock' Johnson Fights Jason Statham in New 'Furious 7' Clip, Talks Prostitutes on 'Kimmel' (Video)
"Think Universal doesn't have a superhero franchise? Think again," is how Amsterdam-based film publicist Peter de Haan put it in a tweet earlier this week after seeing "Furious 7."
Social networking lets fans action fans evangelize, Dergarabedian noted.
"Audiences that leave the theater tweeting about the most outrageous stunt they just saw in a movie like "Furious 7" only serves to grab people by the adrenalin glands and get them pumped to see the movie," he said. "It is often these outrageous action sequences that are most remembered, from the car chases in 'Bullit' and 'The French Connection,' to the mega-stunts in 'Furious 7,' the car stunt has been a time honored tradition in cinema."
The evolution of the "Die Hard" movies and its hero played by Bruce Willis is a telling example, according to TheWrap's film critic Alonso Duralde.
"You can watch the progress of John McClane, where in the first one he's a New York cop and kind of a regular guy. He runs on broken glass, he bleeds, but he's smart and resourceful. It's almost naturalism by today's standards," he said. "In the most recent film, he's jumping out of a 20th floor window, and going down scaffolding like a crazy superhero."
Also Watch: Tom Hardy in 'Mad Max: Fury Road' Teaser: 'Everybody's Gone Out of Their Minds' (Video)
There's not so much difference between superhero movies and the ultra-action films, Duralde suggested.
"You look at the second Captain America movie," he said. "Take away the Nazi downloaded into a computer and the guy with wings and you almost have an old-school spy movie. At some point, someone is going to do a stripped-down action or superhero movie that everyone will love."
And then there is the "kids, don't try this at home" factor.
"I would much rather see 'Fast and Furious' focus on outrageous action sequences than street racing," Karger said. "In a strange way, it's a better way to go."