EXCLUSIVE
The administrators of a $2 billion SAG fund are being accused of covering up an embezzlement scheme that resulted in losses between $5 and $10 million, according to documents obtained by TheWrap.
Craig E. Simmons, an ex-employee of the Screen Actors Guild's Producers Pension and Health Plans (SAG-PPHP), on Wednesday filed a complaint with the U.S. Dept. of Labor seeking a civil and criminal investigation into charges of fraud and theft by his former employers.
In the documents, Simmons says that he was told by the plan's CEO Bruce Dow not to discuss an alleged embezzlement scheme by former chief information officer Nader Karimi and to lie to authorities about other questionable financial activity.
Read the Dept. of Labor letter here
"As of this date, no action has been taken by the Trustees (of the plans) to either investigate or address the serious breach of duty," Simmons writes in his complaint. "As a result, I have informed the Trustees that, lacking any specific response or action, I will notify the DOL and other appropriate regulators so that a proper investigation can be commenced."
The plans' leadership dismissed the allegations, calling Simmons' charges "completely without merit," Robert Bush, co-counsel for SAG-PPHP, said in a statement to TheWrap.
"Bruce Dow… continues to have the full and unqualified support of the trustees," he said.
Bush declined to specifically address the allegations of embezzlement.
Meanwhile Jeffrey Thomas, an attorney for Karimi, denied that his client was involved in any embezzlement.
"The allegations concerning Nader Karimi set forth in Mr. Simmons' letters are denied," Thomas wrote to TheWrap. "There are to my knowledge no criminal charges of any kind pending against Mr. Karimi and no civil suit pending against him by anyone."
Read the letter to SAG-PPHP trustees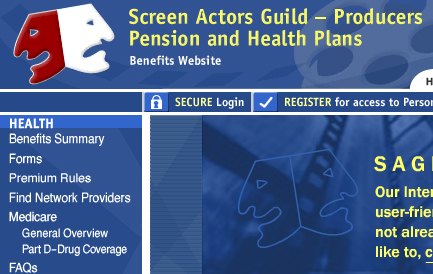 The plans control roughly $2.5 billion in assets for SAG members, but are administered independently of the union. The guild has approximately 90,000 members, many of whom rely on the fund for their health and pension benefits.
In a letter to trustees of the plans that he sent at the end of last month, Simmons writes that he was fired by Dow last winter because he would not help his boss mislead government agencies.
"I would not participate in the wrongdoing or improper and illegal behavior that I [sic] was being expected of me by my superior, Bruce Dow, as a demonstration of my 'loyalty' to him," Simmons wrote.
Simmons says the financial misdeeds weren't limited to embezzlement. He accuses Dow of raiding the benefits plan to lavish money on family members and pay for his wife's breast enhancement surgery.
Simmons, who is gay, claims Dow oversaw a frathouse-like work environment where sexual harassment and homophobia were commonplace.
In his nine-page letter to trustees and in his labor department complaint, Simmons claims that Dow and his lieutenants engaged in everything from insider trading to outright thievery. Among the accusations:
>> Dow (right) paid out $700,000 in compensation to his brother-in-law, Michael Bugabee, for his work as a "statutory employee," which Simmons dismisses as consisting largely of writing a newsletter three times a year that was largely assembled by SAG-PPHP staff.
>> Dow manipulated the plans to pay for breast enhancements for his wife, despite the fact they were not deemed medically necessary.
>>Dow's wife, Sharman, and her company USI Insurance Services, received money for work as the plans' insurance account executive, which Simmons says is evidence of self-dealing.
"As for USI and Sharman Dow, I was informed repeatedly that Mrs. Dow was the plans' insurance account executive (a quid pro quo arrangement to financially benefit the Dows) and, as such, she was provided with substantial monetary compensation through commissions and fees from SAG-PPHP," Simmons wrote.
Simmons writes that the California Dept. of Labor launched an investigation into Dow's employment of family members. Though he was initially tasked with assisting the investigation, Simmons says that he was told by Dow not to share any information with investigators and that eventually the SAG-PPHP head gave the responsibility of aiding the state agency to another staffer.
A spokesperson for the department said that it was policy to neither confirm nor deny that an investigation is taking place.
Simmons notes that these payments took place at "…at a time, when SAG participants are experiencing benefit cuts, higher deductibles and lower accrual rates."
Simmons further claims that Dow sexually harassed former employees telling them they were pretty and in one case following an employee home while intoxicated to ask for sexual favors.
Simmons claims that Dow discriminated against him because he is gay, extending invitations to straight co-workers for golf tournaments and trips to Hawaii, while ignoring him and his family.
Simmons was retained as a consultant in July 2008 and was hired as a plan employee in October of that same year. He says he was promoted to executive director of HR, IT and risk management in Jan. 14, 2011, before being forced out just a few weeks later.
Simmons wrote that when the axe fell, he was invited to a "fake budget meeting" where false accusations were leveled at him. He was then escorted out of the office.
Simmons wrote that he approached Duncan Crabtree-Ireland, an attorney for SAG and a trustee of the funds, and though sympathetic, he said '"he wanted to get his full pension credits.'"
In an email to TheWrap, Crabtree-Ireland wrote, "The statements attributed to me in the letter are completely inaccurate. Beyond that, this is a personnel matter for the plans, and it would not be appropriate to comment further."