Angelo Pizzo makes his directing debut on "My All-American," a movie about legendary 1960s University of Texas football star Freddie Steinmark that opens Friday, but he's no stranger to the inspirational sports drama.
The Indiana native wrote and produced two of the most beloved and critically praised sports movies ever, "Hoosiers" and "Rudy." (The former even earned two Oscar nominations and was selected for the National Film Registry.)
"Directing was different than anything I've done before in my career, and it was the best," Pizzo, who is in his 60s, told TheWrap.
Also Read: Will James Bond's 'Spectre' Crush 3 Female Filmmakers at Box Office?
Stepping behind the camera was also less of a challenge than he expected.
"Don't get me wrong, directing is hard, and challenging on every front. But I was very well-prepared and ready," he said, sounding a lot like Gene Hackman did as the fundamentally sound basketball coach in "Hoosiers."
Over his decades-long career, Pizzo had attended USC Film School, pulled stints at Warner Bros. Television and Time-Life Films and worked as second-unit director on both "Hoosiers" and "Rudy" — which were directed by Pizzo's former Indiana University frat brother David Anspaugh. (Anspaugh also directed another Pizzo script, 2005's soccer saga "The Game of Their Lives.")
Also Read: Why Sports Movies Have Become Their Own Underdog Stories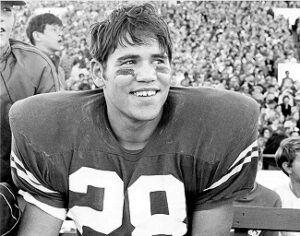 Taking on "My All-American" was tricky because Steinmark (played by "American Horror Story" actor Finn Wittrock) is a legend in football-crazed Texas. Even making the team at UT was an achievement for the 154-pound safety (photo left) who had far more heart than raw talent.
But Steinmark and his teammates were on top of the world when the No. 1 Longhorns defeated No. 2 Arkansas by a point in the 1969 "Game of the Century" in front of President Richard Nixon, Henry Kissinger, George H.W. Bush and the largest TV audience in history at that time.
Steinmark's left leg had bothered him throughout the game, and when he had it checked out two days later a bone tumor was found just below his left knee. A little more than a week later, the leg was amputated.
Also Read: 'Concussion' AFI Review: Will Smith Stars in Timely But Dreary Drama
Nonetheless, Steinmark stood on the sideline with his team as Texas defeated Notre Dame in the 1970 Cotton Bowl on New Year's Day. His fight against cancer inspired Congress to write the National Cancer Act of 1971 and Nixon to sign it into law.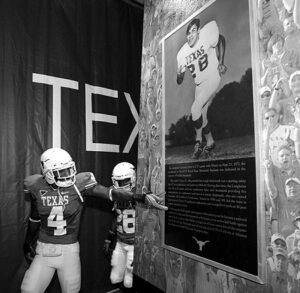 Steinmark died in 1971 at age 22. The scoreboard at the Darrell K Royal-Texas Memorial Stadium was dedicated to Steinmark's memory at a pregame ceremony in 1972 and Longhorn players today still touch a plaque honoring him as they take the field (photo left).
While "Hoosiers" and "Rudy" were both based on fact, Pizzo said "My All-American" hews more closely to the truth than any of his earlier films.
"That was key to earning the backing of Ben Brigham, who financed the movie, and the Steinmark family, which had resisted overtures for nearly 40 years, fearing the story would get Hollywood-ized," said Pizzo, who based his script on a book by Jim Dent, "Courage Beyond the Game: The Freddie Steinmark Story."
Steinmark's family and the Longhorn inner circle seemed happy with the finished film, Pizzo reported: "Edith Royal (the coach's widow) has watched it several times."
If Pizzo has his way, though, "My All American" will be his last sports movie for awhile. He is working on three projects, none of which involve athletics. "I'm very anxious to write something that doesn't have a ball in it," he said.
"My All-American" was produced by Paul Schiff and is presented by Clarius Entertainment and Anthem Ventures. It will be in 1,565 theaters.