Michael Kelly could not be more excited about his first ever Emmy nomination.
"I'm just so giddy, and I've been talking to my mom and wife and manager — it's just been laughing or crying since it happened," says Kelly, who was nominated Thursday in the Supporting Actor in a Drama Series category for his role as political fixer Doug Stamper on Netflix's "House of Cards."
In an interview with TheWrap last month, Kelly voiced his excitement about the possibility of recognition by the TV academy. "If nominated, I'd lose my mind," he said. "I wouldn't even know what to do — I would freak out. It feels so bizarre to even be in those conversations. It's an incredible, stacked field … the supporting actors."
Also Read: 7 Questions with 'House of Cards' Star Michael Kelly: Emmy Contender Quickie
The higher-billed Kevin Spacey and Robin Wright both have two Emmy nominations in as many seasons, but the man behind creepy Doug Stamper has been overlooked — until Thursday.
TheWrap spoke to the actor about his nomination, where he was when he found out, and how he plans to celebrate after filming on the fourth season of "House of Cards" concludes today.
TheWrap: Where were you when you found out about your Emmy nomination?
Michael Kelly:
It's the greatest thing, we're on season 4, and I was in a scene with Kevin [Spacey], and Kevin was like, 'They're announcing!' so we went to his trailer and we were just high-fiving when Kevin and Robin [Wright] got a nomination. […] We were about to start filming the scene again and the show's writer's came in and just said, 'Congratulations to everyone — the show is nominated, Kevin was nominated, Robin was nominated, and YOU!' And he just turned to me. I couldn't believe it, I just feel so blessed to share that moment with them. There's no way that this is possible without them. It was a special moment and I'll never forget it."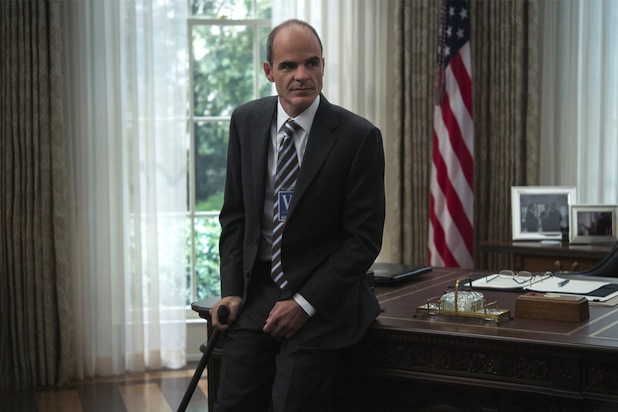 How do you plan to celebrate?
We're in the middle of a crazy day of filming — I'm in every scene for the rest of the day. We just broke for lunch, so we'll work the day and then I'll probably pull Beau Willimon, the showrunner and head writer, aside and thank him. Obviously, it's not possible without the incredible gem of a role I get to play. You dream of getting on a TV show but you never think you're going to get to play a character that's so incredibly complicated and messed up. I am so thankful — it's very rare to have an opportunity like this.
Then, I'll probably go have a couple beers at my local pub.
Also Read: 'House of Cards': 19 Lives Destroyed by the Underwoods (Photos)
Who is your stiffest competition in your category?
Every single one of them! We're doing something really special on television right now. My gosh, there were guys that weren't nominated that are incredible! Such incredible performances and so many incredible shows — I feel like I won that I was nominated. Everything is great. I'm happy.
If you win, who do you want to rub the award in the face of?
No, I would never… it's not in my nature to do something like that. I've been blessed to have constant encouragement from my mom and dad and my entire team. I consider everyone a friend, and no one ever said, "You can't do it."
Biggest snubs, for your show or outside of your show?
I heard that [guest actress] Rachel Brosnahan got a nomination which I was most happy about. It was incredible to have her get one. The girl… I wouldn't be having this conversation with you right now if it weren't for her. I think we got like 10 nominations, I heard? It's a happy day.
Also Read: Emmy Nominees 2015: The Complete List
How do you plan to wow voters between now and September? What's your secret weapon?
No, man, I can't! In my opinion, being nominated is a win, and the rest of stuff that happens is kind of whatever. My mom always said to me, "You have to set your goals and write them down and think about them all the time," and this was one of my goals and I achieved it! It's incredible.
I'm just so giddy, and I've been talking to my mom and wife and manager — it's just been laughing or crying since it happened. Except a few minutes later, I had to get it together and be Doug Stamper.