"House" might want to consider changing its title to "Big House."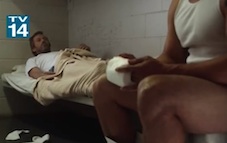 A new trailer for the popular Fox medical drama's eighth season confirms that Dr. Gregory House (Hugh Laurie) has been sent to prison for crashing his car into Cuddy's house in the Season 7 finale.
Watch as House gets smacked around by his fellow inmates!
See the doctor suffer the indignity of seeing his cellmate sit on the toilet!
Notice as his painkillers get knocked out of his hand artistically!
"House" returns to Fox on October 3.