HuffPo, the site built largely on aggregation, is enmeshed in a mini-scandal caused by …bad aggregation.
In the world of digital journalism, aggregation is a major source of news, and HuffPo excels at it. It culls stories from myriad sites, pushing traffic with its sensationalist headlines and content that runs the whole spectrum of taste.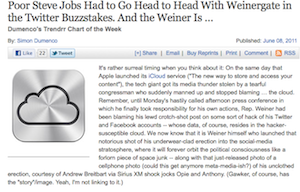 Its practices came under heightened scrutiny this week with the suspension of reporter Amy Lee. In most respects, Lee did what HuffPo writers often do – parrot another story.
Where she failed was in not linking higher up, and thus vastly reducing the number of readers who clicked through to AdAge.
AdAge writer Simon Dumenco protested; HuffPo business editor Peter Goodman sent an apologetic e-mail ensuring that such practices will not be tolerated. But it didn't end there.
Adweek then conducted a feisty interview with Goodman, in which he gives some answers (just not the ones everyone is looking for). Dumenco responded to Goodman, and various media writers chimed in with their take.
Lee is one of many in HuffPo's fleet of young reporters – no older than yours truly.
Responses have ranged in their severity, but each one has been critical of HuffPo, wondering why a young reporter was punished instead of the editor. It is the editor who should know better.
When Goodman was asked about passing the buck, he gave what is truly a puzzling response.
"I would say that the editor is taking responsibility," he told Adweek. "We are all sharing in responsibility."
Everyone taking responsibility would mean an internal investigation or suspensions across the board. When one person gets suspended for what is commonly known as a widely practiced tactic, that is not sharing responsibility.
Goodman is caught between his media ethics and HuffPo's insatiable pursuit of increased readership. In writing he stood up for the former, but in action he succumbed to the latter.
That seems to be pretty common at the house that aggregation built.