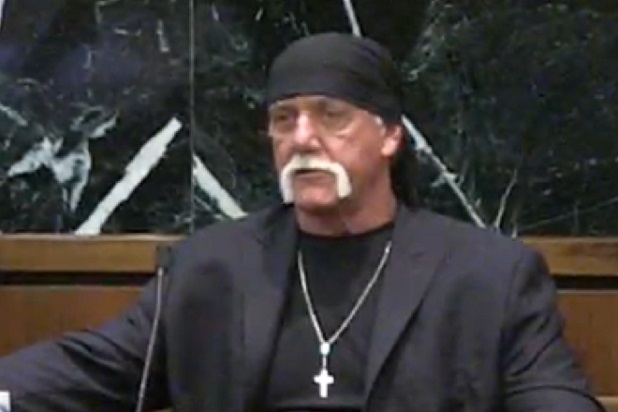 Hulk Hogan is apparently not as much of a ladies' man as he's made himself out to be.
During his second day testifying in the the trial over his lawsuit against Gawker on Tuesday, Hogan conceded that he's exaggerated accounts of his love life.
During cross-examination, the pro wrestling legend's attention was drawn to an interview he did with TMZ, during which he detailed the drunken, wild exploits he engaged in with "several brunettes" between his split with ex-wife Linda Hogan and meeting current wife, Jennifer McDaniel.
Also Read: Why the Hulk Hogan v. Gawker Sex-Tape Lawsuit Matters
Quizzed about the interview, Hogan (real name: Terry Bollea) admitted that he "embellished a little bit about the number of women" he'd been with during that period, adding, "I was embellishing about instead of having a couple of girls, a bunch of girls. I was just being Hulk Hogan in character."
Hogan is suing Gawker for $100 million, claiming that the media company invaded his privacy when it published a portion of a sex tape featuring himself and Heather Clem, then-wife of radio DJ Todd "Bubba the Love Sponge" Clem.
Gawker counters that its publishing of the footage in 2012 is protected by the First Amendment.
Also Read: Hulk Hogan Testifies in $100 Million Sex-Tape Lawsuit
During his testimony in a Florida court on Tuesday, Hogan also adamantly denied having willingly participated in the tape as a money-making publicity stunt.
"I was concerned because there were people that thought I might have something to do with this," Hogan told the court. "We even had calls from Vivid Entertainment, who does all these pornographic films and [they] said,  'There's an open checkbook; we'll pay you as much money as you want.
"I would never do that to my personal life," Hogan asserted.
Also Read: Hulk Hogan vs. Gawker: Everything You Need to Know About the Sex Tape Case
According to Hogan, he was secretly taped without his knowledge or consent during his sexual encounter with Clem.