The buzz surrounding the Erin Andrews case is understandable.
The ESPN sideline reporter — the target of a profoundly creepy, surreptitiously-shot hotel-room video (uploaded to the web by an anonymous user) discovered online late last week — is as known, at least in some circles of sports fans, for her work ethic trolling college football sidelines as she is for her girl-next-store charm and, of course, striking good looks. (She's widely known for those; Playboy called her "America's Sexiest Sportscaster.")
The story more or less broke over the weekend, yet screengrabs were splashed across the front page of the New York Post. (Tasteful interior headline: "ESPN HOTTIE IN PEEP SHOCKER.") Inside, the paper calls Andrews the victim of "a perv-cam-wielding sicko" — in a caption under a still from video.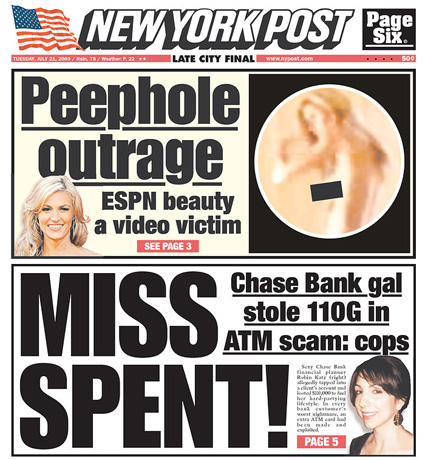 However, the interest, even days later, too, is understandable. The setting of the crime — a hotel, believed to be, more than likely, in a college town — and the lengths to which the perpetrator went to get the footage (perhaps using a peep hole or reverse) hit home. After all, these are the hotels 90 percent of us — and our sisters and daughters — stay at when we're on the road. (And to those who think the media interest is unwarranted, here's a litmus test: Imagine it was Diane Sawyer who was videotaped. Or Katie Couric.)
Fox News and CBS both aired segments on the Andrews' case — both opting to show parts of the video. CBS' "Early Show" warned viewers of "Naked Viral Video Schemes" with blurred footage. "This video purportedly shows 31-year-old Erin Andrews changing clothes in a hotel room," announced CBS News ' science and technology correspondent Daniel Sieberg during the segment.
According to Media Matters, Fox News showed stills, which were "prominently displayed on-screen" and showed Andrews' face "while covering some of her body parts with lacy red tape."
At this point, both ESPN and Andrews are not giving interviews. When contacted by TheWrap, ESPN declined to say when Andrews would appear on air next. (She appeared on the telecast of the ESPYs — ESPN's answer to an unwatchable awards show — on Sunday, wearing, ironically, a rather revealing dress.)
On the air, ESPN — not normally one to shy away from controversy, even when it involves its own talent — has gone surprisingly (if refreshingly) radio silent.
Andrews' lawyer put out this press release, but has not commented further. "While alone in the privacy of her hotel room, Erin Andrews was surreptitiously videotaped without her knowledge or consent. She was the victim of a crime and is taking action to protect herself and help ensure that others are not similarly violated in the future. Although the perpetrator or perpetrators of this criminal act have not yet been identified, when they are identified she intends to bring both civil and criminal charges against them and against anyone who has published the material. We request respect of Erin's privacy at this time, while she and her representatives are working with the authorities."
ESPN added: "Erin has been grievously wronged here. Our people and resources are in full support of her as she deals with this abhorrent act."
Of course, as it is with any sex tape that hits the 'net, there were the ubiquitous hackers looking to infect those seeking out the footage with spyware and viruses.
The case has certainly rocked the sports blogosphere. Yet unlike some mainstream outlets covering the story, it's some of the blogs that helped spawn her popularity — yes, mostly among young men — that are becoming the voices of reason.
The current and former editors of Deadspin.com, the popular sports blog which has chronicled Andrews' career rise, popularity, and, sure, her undeniable sex appeal, felt compelled to publish lengthy, first-person posts defending their coverage.
"It's blogs' fault for objectifying her," wrote former editor and current New York magazine editor-at-large Will Leitch. "It's fans' fault for often caring more about what happens off the field than on. It's ESPN's fault for not strangling this story in the crib when they had the chance. (And they did.) It's her fault. It's our sports culture's fault. It's the fault of the thin walls of a lousy hotel. None of these things are true, of course, and all of them are."
A.J. Daulerio, the site's current editor, wrote: "Will this change things? It has to. If covering Erin Andrews made this site — and plenty of other sites — look like pandering fools, any cheesecake coverage from here on out creates an additional, unnecessary layer of sleaze."
Perhaps we all should take notes.