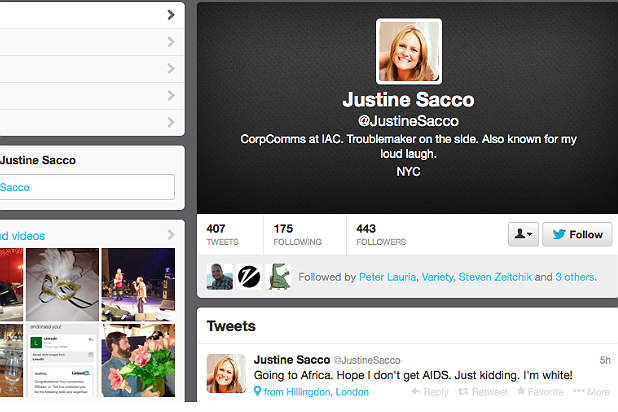 Justine Sacco, spokeswoman for Barry Diller's company IAC, has planted herself in hot water by posting this to her Twitter account:
Going to Africa. Hope I don't get AIDS. Just kidding. I'm white!

– Justine Sacco (@JustineSacco) December 20, 2013
The tweet provoked a lot of anger and castigation from the angry social media mob, and also became a trending topic in Johannesburg if this map is to be believed.
The dust-up has also grown her Twitter following in a matter of hours.
IAC responded to TheWrap's request for comment with the following statement:
"This is an outrageous, offensive comment that does not reflect the views and values of IAC. Unfortunately, the employee in question is unreachable on an international flight, but this is a very serious matter and we are taking appropriate action."
IAC owns and operates myriad digital businesses, from Ben Silverman's production company Electus to video sites Vimeo and CollegeHumor. Sacco has worked there for more than two years, joining from the WWE.
Perhaps we should have seen this coming given this tweet from January:
I can't be fired for things I say while intoxicated right?

– Justine Sacco (@JustineSacco) January 30, 2013
Or given her Twitter profile, in which she identifies herself as a "troublemaker on the side."