I have to admit that I was worried when the judges' inaugural audition tour resulted in a whopping 327 contestants descending upon Hollywood Week. While they have been fair for the most part, they've also been lenient, caving in to tearful pleas and pretty smiles.
Not tonight, though.
For the most part, the panel ignored the sob stories and pageant titles and based their cuts on vocals alone. Lopez and Tyler seemed to struggle a bit with their dream-crusher status, with J.Lo even lamenting "God, this is awful" to her peers. Tyler, frustrated by the epidemic of nerves among contestants, offered up: "We understand. We're singers too, so go for it."
Despite issues with empathy, though, the judges showed the contestants a united and decisive front, thanks largely to veteran Randy. Though his demeanor was void of the cruelty of Cowell, Jackson's direct instructions left no question of what was expected: Give the audition of your life and you just might make it through.
There would be no notes about vibrato or pitch, no wheeling in sick family members or judges' old football coaches. Contestants simply sang individually in groups of 10 and were told their fates immediately afterward.
So who made the cut?
The high-school crowd had a strong showing overall, with early favorite Lauren Alaina, 15, impressing with "Unchained Melody" and 17-year-old baritone Scotty McCreery reprising his velvet-toned version of "Your Man." "Baton Rouge Idol" Jacee Badeaux, 15, wowed the judges yet again with his cherubic presence and natural vocal ability on "Bless the Broken Road."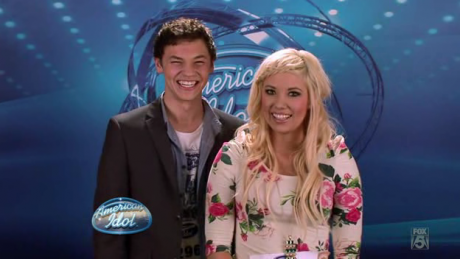 "Most Improved" goes to native Brit Hollie Cavanagh, 17, who initially earned her Golden Ticket partly due to her sobbing/begging skills. She got her nerves under control this time around and belted out yet another Miley song, "When I Look At You," with inspiring results.
Redheaded Brett Loewenstern, 16, of Boca Raton hit a home run with "Let It Be," proving that even bullies can't take away your blue-eyed soul. Former "America's Got Talent" contestant Thia Megia,15, performed "Summertime." The only thing missing from the 15-year-old's cabaret stylings was jazz hands.
Speaking of jazz, Casey Abrams, 19, scatted his way through "Lullaby of Birdland," proving that he is just as good without his Melodica. The question is, though, is there room in the industry for another throwback Michael Buble type?
There doesn't seem to be room for many on the "Idol" stage.
Accountant Steve Beghun, 27, struck out with his Buble number, "Haven't Met You Yet." As for fellow crooner Nick Fink, one-half of "Idol's First Power Couple?" He'll have to go back to community college choir without his beloved Barbie, Jacqueline Dunford. That's right, in a twist worthy of a Shakespearean tragedy, the young lovers were divided by fate (and talent).
Fink wasn't going to let his aborted career as a Sinatra wannabe go unavenged, though. As his horrified girlfriend looked on awkwardly, Fink explained that he deserved another chance because he really shines at the end of the song.
Here's a tip, Nick. Next time start at the end. At least it'll be over quicker for us.
Despite Randy's firm reiteration that this was not a second chance type of situation, Fink pathetically sang his way out of the audition space, inadvertently proving that the end of the song was NOT "where he shines."
Surprisingly, this wasn't even the most obnoxious display of behavior. Jersey "Snookalike" Tiffany Rios, 21, prefaced her audition with the following: "I'm tired of seeing people try to do what I know I can."
Yes, her Etta James song showed that she is a vocal powerhouse, but her attitude was just plain ugly. It will be shocking if she doesn't get into an altercation with her partners during the group audition round. (Here's hoping!)
Among the 168 finalists were the Gutierrez Brothers of Los Angeles, exes Chelsee Oaks and Rob Bolin of Nashville, 23-year-old Rachel Zevita of New York and White House intern Molly DeWolf Swensen.
The most memorable sob stories -- James Durbin, Julie Zorrilla, Paris Tassin -- also advanced, though their talent spoke for itself. The only one whose vocals don't seem quite up to par is Chris Medina, aka "this season's Danny Gokey." While the fact that he serves as a caretaker to his brain-damaged fiancee is immensely touching, I'm not sure that his voice was stellar enough to warrant progressing further in the competition.
Adorable Travis Orlando, 17, of the Bronx (above), gave a so-so rendition of Maroon 5's "This Love," proving that even a sob story of homeless proportions won't always advance you to the next round of "American Idol." Likewise, bubbly Victoria Huggins, 17, of North Carolina also had a poor showing, despite having the confidence to bring along 11 suitcases.
"Dirty old men" Steven and Randy redeemed themselves by not progressing bellydancer Heidi Khzam or former Miss Teen USA Stormi Henley. A humble Henley said it best herself: "I don't think there was much hope. You had to have a really spectacular voice."
Let's hope that the judges keep Henley's pageant-ready sound bite in mind and continue focusing on the vocals. Well done.