When it comes to the minuscule percentage of women directing films, the numbers are less depressing within the independent film scene.
But a new study shows that little progress was made in 2015, and that a disturbing disparity between men and women directors in the space has continued in the past year.
Women accounted for 28 percent of directors whose films screened at top U.S. film festivals last year, according to the annual study "Women in Independent Film" released on Thursday. While still far from reflecting 50-50 parity, the number is markedly better than the 9 percent of women directors who helmed major-studio films in 2015.
Also Read: 20th Century Fox, Paramount Have No Female Directors Through 2018
Led by Martha Lauzen, executive director of the Center for the Study of Women in Television and Film at San Diego State University, the study focuses on women's representation at 23 U.S. festivals, including AFI Fest, SXSW and the Tribeca Film Festival.
"The findings indicate that while women fare better in independent films, particularly documentaries, than in studio features, they are not close to achieving parity in the independent realm," Lauzen said in a statement.
Indeed, 35 percent of documentary directors working the festival circuit last year were women. Compare that with the mere 19 percent of women directors who worked on narrative features.
Also Read: DGA's List of 80 Best-Directed Films Includes One Female Filmmaker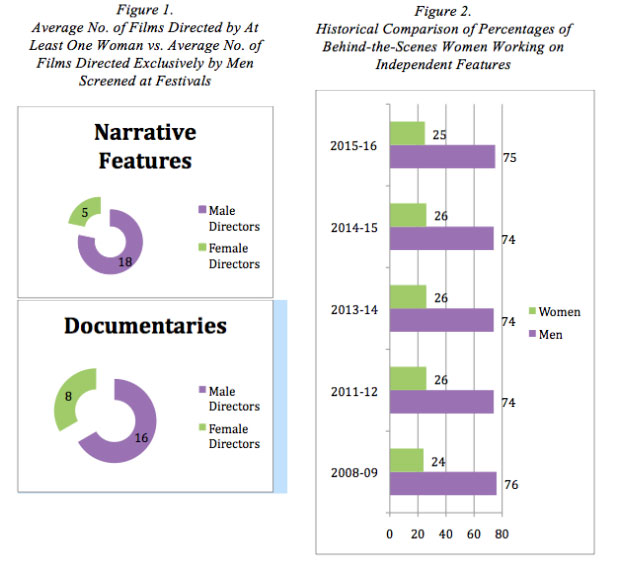 When crunching the numbers on directors, writers, producers, executive producers, editors and cinematographers as a group, women made up 25 percent of those working on U.S. festival circuit films — a figure that has not changed significantly since 2008-09, when Lauzen's team began its study.
"Women's representation on independent films is stagnant," Lauzen said. "In spite of the increasing dialogue about this issue, the numbers have yet to move. We are not seeing year-to-year growth."