Nakoula Basseley Nakoula, reportedly the filmmaker behind the incendiary trailer "The Innocence of Muslims," is on probation following a conviction for bank fraud which restricts him from using the Internet without official approval, court documents obtained by TheWrap show.
Because his bank fraud involved the use of computers, Nakoula's five-year probation dictates that he "shall not possess or use a device with access to any online service at any location without the prior approval of the Probation Officer," according to the sentencing order from June 20, 2010.
Just after midnight Saturday morning, a man identified as Nakoula — wearing a heavy coat despite the intense Southern California heat wave, a towel around his neck and a large hat — was escorted by L.A. County Sheriff's Deputies from his Cerritos home and taken to a nearby sheriff's station, according to the Los Angeles Times. He refused to answer questions from the few reporters who remained at the residence from the throng that was present throughout the day.
Sherriff's department spokesman Steve Whitmore told reporters that Nakoula voluntarily left his home and said that had neither been handcuffed or placed under arrest. "He will be interviewed by federal probation officials," Whitmore said according to Reuters news agency.
Read the probation order here.
On Friday, U.S. courts spokeswoman Karen Redmond told the Associated Press that the probation department of the Central District of California — where Nakoula was found guilty — is reviewing the situation to determine if he violated the terms of his probation. If so, he could go back to prison.
Nakoula has a shady past full of criminal convictions, fake names and questionable finances.
According to court documents obtained by TheWrap, the 55-year-old Nakoula — a Coptic Christian who has been identified as the sole writer, director and financier of the film — has a decades-long history of legal troubles, most prominently the 2010 banking fraud conviction that led to a 21-month prison sentence in the federal facility in Lompoc.
Also read: "Innocence of Muslims" Film Permit Pulled as Deputies Visit Home Tied to Filmmaker
If it turns out that he uploaded the "Innocence of Muslims" trailer to YouTube, which was done by 'Sam Bacile,' a Nakoula alias, he appears to have violated the terms of his probation.
Nakoula pulled the prison stint — and was ordered to pay nearly $725,000 in restitution — for defrauding Wells Fargo Bank, beginning in March 2008. According to an affidavit from U.S. Postal Inspector Eric Shen, a total of 11 accounts connected to Nakoula were flagged as fraudulent, sparking an investigation that ultimately let to Nakoula's imprisonment.
Shen noted in his affidavit that Nakoula — who has so far only admitted to being involved in the film, not making it — used numerous aliases, including Thomas Tanas, Ahmed Hamdy, Kritbag Difrat.
Interestingly, two of Nakoula's aliases bore the surname Bacily — almost identical to that of Sam Bacile, the likely-pseudonymous name given by a man who claimed to be responsible for the film in media intervie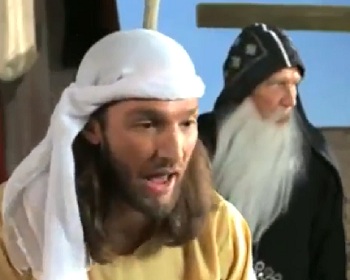 ws earlier this week. ("Bacily" is also similar to Nakoula's middle name, "Basseley.")
Also read: U.S. Ambassador to Libya Killed as Attacks Intensify Over Anti-Muslim Film
Also of note: Nakoula was ordered to be detained between his arrest and trial. The U.S. District Court in Central California, where Nakoula was tried, felt he was a flight risk because of "extensive foreign ties" and because he "allegedly sent large sums of money abroad," among other reasons.
Read the detention order here.
While the bank-fraud conviction is Nakoula's most pronounced legal trouble — so far — it's far from the only one. Other court documents obtained by TheWrap indicate several judgments against Nakoula for financial matters going back decades. In 1995, a judge ordered Nakoula to pay $23,000 in a breach-of-contract case in relation to a service station that bore his name. In 2006, Nakoula was again ordered to shell out big when a judge ordered him to pay more than $12,000 to the debt collection agency Patenaude & Felix.
Given his history of ducking debt, it's perhaps not surprising that he also filed for bankruptcy in 2000, though a judge issued an order dismissing his case for "failure to make required payments."
Nakoula's legally shady past extends beyond bank fraud and chronic debt-ducking. On "ABC World News With Diane Sawyer" Thursday, Brian Ross reported that Nakoula had also served time for manufacturing amphetamines.
Ross also reported that Nakoula wrote the script for "The Innocence of Muslims" while serving his sentence for bank fraud, and that he began filming the movie shortly after his release with $60,000 provided by Coptic Christian relatives in Egypt.
Pamela Chelin contributed to this report.